New Menus at Nan's and e2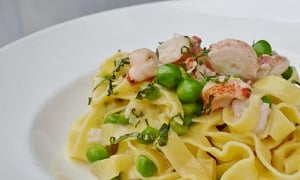 Two Charlotte restaurants are unveiling new summer menus for your eating pleasure. Check out all the new additions at Nan & Byron's and e2!
Nan & Byron's: To celebrate the arrival of summer, Nan and Byron's will launch its new menu this Friday, June 20. The seasonal menu will focus on lighter fare:
Light Bites and Starters:
Deviled eggs with applewood smoked bacon and white truffle oil
Gazpacho crafted with chilled tomato, cucumber and extra virgin olive oil
Mushroom soup with white truffle oil, oyster crackers
Caprese salad with heirloom tomatoes, homemade mozzarella, red wine vinaigrette, grilled crostini and basil aioli
Greek salad topped with a marinated chicken kabob, warm pita and tzatziki sauce
Entrees:
Tacos (shredded chicken or ground filet mignon) topped with jalapeno sauce, shredded lettuce, avocado, marinated tomato, sour cream and cheese
Portobello mushrooms stuffed with quinoa, zucchini crepes, romesco sauce and squash salad.
Catch of the Day served in a banana leaf and topped with couscous pilaf, broccoli and citrus compound butter
Pork chops served with cheddar-jalapeno grits, grilled scallion and pineapple salad finished with a bourbon-mustard glaze
Two new steak additions including filet mignon and delmonico
e2: e2 emeril's eatery is celebrating the summer season with a new menu spotlighting light, bright flavors of the garden, the farm, and the sea. Additionally, e2 has launched a new happy hour raw bar every Monday through Thursday from 5 until 7 p.m. All raw bar items will be available on the patio and at the bar and are sold by the piece. Enjoy Gulf oysters, Littleneck clams, creole boiled shrimp, crab claws, and cocktail sauce! Of course, a few favorites – like the gumbo of the day – will remain on the menu by popular demand. Highlights of the new menu include:
Starters and Salads (see full menu on the website)
Chapel Hill Creamery Pheta, heirloom tomatoes, mache, toasted pistachios ($9)
Poached lobster – pickled jalapeno – roasted corn – mint – carrot vinaigrette ($10)
Fried Green Tomatoes: Crawfish remoulade – pickled cipollini onions – black-eyed peas ($10)
Fried Quail: Corn milk – house-cured pancetta – parsley pesto ($12)
Praline Braised Bacon: Bosc pear – mint – pickled ciopollini onions ($9)
Entrees
Cap of Ribeye a la Plancha: Arugula – asparagus and red pepper salad – honesmeji mushrooms – truffle and parmesan steak fries ($32)
Lobster + English Pea Linguini: Lobster knuckles – English peas – house semolina pasta ($24)
Grilled 1/2 Chicken: Community Coffee barbeque sauce – roasted vegetables – "street" corn ($24
Wood Oven Roasted Grouper: Roasted fingerling potato – heirloom tomato – French beans – olives – ravigote vinaigrette ($26)
Lamb Loin + Braised Belly: Roasted cherry tomato – fava bean – pickled ramps tabbouleh mint – yogurt ($28)
Cedar Planked Salmon: House cured bacon – fava beans – corn and honesmeji mushrooms ($24)
Head to either of these fabulous eateries for what's sure to be a great meal. Or, read up on both Nan's and e2 via Charlotte magazine and pick one!