New Monthly Event: Zink at Five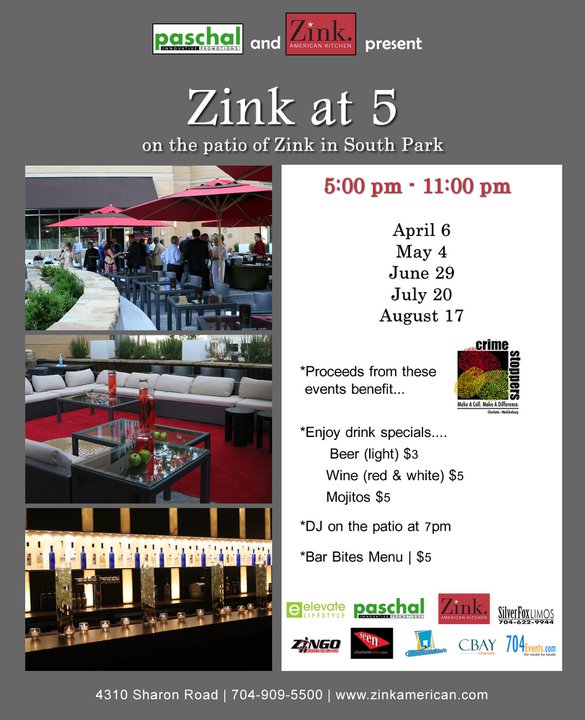 Paschal Innovative Promotions, the marketing and event planning company behind such popular, weekly events as Alive After Five and MetLive at the Metropolitan, is launching a new, monthly event. Zink at Five kicks of tomorrow, April 6, at Zink American Kitchen in SouthPark.
Zink at Five will take place once a month, 5-11 p.m. on the restaurant's large, beautiful patio. Drink specials include $3 beer, $5 wine, and $5 mojitos, along with a $5 bar bites menu. After allowing a couple of hours of mingling and conversing for the folks who arrived straight from work, a DJ will come on at 7 p.m. to take it up a notch.
In case you weren't aware, last year Zink moved from its uptown location on Tryon Street to SouthPark in the former space of M5 Modern Mediterranean. Both restaurants were owned by Harper's Restaurant Group, who decided to shutter M5 last September and try Zink's concept in its place. And if you'd ever visited M5, you remember how great its patio was. It still has the oversized couches and plenty of table seating.
The full Zink at Five schedule is as follows, with the time being 5-11 p.m. for each date:
April 6

May 4

June 29

July 20

August 17
Zink American Kitchen, 4310 Sharon Rd., 704-909-5500, zinkamerican.com, and paschalpromotions.com.