New, Monthly Ladies Night at RE:PUBLIC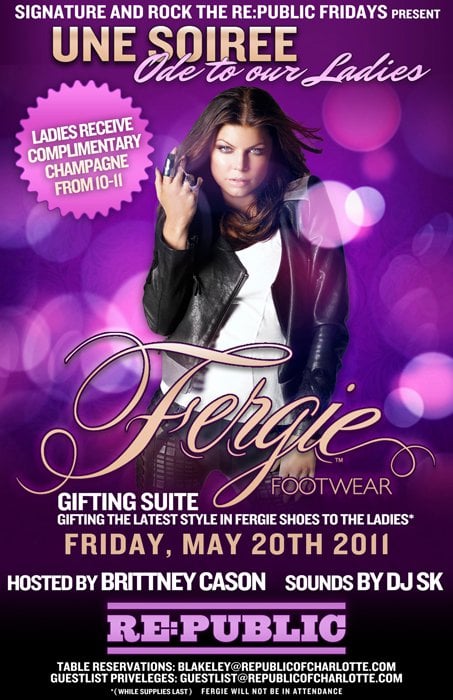 RE:PUBLIC, the trendy, uptown nightclub that opened four months ago, is launching a new, monthly ladies night. Billed as Une Soirée, or Ode to the Ladies, the party is highlighted by what is said to become a monthly staple: a gifting suite in which the club will give away products from major fashion brands.
The party takes place this Friday night and the gift of choice will be thirty pairs of ladies shoes by Fergie Footwear, the shoe collection by the famed Black Eyed Peas singer. Columnist and media personality Brittney Cason hosts the event (and her crew is an attractive bunch all by themselves).
The event starts at 9:30 p.m., and there will be complimentary champagne for the ladies from 10-11 p.m. On the turntables will be DJ SK. To get on the guest list, email guestlist@republicofcharlotte.com, and for table reservations: blakeley@republicofcharlotte.com.
If you go, make sure you try a drink from RE:PUBLIC's mixology bar. There are four bars inside this large nightclub, but this particular one is located in the far right corner at the front of the club, near the stage. I wrote about these specialty drinks a couple of months ago for this magazine, "Crafty Cocktails at RE:PUBLIC".
RE:PUBLIC, 314 N. College St., 704-375-0733, republicofcharlotte.com.