New releases from Sugar Creek and Unknown and an N.C. Brewers Draft party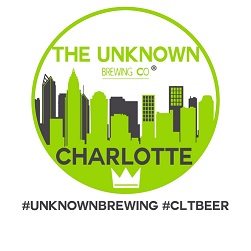 I've already written about Wooden Robot's one-year anniversary party, and here are some other Charlotte craft beer events definitely worth checking out this weekend:
–With temperatures rising toward 100 degrees, it's best to imagine you're in a landscape surrounded by palm trees, a cool breeze and refreshing water. And while we can't (unfortunately) bring Hawaii to Charlotte, Unknown Brewing has the next best thing with its "Let's Get Tropical Luau" this Friday.
This will all be part of the weekly "Friday Night Festival" food truck event, and also marks the release of Let's Get Tropical IPA, in which Unknown brewed an IPA with experimental hops that give out flavors of pineapple, citrus and lemongrass, and later dry-hopped with coconut.
All attendees will receive leis and can enjoy live ukulele music and fire dancing performed by Sparkplug Burns. There will also be kiddie pools to beat the heat, all to the backdrop of this week's outdoor movie, the well-picked "Jaws."
It wouldn't be an event at Unknown without a few surprises, and the tease for Let's Get Tropical states to bring a bathing suit, as you will get wet (if you want to participate; it's strictly voluntary). It all starts at the brewery at 5 p.m. and runs until 10 p.m.
–Sugar Creek has put together a mouth-watering pairing for its Break The Rules Small Batch release this month. The brewery aged a Belgian Tripel in French Oak Cabernet Sauvignon barrels and will tap the beer Saturday at 2:25 p.m. The second part of the pairing comes from Drip Cake Bar, which created special cupcakes filled with fresh raspberries.
There is a limited amount of the red wine barrel-aged Tripel so Sugar Creek won't be doing any growler fills, but there will be 100 complimentary samples given out on a first-come, first-serve basis. Sugar Creek will also have The Accidentals Band providing live music from 3 p.m. to 6 p.m.
–Fantasy football season is almost upon us and I, for one, am excited (or just for the NFL season in general). But this past April, 12 breweries from North Carolina got together for their own fantasy draft – this one involving brew ingredients. It all led up to the final product, the N.C. Brewers Draft release party, which will take place Sunday at 2 p.m. at the original NoDa Brewing location.
Participating breweries used the guidelines of one base malt, two hop selections, two specialty malts, one adjunct, two miscellaneous ingredients and one yeast, which was randomly drawn last. Once an ingredient was selected, it was off the board. The breweries then had roughly three months to brew, and attendees Sunday will be able to try the result with a flight of all 12 beers and then vote on their favorite.
The breweries competing for the title are: Appalachian Mountain Brewery (Boone), Burial Beer Co (Asheville), Fortnight Brewing Company (Cary), Four Saints Brewing Company (Asheboro), Heist Brewery, Mystery Brewing (Hillsborough), NoDa Brewing Company, Olde Mecklenburg Brewery, Salud Beer Shop, Triple C Brewing, Unknown Brewing and Waterline Brewing (Wilmington). Click here to see the full list of beers that will be at the release.
Not surprisingly, tickets for this event sold out. But it sounds like this may be a yearly event, so if you didn't get a ticket better luck next year.
–Vintner Wine Market just announced it will be holding a "Christmas in July" party this Sunday beginning at noon. Vintner will be tapping Founders KBS, Foothills Sexual Chocolate and other beer gifts will be tapped.
–Reid's Fine Food's (the Selwyn Ave. location) has teamed up with Wicked Weed Brewing for a "Wicked Reid's" beer dinner on Monday at 7 p.m. It's a five-course dinner created by executive chef James Loftus, and a Wicked Weed beer rep will also be on hand to talk about the beers. The beer/course pairings are as follows:
Crab, compressed watermelon, cucumber, heirloom tomatoes, basil, crispy prosciutto, pistachio powder, balsamic apple reduction (Coolcumber Basil Ale
Chilled roasted pear soup, stilton, creme fraiche, pancetta lardons, spiced tuile (Lunatic Belgian)
Jerk chicken empanada, mango pineapple compote, chipotle crema, cotija, fried plantain (Ferme de Grande Farmhouse Brett)
Smoked duck breast, roasted beets, duck fat fingerling, natural jus, marionberry gastrique (Pernicious IPA)
Rustic berry cobbler, housemade ice cream (Medora Sour)
Reservations are currently being accepted; call (704) 377-1312 to reserve your spot.