New Talent at the Helm
Harper's Restaurant Group has named two new executive chefs for Mimosa Grill and Upstream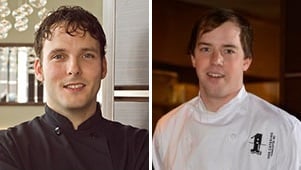 Changes in the form of new additions and upward moves are happening at Charlotte-based Harper's Restaurant Group; the company which owns and operates six restaurants, including Upstream in the SouthPark area, Uptown's Mimosa Grill and four Harper's Restaurants in North Carolina and South Carolina.
"We are pleased to welcome back Scott Wallen as Executive Chef of Upstream and as the new Corporate Chef of Harper's Restaurant Group," said Tom Sasser, president of Harper's Restaurant Group, in a press release. "Scott is a talented culinary visionary and we are thrilled to have him back at the helm of the company not only bringing back his popular Asian-Pacific style of cuisine to Upstream but overseeing and sharing his wealth of knowledge with the rest of the team at Mimosa Grill and Harper's."
Chef Wallen is a CIA graduate and was with Harper's Restaurant Group for eight years as chef de cuisine and executive chef of Upstream before heading to Wolfgang Puck's Pizza Bar three years ago. At Wolfgang's, Chef Wallen opened the Charlotte Phillips Place store and traveled from North Carolina to California and Japan to open their concepts in various cities. His love of seafood brought him back to Upstream where he will continue to share his unique presentations of scallops, black sea bass, wild mushrooms, pork, fresh grouper, heirloom tomatoes and more. Check out Upstream's recipe for pepita crusted sea scallops here.
In addition to Wallen's move, Thomas Marlow has been named the new Executive Chef of Mimosa Grill, replacing Executive Chef John Fortes who will move forward with other projects but remain as a consulting chef for the company through the end of the year. Chef Marlow has been with Harper's Restaurant Group since 2009 where he quickly moved up the ladder from line cook to Sous Chef to Chef de Cuisine.
While at Mimosa Grill, Chef Marlow has had the opportunity to travel to Birmingham, Alabama to work in the kitchen of renowned chef Chris Hastings of Hot and Hot Fish Club. He has also had the distinct opportunity to work with Master Charcuterist Francois Vecchio in Palmer, Alaska, where he learned the fine craft of salami making. Chef Marlow now oversees Mimosa Grill's charcuterie program, using natural pasture raised pigs from Rock House Farm in Morganton, NC. Guests will find these unique products showcased on the Mimosa Grill menu each day.