News Bite: A sneak peek at Heist Brewery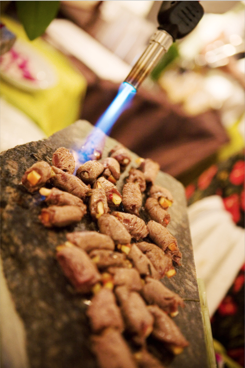 NoDa's soon-to-be newest brewery, Heist Brewery, will be part microbrewery, part pub, with handcrafted beers and sodas, plus artisan breads and shared plates. Located in Highland Mills, it will serve lunch and dinner, and offer catering services.
In addition to gourmet flatbread pizzas, sandwiches, and fresh-baked breads (the brewpub will have an in-house brick oven), Chef Rob Masone plans an innovative menu. He's calling it "twisted American cuisine," and will include items like Himalayan Shrimp Stix wrapped in a lemon-wasabi cotton candy and Kurobuta Pork Belly Corn Dogs, milk and honey-braised pork belly, battered and fried, and served with a golden root beer barbecue sauce. The brewpub's Paula Bartlett tells us to expect food to be served in (and on) a variety of vessels including bamboo planks, test tubes, and even shoes.
And then there's the beer: Brewmaster Zach Hart won the Great American Beer Festival's 2001 silver medal award for his India Pale Ale, but he's also developed a stout that uses barrels from the Jack Daniels distillery to infuse flavor. On the radar: a Hefeweizen, an IPA, and an oatmeal stout.
Bartender Stefan Huebner started out as a baker, then became an executive chef, but decided to leave the culinary world for a while to join an alt-rock band. He's been back in the culinary scene for a few years now—this time behind the bar.
Heist is in the midst of its final inspections, so hopefully we'll be able to check it out soon. Do you think the brewpub will be a fun addition to the NoDa scene?