News from the Charlotte dining scene
Midwood Smokehouse, Block & Grinder, a new vendor coming to 7th Street Public Market, and a dinner to support MS research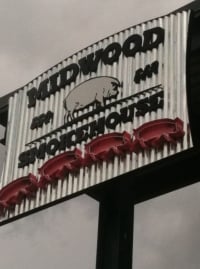 More barbecue is always a good thing
This Saturday, Midwood Smokehouse (1401 Central Ave.) will close temporarily as a construction team works on the project I first told you about on the blog last July. The updates will expand the restaurant from its current 2,000 square feet to 3,800 square feet. Look for the barbecue joint to open again on Thursday, April 19 (pending completion of the expansion), when it will be able to host 168 guests as opposed to the current capacity of 88 guests.
Order up
The butcher counter at the newish Block & Grinder is officially open. Here's a link to the restaurant/butcher shop's product list.
Feel-good food
The National Multiple Sclerosis Society (NMSS) will team up with Provecho Catering (the group behind The Chrome Toaster food truck) and Re Salon for an event they're calling the MS R Charity Dinner. The event will include a cocktail reception and a four-course plated dinner with wine pairings, plus musical entertainment, goodie bags, and live and silent auctions. Proceeds will benefit NMSS. Tickets are $75 each or $150 per couple (and still available).
To market, to market
Local Loaf will soon join the 7th Street Public Market, taking over the former Fran's Filling Station outpost in the front corner. The bakery, from baker Adam Spears (formerly of Heist Brewery), plans to serve soup, salads, sandwiches, and fresh-baked breads.