Newsmakers: Richard Thurmond
Thoughts on 21 years with the city magazine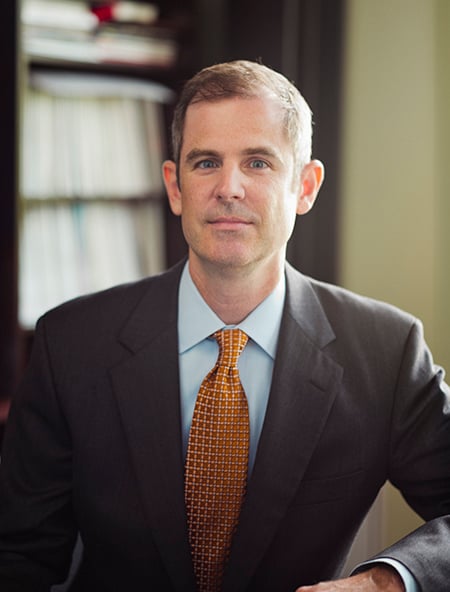 NEXT MONTH, For the first time in 21 years, Richard Thurmond will not be on the masthead at Charlotte magazine. In September, he stepped down as publisher of the publication he joined in 1995 to accept a job with Charlotte Center City Partners as senior vice president of community and business development. Thurmond worked his way up from editorial assistant to editor to finally, in 2013, publisher, and saw the magazine grow along with the city. Here in his own words, the Tallahassee, Florida, native talks about his path to publisher, and his thoughts on the magazine's role in Charlotte. (Interview edited for clarity and space.)
---
I WAS IN FIFTH GRADE when I decided I wanted to write. And, more specifically, write for Sports Illustrated. … I interned at The Charlotte Observer my senior year at Davidson (College), in the sports department. It was busy; it was fun. I got to write a lot, but I also slowly came to the realization that I didn't want to work for a newspaper. I liked writing and I liked being creative in writing; the newspaper wasn't really set up for that. And to be totally honest, the people I encountered in the newsroom did not seem very happy with their lives. Internships can show you want you want to do and show you want you don't want to do. This was at the end of my senior year, so I'm like, "All right. I know what I don't want to do."
I LITERALLY STARTED CALLING people with English majors who went to Davidson and saying, "How do you make a living out of an English degree? How does this work?"
I ENDED UP IN THE OFFICE of somebody who was a corporate communications person at First Union, and she said, "You need to call my friend Ken Allen. He just got hired as editor of Charlotte magazine and they're restarting the magazine."
I WAS COBBLING TOGETHER several jobs: I was a freelance sportswriter for a weekly paper out of my hometown of Tallahassee, Florida called The Osceola; I worked at record store at Eastland Mall; and picked up whatever other odd jobs I could. This was the end of my first year out of college, and I think my net was negative-$600 that year.
I MADE AN APPOINTMENT with Ken in the spring of 1995. Ken had been hired to basically re-launch Charlotte magazine. Even though the magazine was in existence and had been publishing, we thought of it like a brand-new magazine that we just created from scratch. New logo, we had no subscribers, no advertisers, nothing. I walked into Ken's office and he said, "I like your clips and if my friend sent you here, she must have thought highly of you. I can offer you $5 an hour. Can't promise it will be full time. Do you want it?" I'm like, "Yes."
SO I ADDED EDITORIAL ASSISTANT at Charlotte magazine to my list of jobs, but it was never less than full time. I never worked less than a full day. In fact, much longer days. Ken and I were the only editorial staffers. And there was a salesperson, an ad director, and a publisher. And an office manager. That was it.
MAYBE THREE MONTHS INTO IT, I still needed a full-time job and a couple things happened: the Panthers offered me a job to write for their paper, and I turned it down because I liked what I was doing at Charlotte magazine. (Also,) The Osceola offered me a job, but I would have had to go back home and dedicate my entire existence to covering college athletes. So I went to Ken and told him. That's when I learned my first rule of negotiation—never be the first one to say a number. He said, "What are they going to pay you?" I said, "They're going to pay me $15,000 a year." He said, "We'll match it."
FROM THE START, I loved being a part of something that we were building. I loved the people there. Ken was my mentor, he was my one-man journalism school. Sadly, he passed away earlier this year.
I BECAME EDITOR FOUR YEARS LATER and served in that position for 13 years. Being editor of Charlotte magazine is and will forever be the best job I ever had. At a very basic level, you are creating something new every month, and you can see it, and you can hold it, and you can touch it. And you can tell almost whatever stories you want to tell. I was lucky in my career in that I worked for a company and for publishers—in particular, Karen Rodriguez—who let me do whatever I wanted to do and trusted me to tell great stories.
WHEN I WAS THE EDITOR I'd tell my staff, I edit a magazine for a staff twice our size. That's just who we are; that's what we do. Charlotte is a city with ambitions beyond its size and actual place in the world, and the city magazine has reflected that.
(BACK THEN) we, as a city, measured our self-worth on what national company deemed us worthy enough to open up an outpost. So, when Morton's opened up a restaurant here, there was this giant celebration. When certain national chains opened up a store here, we thought, "Oh, we've made it, we've arrived." And now … it's like, "But you're displacing this local place that I love." There's this pride of place that's developed even in the last three years.
I ENJOY LEADING A TEAM. I enjoy helping people be successful at their jobs, no matter what they do. My favorite definition of leadership is Maya Angelou's: "Leadership is finding greatness in other people."
I CERTAINLY WASN'T LOOKING TO LEAVE. I'm leaving a job I love. It's also the only thing I've ever done. One of the things I've enjoyed about working with the city magazine is that it's part of our mission to help make Charlotte better. But I started to think of this opportunity (with Center City Partners) as a chance to do that in maybe a different scale or a different platform or a different way. … It's funny, as word got out, a lot of people who knew me well said, "That makes so much sense. That's just a natural extension of what you're already doing."
IT WAS THE HARDEST DECISION that I've ever made in my life to leave. It was definitely because of the work. Partly because it's all I've ever done, but also because of the people. I know that's a cliché, but it's true.
JODIE VALADE is a freelance journalist based in Charlotte. Reach her at jovalade@gmail.com or on Twitter: @JodieValade.
---
This article appears in the November 2016 issue of Charlotte Magazine
Did you like what you read here? Subscribe to Charlotte Magazine »
---