NFL Kickoff Game Announced, College Classes Delayed, Convention Cookies Served, and More in this DNC News Recap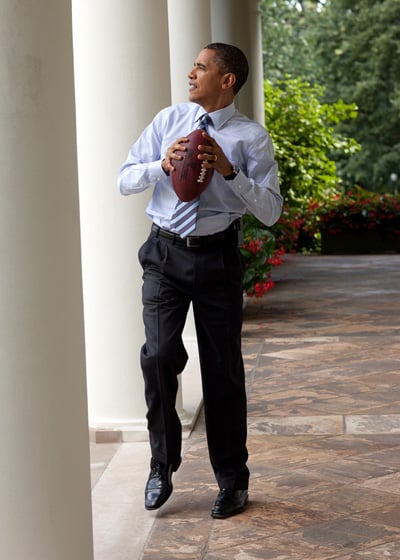 There's been a lot of news and announcements coming out over the last few days related to the Democratic National Convention. Below, I link you to 10 of the most notable news items—listed beginning with most recent—including a paragraph from each (click on the headline to go to the story).
City releases unredacted DNC emails – The Charlotte Observer
Among the details that the city of Charlotte thought were worth keeping secret about the upcoming Democratic National Convention: what color to paint a new police command center; the location of fire and building inspectors at Time Warner Cable Arena; and a squabble between police and federal authorities over when to hold a meeting.
Giants vs. Cowboys featured as 2012 NFL kickoff game Wednesday, September 5 – CBS Sports
We'd previously told you that the 2012 NFL season would begin on Wednesday, September 5 to avoid President Obama's speech at the Democratic National Convention. And the NFL announced on Tuesday that the defending Super Bowl champion Giants will play the Cowboys to kick off the season.
Some homeowners plan to offer bed-and-breakfast experience during DNC – WSOC-TV
Many people who plan to rent out their homes to visitors coming to Charlotte for the Democratic National Convention are having second thoughts. So to give themselves peace of mind, they're staying at home — but offering extra amenities.
Planners for Democratic convention in Charlotte scramble to raise funds – The Washington Post
The festivities kick off with a Labor Day rally for thousands of families at the Charlotte Motor Speedway on Sept. 3 and conclude with Obama's nomination acceptance speech at the 74,000-seat Bank of America Stadium on Sept. 6. Perhaps most consequentially, the convention fundraising comes with a populist twist: Although the host committee needs to raise $37 million, it is banned, under new rules imposed by the Obama campaign and the Democratic Party, from accepting corporate cash and individual donations of more than $100,000 — for the first time in history.
JCSU pushing back classes to make room for DNC delegates, events – WSOC-TV
With less than six months away from the Democratic National Convention, changes are happening all over Charlotte, including at local college campuses. At Johnson C. Smith University, faculty, staff and students are starting to learn how the convention will impact them.
Rental matchmaker: Site cashes in on convention – Gaston Gazette
Brendon Urban started thinking about how his Mount Holly home could become a business venture after hearing about the limited number of hotels available to prospective Democratic National Convention visitors. When the idea first turned into a website, DNCRental.com was a way to help family members and friends take advantage of the guests Charlotte will host in September. Today DNCRental.com is an online gathering place set up to connect any Charlotte-area homeowner with the 35,000 people expected to descend on the region.
Charlotte in 2012 Opens Application Process for Summer Internships – Charlotte in 2012
The Charlotte in 2012 Convention Host Committee is seeking college students and recent graduates for summer internships with the Host Committee for the Democratic National Convention. The internship experience is one of the core components of hospitality and logistics for the 35,000 guests coming to North Carolina for the 2012 Democratic National Convention.
From cookies to cups, local businesses adding DNC items – WCNC
Local shops are getting on board with the Democratic National Convention, and it's paying off. A few locally-owned businesses are getting political. NewsChannel 36 found political cookies at Kai's Kookies and More on South Boulevard near Scaleybark Road, and cups at The Boulevard boutique in the South End showing a donkey and elephant in a boxing match.
Former Secret Service agent hired as DNC security director – The Charlotte Observer
Organizers of September's Democratic convention in Charlotte have hired a former Secret Service agent to be their security director. Ohio native Tom Rosfelder, who logged 26 years with the U.S. Secret Service, will work with the Charlotte-Mecklenburg Police Department and the Secret Service – the lead agencies responsible for developing the security plan for the 2012 Democratic National Convention.
DNCC Announces Commitment to Perform 2,012 Hours of Service – Democratic National Convention Committee
The Democratic National Convention Committee today announced its "2,012 Hours for DNCC 2012" program, a commitment by the DNCC staff to perform at least 2,012 hours of service before the 2012 Democratic National Convention in September.