Nick LaVecchia's Battleground Steakhouse and Bar in Kings Mountain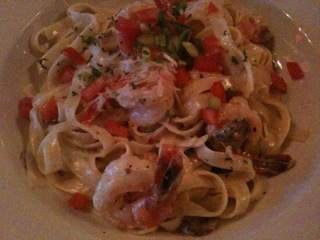 Charlotte restaurateur Nick LaVecchia of LaVecchia's Seafood Grille and Nix Burger & Brew in uptown, keeps moving further down I-85. First, there was Old Stone Steakhouse in Belmont, then Nick's Steak & Taphouse in Gastonia, and in March he opened Battleground Steakhouse and Bar in Kings Mountain.
The Kings Mountain location is different though because while Belmont and Gastonia enjoy some of the urban sprawl of Charlotte, Kings Mountain is fairly far removed. Battleground Steakhouse and Bar is located in a restored furniture shop facing the railroad tracks that run through the small town. The uptown looks like one of the many sleepy towns in the region struggling in the post-textile days. However, I think LaVecchia may be on to something.
I realize this is supposed to be a blog about food, but I'm going to deviate for a moment and encourage a trip to Kings Mountain—a food-focused trip, of course. In addition to outdoor activities like hiking the mountain and exploring the historic Revolutionary War battleground here, the town now offers an annual Real to Reel film festival and just around the corner from the new steakhouse is the Mauney twin's Cardinal Gin Distillery (which offers tastings if you call ahead). In other words, this quaint town, just forty minutes from Charlotte, seems to be on the way up—and Battleground Steakhouse is certainly helping.
Ok, so the food. It's pretty typical steakhouse fare, but it's prepared very well and there are a few unexpected options like a tender Atlantic Salmon with a white wine lemon butter sauce ($17.99) or a creamy Shrimp and Grits with caramelized shallots and chorizo sausage in a Cajun cream pan sauce ($16.99). The shrimp fettuccini ($15.99, pictured) is simple, but good with garlic sauteed shrimp and pasta tossed in a white wine and asiago cheese sauce. But, the steak does reign supreme here with filet mignon, New York strip, and sirloin offerings. If you're ordering an appetizer, go for the Firecracker Shrimp—they're lightly fried with a slightly spicy sauce and come with creamy ranch for dipping.
It's a pleasant spot for eating—partially because of the exposed brick walls and beams left from the old store, but mostly because the wait staff could not possibly be more friendly or helpful. Maybe it's the Southern small town thing.

Battleground Steakhouse and Bar is located at 222 South Railroad Ave. in Kings Mountain, NC.