Nightlife News: Wednesdays with Bobcats, Going Ham with Cheerleaders, Stadium 4 Opens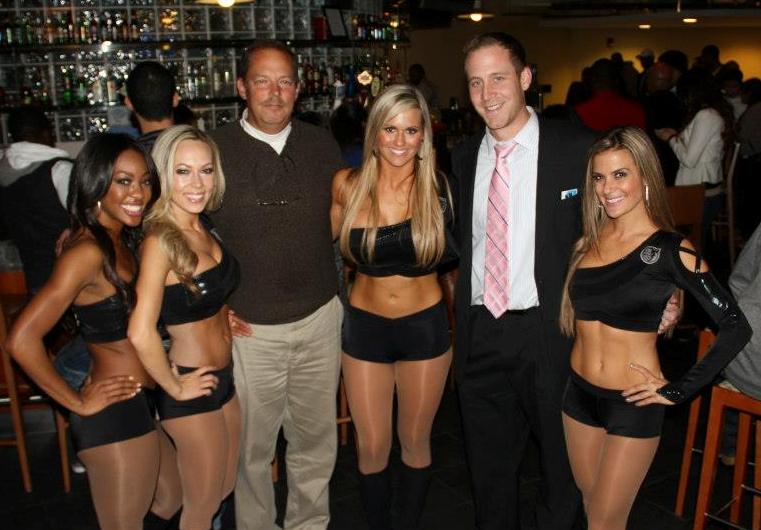 There's a coincidental sports theme to this edition of Nightlife News, but it's not a game!
Humpin' with the Cats
If you've looked at the Charlotte Bobcats' 2012-13 schedule, you might've noticed that the team plays a whole lot of Wednesday night home games—13 to be exact. So, one-third of the opportunities (out of 41 home games) in which you get to see NBA basketball in Uptown occur on Hump Day. The team's marketing department is taking this mid-week challenge in stride and branding Wednesday Night Basketball as a must-attend event.
Your ticket to a Wednesday night Bobcats home game (7 or 7:30 p.m.; $10-$33 for upper level, $53 and up for good seats) comes with extra perks. It gets you a free ride all day on the LYNX light rail line; great deals at participating EpiCentre restaurants and bars before and after the game, such as free appetizers at Vida and BlackFinn and no cover charge at Whisky River and Suite; and at the actual game at Time Warner Cable Arena you can enjoy specials like $4 12-ounce beer. Having already played three Wednesday home games this season, the Bobcats' upcoming games on this particular night are this Wednesday (Dec. 12) against the L.A. Clippers (Chris Paul and Blake Griffin) and December 26 against the Miami Heat (LeBron James and Dwayne Wade), two of the most exciting teams in the league to watch. bobcats.com, epicentrenc.com.
Wednesdays have already become a night of viable nightlife options in Charlotte. The weekly Pop Life party at Re:Public draws hundreds of people, as does Level Wednesdays at Suite. And newcomer Label at NC Music Factory has its Label Me Wednesday series, which this week is hosted by Clippers star Chris Paul (check this week's events on Dusk Till Dawn).
Knock Down, Gorgeous
Speaking of the Bobcats, you can watch their cheerleaders—the Lady Cats—along with the Charlotte Checkers CheckMates (cheerleaders) compete against their team mascots, Rufus and Chubby, in a Frozen Ham Bowling Contest on December 19, 8 p.m. at Queen City Q as part of a fundraiser for Second Harvest Food Bank of Metrolina. In addition to this eye-catching entertainment, you'll also enjoy food and drink specials.
In fact, Queen City Q has created Hams for Hunger, an event to help feed local families in need during the holidays by collecting hams or the dollar equivalent to donate to Second Harvest. So from December 12-19, if you bring a ham to The Q or make a cash donation of $20, you'll receive a $5 voucher to dine at the restaurant and be entered into a drawing to win prizes, including T-shirts, hotel gift cards, yoga membership, and tickets to Bobcats and Checkers games. Queen City Q, 225 E. Sixth St., queencityq.com (parking is validated for the Seventh Street Station garage).
Fourth Time's the Charm
The grand openings (and grand closings) in Charlotte's nightlife scene continue. Stadium 4 has recently opened at 305 W. Fourth Street in Uptown. If that address seems familiar, it's probably because a new club opens there about every 12 to 18 months, meaning whichever club opens typically lasts less than a year. From my memory, I can recall that venue being Club Rosé, Bentley's RSVP, and V Lounge in the last few years.
But perhaps Stadium 4 will find better luck. The two-level nightclub boasts two bars, 15 TVs, and ten VIP booths. It has a weekly Saturday night series called Charlotte Live! (@charlottelivenc), beginning at 9:30 p.m. and featuring live band EMF Soul on the first level, and DJ Shogun on the second level. That combination alone makes Saturday nights at this new club worth checking out. Stadium 4, 305 W. Fourth St., Facebook.
Verify dates, times, prices, and other info at the web addresses listed for each event or venue.
Be sure to bookmark www.charlottemagazine.com/Blogs/Dusk-Till-Dawn to stay plugged into Charlotte nightlife. Follow me on Twitter @HollidayInk; email me at jarvish@grownpeopletalking.com.