No Rest for Partiers at Town Tavern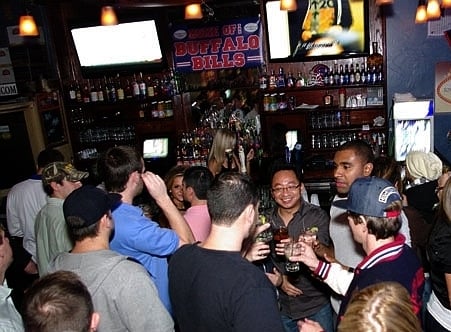 I was out in uptown last night and decided to pop into Town Tavern a little after 11 p.m. I've gone there a few times before but never on a Sunday night or at least not that late on a Sunday night. Well, I can now attest that S.I.N. Sundays, the weekly party, at Town Tavern is serious.
The place was packed on both levels. You enter from Tryon Street, where you can hear the music blasting from inside, and on the main level people were primarily mixing and mingling. TVs were tuned to the Sunday Night Football game, and I didn't see a DJ on this level so I assume the music playing here was a pre-recorded mix (it's different from the music playing downstairs).
Downstairs, in the basement level, is where the real party was though. People were dancing hard as if tomorrow wasn't Monday. DJ R Wonz was spinning a hot mix of hip-hop and pop, while neon green lights filtered through the dark room. There's a bar on this floor so people didn't have to go upstairs for drinks, though several of them journeyed up and down for the change of scenery.
There were a surprising number of women here—I would think more guys tend to hang out on a Sunday night—and the ratio was about even. The majority of the crowd was definitely in their twenties, but there were plenty of people in their thirties as well (and a few older than that). About a fourth of the crowd were dressed in NFL jerseys—I saw several Carolina Panthers and Cam Newton jerseys in addition to other popular teams like the Redskins and Steelers (Town Tavern is an official Buffalo Bills Backers Bar). Some of these folks in the crowd likely had been barhopping in uptown since earlier in the night, while others, particularly the women who came "dressed for the club," seemed to have recently arrived.
The atmosphere almost put me into a party mood, although I wasn't planning to stay long. I don't think I've gone out regularly on a Sunday night since college—now I only tend to do it when Monday is a holiday and there are special events going on Sunday night. But if you want to party on any given Sunday, give Town Tavern a shot.
Sunday drink specials include $3 vodka drinks, $5 Red Bull and vodkas, and $5 Jägerbombs. The bar is open until 2 a.m., and there is no cover charge.
Town Tavern, 200 N. Tryon St., towntaverncharlotte.com.
Be sure to bookmark www.charlottemagazine.com/Blogs/Dusk-Till-Dawn to stay plugged into Charlotte nightlife.