NoDa 4.0
From mill village to crime-ridden and blighted to avant-garde arts district to ... what? As NoDa, full of new bars but precious few art galleries, enters its next phase, is it still an arts district? To the people of NoDa, the answer is ... "Yes"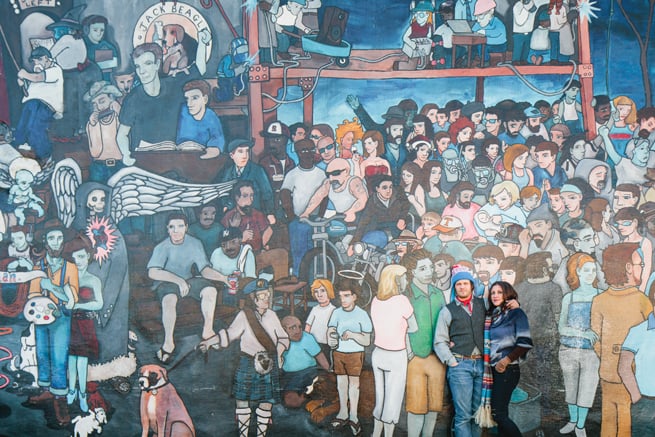 In 2007, Jeff Tonidandel and his wife Jamie Brown quit their corporate jobs to spend a year backpacking around the world. Along the way, the two Davidson College alums hoped to figure out what they would do next. Tonidandel knew he no longer wanted to wear a suit to work. But the self-described foodie never considered opening a restaurant until they spent time in Europe.
"We were grabbing street food because we were trying to eat within a budget," Tonidandel recalls. "We liked a lot of the different street foods, but a crepe hit the sweet spot of being a good, cheap meal. We knew a restaurant with street food would be a big hit but we settled on the crepes because no one else was doing it in Charlotte."
He decided to open Crepe Cellar in NoDa. He already hung out at the neighborhood's restaurants and music venues, and it was just a quick jaunt from uptown. NoDa also had the vibe he wanted. "We needed to go to a more accepting community that would embrace something a little different and eclectic," he says.
In November 2008, he and his business partner, Paul Manley, signed a lease for the space near the corner of 35th and North Davidson streets. The economy was in free fall. Two months later, Niche MKT, the clothing and pop art store next door, closed. Vacancy rates along the two blocks that make up the heart of NoDa were at 40 percent. But the Crepe Cellar was a hit.
People poured in from all around the city. Waits for one of the 11 tables sometimes stretched up to three hours. Tonidandel's biggest nights were the twice-monthly Friday night gallery crawls, long a NoDa staple. "Even if we were having a slow week," he says, "we knew that Friday night would get us through the weekend and help pay the bills."
Fast-forward two years. The worst of the recession was over, and a new NoDa was emerging. The neighborhood pulsed with new restaurants, bars, and music venues, but the artist spaces were flailing and failing. The crepe business was so good, Tonidandel and Manley opened a gastropub, Growlers Pourhouse, in the space that had housed Niche MKT—one more bar, one fewer art-driven space. By the beginning of this year, there were almost as many breweries in NoDa (three) as art galleries (maybe twice that).
"On [the Crepe Cellar's] opening day, April 16, 2009, there were 13 galleries within three blocks," Tonidandel says. "Now there are only a handful. There are still a ton of people out, but there's no bump-up from the gallery crawl."
Can an arts district still be an arts district without traditional art spaces?
It would be easy to say that NoDa is at a crossroads. The truth is, the community is seemingly always at a crossroads. That's part of what gives the place its NoDa-ness. This is just the latest identity crisis. Still, whether it's the new high-rent apartments or the tattoo parlors and bars where galleries used to be, there's no denying that NoDa is a different place than it was a decade ago. But worries that NoDa will lose its edgy coolness or its distinction as the arts district seem limited to people who don't live or do business there.
"There have been so many aesthetic changes here, but NoDa is still the most laid-back community in Charlotte," says real estate agent and long-time resident Dana Burleson.
"That vibe has never changed," she says, referring to the past couple of decades, "and I don't think it ever will."
But can an area with more places to wine and dine than to see or create art really call itself the city's arts district? Is it fair to say that NoDa has become NoEpi, a more authentic and less pricey version of the EpiCentre, two miles north?
Longtime NoDa Neighborhood Association president Hollis Nixon hears those questions all the time. She clearly finds them annoying. "When some of the galleries closed, we got a lot of media attention saying, 'Oh my God! You're not an arts district anymore,'" she says with a heavy sigh. "Sometimes it's hard for people to expand their vision of art beyond oil on a canvas. This has always been an entertainment district, but it is still Charlotte's arts district."
Tonidandel agrees. "Even though we don't have the overt studio spaces showing up, much of the energy of the art scene still comes from here."
NoDa's art scene, Tonidandel believes, isn't confined to old-fashioned art galleries. It's something else altogether.
"The people are here."
The area known as the Arts District began with the construction of the Highland, Mecklenburg, and Johnston mills more than a century ago. Mill owners built houses for their workers, and the area became a self-contained village connected to uptown by a trolley line down North Davidson Street. Residents could find basic necessities in the two-block commercial district that included a barbershop, a drug store, several grocery stores, a dry goods store, a doctor's office, and the Bank of North Charlotte.
By the time the last mill closed in 1975, Charlotte had completed its transition from a textile powerhouse to a banking center. The north corridor soon deteriorated into little more than a crime-ridden collection of empty and unkempt houses and vacant storefronts. The Astor Movie Theater (now Neighborhood Theatre, which hosts concerts, art shows, and a packed Sunday-morning church service), which was a hub of family entertainment in the 1950s, screened X-rated films. A topless bar operated next door. North Charlotte became a forgotten enclave.
That may have been the best thing that could have happened to it. As Charlotte began to boom in the 1980s, developers ignored the area around North Davidson and 35th. The historic buildings escaped the wrecking balls that had razed other neighborhoods in the name of progress. Artists began to move in. The name NoDa, short for North Davidson, was coined by architect Russell Pound in the early 1990s, adopted by a group of furniture designers with offices in the neighborhood, then picked up by a group of artists who called themselves Friends of Van Gogh. The moniker didn't really catch on until the beginning of this century, when real estate agents and developers began using it to market the community.
The district's true boundaries run north and south from Matheson Avenue to Craighead Road and east and west from The Plaza to Tryon Street. In the past five years, the unofficial borders have expanded to include the area just south of Matheson. Recently opened businesses in Villa Heights—including Amelie's French Bakery, NoDa Brewing Company, and Birdsong Brewing Co.—market themselves as part of the arts district. People want to be in NoDa.
In 1983, Ruth Ava Lyons and Paul Sires, two young, broke artists, came to Charlotte by way of Detroit and Cleveland. They set up shop in North Charlotte with plans to stay for a year or so. "[NoDa] was pretty much abandoned—just a couple of bars and a handful of artists," Sires recalls. "The area had a bad reputation from the mill days and people were afraid to come here, but the cheap, affordable studio space made it a natural thing for us to do."
A week before last Christmas, Lyons is away on a SCUBA-diving trip. Sires and his 22-year-old daughter are restoring motorcycles in his studio near 22nd and Brevard streets. The low-slung gray building with the gravel parking lot could easily be mistaken for an abandoned building if not for the Prius with the Obama bumper sticker parked out front. Dressed in all black and sporting a 1950s-era pompadour, black-framed glasses, and lots of silver jewelry, Sires looks like a cross between Bono and Elvis. It is obvious why some call him the Godfather of NoDa.
Over time, Sires and Lyons, who are married, bought and renovated several buildings, including a 14,000-square-foot, two-story, red-brick storefront at Davidson and 35th streets. They offered studio spaces for artists of all disciplines and lobbied to attract arts-related businesses to their properties. "We put everything we had back into our studios and into our art and kept plugging along," Sires says.
Center of the Earth Gallery opened in 1991 as the anchor tenant in the storefront and became a popular spot for receptions and a hub of the
fledgling gallery crawl scene. By the time Historic Charlotte gave Sires and Lyons the Preservation Award in 2003 for their roles in remaking the area, NoDa was a booming arts community drawing thousands for the semimonthly crawls.
Sires and Lyons have each achieved critical and artistic success. Sires's work has been exhibited at prominent venues including the Mint Museum and the Phoenix Art Museum. Two of his sculptures can be seen outside Time Warner Cable Arena. In addition to one-woman shows and exhibitions around the country, Lyons's vibrant landscape paintings can be found in many public and corporate buildings such as the Charlotte Convention Center.
In 2010, they decided to close Center of the Earth and lease the space to other artists. After 21 years of running a gallery, they wanted to pursue some long-neglected hobbies and focus on creating their own art. By then, there were few galleries left in NoDa.
Once-popular spaces like Art Preserve, Green Rice, and Beet Gallery shut their doors, victims of the recession. Others moved. Vietnamese-born artist and UNC Charlotte alum Duy Huynh opened Lark & Key gallery in 2008, but moved to South End two years later, in search of more space and more weekday foot traffic.
Artist John Hairston Jr. started hanging out in NoDa 15 years ago, back when a deli-cum-bar called Fat City was a place where underground rap artists threw down on open-mic nights and a little-known band called The Avett Brothers played one of its first shows. Now, the building is an apartment complex charging as much as $1,700 a month for rent. "That's where I first saw the kind of art I was making," says the 34-year-old native Charlottean. "It bridged the gap between my art and what is considered fine art. Over the last decade, I saw [NoDa] change from the grassroots artists to more established artists, have more bars than galleries. That's not a bad thing or a good thing; it just is."
With the exception of the occasional show, Hairston spends little time in NoDa these days. His studio is his home and his website serves as his
gallery, a business model embraced by many artists. Although commercial rents in NoDa have remained reasonable, even a cheap gallery space becomes unaffordable if few people are buying art.
"People complain about NoDa and galleries closing," Lyons was quoted as saying in 2010. "But it's a two-way street. The public has to support those venues. [Art galleries] can't function as just a place of entertainment. It's a business."
On the first Tuesday in January, dozens of NoDa residents, entrepreneurs, and property owners gather in the Evening Muse, the intimate music club on the corner of 36th and Davidson, for the monthly Neighborhood Association meeting. After Hollis Nixon calls the meeting to order, the group spends a few minutes discussing the treasurer's report and a board member's resignation before delving into the proposed expansion of a residential development. They pepper the developer with questions about soil toxicity and whether auto headlights will disturb the residents. The meeting concludes with a discussion of 2013 goals, which include recruiting more of the renters and lower-income residents to become active in the association.
In a community of fewer than 3,500 people, it is not unusual for a hundred people to attend the monthly meetings. Nixon estimates that members of the 11-person volunteer board devote between 10 and 40 hours a week to neighborhood business. Residents take it upon themselves to organize a softball team, create an outdoor movie night, host a block party, or start a farmers market. Nixon says it's that kind of passion that will ensure NoDa continues to thrive, even if it has to curb some of its free-spirited ways.
When the twice-monthly gallery crawls devolved into a swap meet, with vendors pitching tents up and down the sidewalks to hawk prepaid phone cards and bootleg DVDs, the association spent six months trying to address the complaints of business owners. They ultimately devised a credentialing system. Now, vendors with a city-issued license receive a lanyard that allows them to sell only original art in allocated spaces on a first-come, first-served basis. "It's up to the businesses to make sure everybody is following the rules and call the police if they are not," Nixon says.
More recently, the association has grappled with how to fill the void left by the departed galleries. NoDaRioty, a committee of the association, launched NoDa Public, a volunteer project to display works of local artists in a variety of locations throughout the neighborhood. The intent as described on the group's blog was "to create a 'gallery' that is always open, always free, and always looking for new contributors. The rent can't go up on the building, and … the 'gallery' won't be destroyed in the name of gentrification."
Instead, vandals and thieves destroyed the public art gallery. One portrait disappeared and reappeared mysteriously a week later. Another painting was taken and replaced with a completely different one. Four graphics near the fire station on North Davidson were ripped from their frames. "We will have to tell the artist that someone liked their work so much that they stole it," the committee wrote on the website. "The artist understood from the beginning that this was a possibility, and hopefully will be more flattered that disappointed." The experiment ended.
Still, art permeates NoDa. NoDaRioty hosts the quarterly, three-day All Arts Market at Neighborhood Theatre. Fu's Custom Tattoo, Espada Bicycles, Ruby's Gift, Orange Olive Hair Gallery, and Heist Brewery display and sell art from local artists. Bars Dolce Vita and JackBeagle's showcase work from local and regional artists.
For several years, Cabo Fish Taco, one of NoDa's most popular restaurants, has served as a gallery for NoDa resident Will Puckett's portraits. "That's a good place for me because they get so much traffic and I've had tremendous sales," says the artist and muralist, who is one of the more visible denizens of what could be called NoDa 4.0.
When Will and Lauren Puckett moved to Charlotte from California in 2004, they purchased a home in Matthews. They lasted a year. "That was a total disaster because we're not suburban people at all," Lauren, a graphic designer, says.
In 2005, they moved to NoDa and fell in love with its bustling art scene, only to watch its near collapse a few years later. "It was becoming an arts district with no art," Lauren says. "Galleries were closing and the neighborhood was in such a sad state."
They were as troubled by the closings as anyone but, as a muralist, Will's art had never been confined to traditional spaces. In 2008, the former fashion model completed his first mega-project, an 8,000-square-foot mural on the floor of the NoDa @28th Street mall, which houses Amelie's French Bakery. It took nearly a year and a half longer than expected and was one of the largest paintings in the city at the time.
The Pucketts also created an artistic landmark on NoDa's main drag. Als Ich Chan (Dutch for "the best I am capable of doing"): A Tribute to NoDa, the 1,200-square-foot painting of 270 NoDa residents on the exterior wall of JackBeagle's, was a collaborative effort. Lauren figured out who owned the building, got permission, raised the money, rounded up the subjects, and photographed them to be included in the final work. Will began painting on April 16, 2009, the same day the Crepe Cellar and Fu's Custom Tattoos opened. He completed it 18 months later, working nights and weekends while working weekdays at a veterinary clinic. Neither he nor Lauren got paid a dime. "We wanted to do something to get the spirit back," Lauren says.
Puckett's best-known work is the kind of public art NoDaRioty envisioned with the kind of antitheft measure they did not. The Neighborhood Association and NoDaRioty convinced the city to approve a mural that would transform the overgrown, blighted area under the Matheson Street overpass into a welcoming representation of NoDa. Puckett's proposal—a depiction of Mecklen–burg County's fabled Declaration of Independence from Britain in 1775—was selected.
The artist spent the better part of a year perched on the concrete embankment or hanging from scaffolding. Wearing rock-climbing shoes to compensate for the slope and ear plugs to drown out traffic and construction noise, he created the whimsical scenes he describes as a "really, really big children's book."
"The mural has turned this bridge into a vibrant gateway to NoDa—a neighborhood that is rapidly transforming itself into one of our city's most happening
sections," Mayor Anthony Foxx said about the project.
As Sires and Lyons scale back their day-to-day community involvement, the Pucketts could be seen as the heirs apparent who will mold and shepherd the artistic vision for the next incarnation of NoDa. In addition to Will's art, the couple routinely takes a leadership role in conceiving and supporting art projects and promoting the Arts District. Both have been recognized by the neighborhood association for helping other artists and donating their talents and efforts to community projects while helping to redefine NoDa's art scene.
"If the colors I paint aren't going to be on the walls in galleries," Will says, "then I'll put them on the walls out in the street. I want to put my art in places where everybody can see."
Despite the changes, Paul Sires describes himself as "tragically optimistic" about the future of the community he's spent a quarter century rebuilding. Like so many others, he believes the long-awaited Blue Line extension of the light rail, which will run north a block off of North Davidson Street, is a plus for the community but not its savior. Good thing, because for a while it seemed like it would never happen. Waiting for it seems a bit like waiting for Godot. It's always just five years away. This past November, though, the city received a federal grant for half the cost of the extension and announced that construction will begin late this year with operation to begin in 2017.
"When that happens," Sires says, "we won't be a little satellite but part of the larger community," he says. "The neighborhood will continue to change and morph over time. That's to be expected.
"Five years from now there's going to be another conversation about how NoDa has changed."
NoDa 5.0, anyone?