NoDa Brewing Company bottles its first year-round beer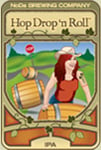 NoDa Brewing Company has released four bottled beers since opening in October 2011, and today marks the first release of a year-round beer: Hop, Drop 'n Roll.
Described on the brewery's Web site as "the beer where it all started," the West Coast IPA brewed with Citra and Amarillo hops is now available in 22 oz. bombers.
"It's our most popular beer right now, so we want to get in more hands than the people just drinking it in restaurants or bars or coming to our tap room to get growlers filled," NoDa Brewing co-owner Suzie Ford says. "Bottling it opens so many possibilities for more drinkers."
Hop, Drop 'n Roll is currently available at the brewery's tap room ($6.99) and will arrive in local stores next week. You can find it at Good Bottle Company, Salud Beer Shop, Brawley's Beverage, Carolina Beer Temple, Custom Home Pubs, Vintner Wine Market, Whole Foods, World of Beer, both Common Market locations, the area Total Wine stores, The Wine Shop at Foxcroft, NoDa Bodega and Healthy Home Market.
Ford says the bottling will be done on demand in order to maintain the beer's freshness.
"This is a beer that needs to be drank as fresh as possible," she adds. "Really, within two weeks when you purchase it. Given that it's a West Coast IPA, that style carries a very floral nose."
Ford added NoDa's next bottle release would be sometime in the next month, and it's a great one: Ménage a Quad. If you recall, Ménage a Quad was a limited brew for Valentine's Day (NoDa head brewer Chad Henderson once told me it was his favorite beer from the brewery), and NoDa later had a keg of Bourbon Barrel Aged Ménage a Quad (which was absolutely delicious, by the way. One of my favorites at Brawley's Black & Blue IV).
The batch of Ménage a Quad that will be bottled has been aging in red wine barrels for about 10 months. It will only be available at the tap room, and pre-orders will also be taken due to the very limited supply, Ford says.