NoDa Brewing Company collaborates with Matrimony for special release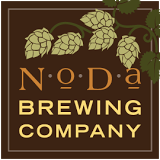 One of the great things about Charlotte's breweries (besides the beer, of course) is they all support other local entities. From food trucks to local artists, you can find a lot of new and intriguing things by heading to a brewery.
These breweries also showcase local music, as solo performers and bands have been a staple at many on most weekends and sometimes weekdays as well.
NoDa Brewing Company is now taking that a step further by highlighting an up-and-coming band as part of its weekly "NoDable Release" series, held every Tuesday. This week's small batch release is titled "Obey Your Guns," named after a song from Charlotte-based Matrimony.
Matrimony is a folk-rock band featuring husband and wife Jimmy and Ashlee Hardee Brown (both featured on vocals), along with Ashlee's brothers, CJ and Jordan Hardee and Ethan Ricks. The band released its debut EP, "Montibello Drive," in June and has been steadily on the road, already opening for such acts as Langhorne Slim and Passion Pit. The video for "Golden City" is also in rotation on CMT, and was filmed in Charlotte (you can spot several local businesses, including Growlers Pourhouse).
Matrimony also performed at this year's Bonnaroo Festival, and is currently on tour supporting Twin Folks. They'll be at the Evening Muse Sept. 20 and also are slated to perform as part of the 2013 Weenie Roast at Verizon Wireless Amphitheatre Sept. 28.
However, you won't have to wait that long to get a live show. As part of the "Obey Your Guns" release, Matrimony will be at NoDa Brewing Company Tuesday (Aug. 27) for a live performance. The beer will be released at 4 p.m. when NoDa Brewing opens.
Obey Your Guns is an Irish stout (said to be the band's favorite style, plus Jimmy Brown was born in Northern Ireland) that came in at 4.5 percent ABV. Matrimony was at the brewery about a month ago to shoot a video, and as you can see, also "help" in brewing the special release.