NoDa Brewing debuts new version of "Woody & Wilcox" beer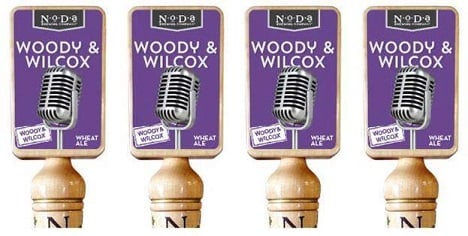 Since debuting in Charlotte six years ago as morning hosts at 106.5 The End, the radio duo of Woody and Wilcox can lay claim to being the only local current personalities to have a beer named after them. (DZL, who also is at The End, once had a namesake beer from Heist for a little while).
The Woody & Wilcox beer, brewed at NoDa, recently underwent its third iteration – and a style that the brewery's fans have longed for. This week, NoDa rolled out the new W&W, which is now a wheat ale.
Shortly after it opened in 2012, the brewery debuted Woody & Wilcox as an IPA. Roughly two years later, NoDa changed the profile of the beer with new hops and malt as well to make it a West Coast IPA, with the new style well received. But as NoDa co-owner Suzie Ford says, the timing to move away from that style made sense given the continued popularity of the brewery's flagship beer, along with a higher brew capacity in NoDa's new location.
"Woody & Wilcox was a great West Coast-style IPA but with Hop, Drop 'N Roll now having no production limitations, we felt we were competing against ourselves in the market," Ford says. "So we looked at our beer lineup and the one year-round beer we were missing is a wheat ale."
Ford also added based on feedback from NoDa's patrons, a wheat beer "is the style that we get requested most often to produce regularly."
I could give you a description of this beer, but that would be selling you fine readers short when there's a much better, eloquent and knowledgeable person than I – and that would be NoDa head brewed Chad Henderson. His YouTube videos never fail to entertain, and here he is talking about the new version of W&W.
NoDa had a release party to celebrate the new Woody & Wilcox beer, as it is currently on tap at the brewery. It also began rolling out to local accounts this week, so you'll have multiple opportunities to try the new style, which will now officially become a full-time year-round beer in NoDa's lineup.
"We're very excited about this beer," Ford says. "It's very light and refreshing – a perfect gateway beer for a new craft beer fan or someone looking for drinkability."