NoDa Brewing partners with Tedeschi Trucks Band for Wheels of Soul Craft Brews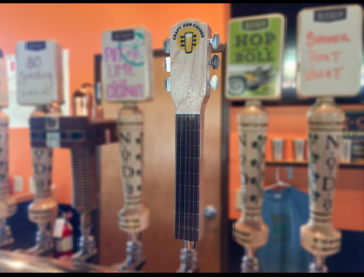 Good music and good beer. There's really not a better combination.
So, let's start here. Click and open this video in another window to provide an incredible accompanying song to this article.
If you don't know, that's Tedeschi Trucks Band, featuring wife and husband Susan Tedeschi and Derek Trucks. Their music, in a few words, is captivating, soulful and stunning. One live show from this 12-piece band and you're hooked – trust me.
For their latest tour (dubbed "Wheels of Soul"), Tedeschi Trucks Band, or TTB to the faithful followers, is partnering with a local brewery at each stop in order to raise money for Mr. Holland's Opus Foundation, which donates music instruments to schools that have little to no funds for their music program.
NoDa Brewing was selected for the Charlotte show (July 16 at Charlotte Metro Credit Union Amphitheatre), and is releasing Peach Slide Pale Ale on Tuesday when the taproom opens at 4 p.m. The idea is to have this unique beer available around a month before the show, as $1 from each purchased pint of Peach Slide will be donated to Mr. Holland's Opus Foundation. It also ties in well with the brewery's continued charitable campaign #YDWD (You Drink We Donate).
NoDa co-owner Suzie Ford said the brewery was "very honored" to be chosen by Crafts for Causes, the nonprofit heading up the fundraising throughout the tour. In total, 40 breweries are taking part during the 20-city trek that begins in New Hampshire July 1 (Asheville's Hi-Wire Brewing is the other brewery tied to the Charlotte show).
The idea for the beer itself came from NoDa brewer Bart Roberts. At just 38 years old, Trucks is already a legendary slide guitarist and for more than 15 years, he played as a member of the iconic Allman Brothers Band, whose "Eat a Peach" album is widely considered one of the all-time greats. The timing is also a bit bittersweet, as founding member Gregg Allman passed away three weeks ago.
"I guess you could also call this a little tribute to Gregg," Roberts said.
As part of the release Tuesday, NoDa Brewing will be giving away three pairs of tickets for the Tedeschi Trucks Band show in Charlotte. The giveaway will take place between 6 p.m. and 8:30 p.m., and you must be present to win.