NoDa Brewing set to open its new brewery and taproom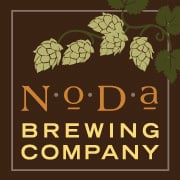 Since announcing about a month ago that their opening date for the new brewery would be October 1, NoDa Brewing's Suzie Ford, co-owner with her husband, Todd, summed up in three words what's been going on over the last several weeks.
"Lots to do."
But rest assured, everything will be done come this Thursday, as NoDa is set to throw open its doors and welcome everyone to the new 32,000 square-foot facility, located at 2921 North Tryon Street, beginning at 4 p.m. The opening will be in conjunction with Pink Pint Night, with a portion of sales that day going to Levine Cancer Institute's Project Pink to fight breast cancer.
"It's really exciting," Suzie says. "As soon as we got our building permit, things really started going. We had to adjust some because equipment was delayed, but we didn't want that to delay the opening."
NoDa isn't going to have an official "grand opening" celebration that you might expect – instead, that'll come at the end of October as part of the brewery's four-year anniversary. (Pardon the pun, but there's a lot brewing for that four-day event that you won't want to miss. Stay tuned).
But you will be able to get some special beers on tap Thursday, including Monstro, Rob's Salted Caramel Stout, Drop Dead Gordgeous, bourbon barrel-aged Olde Voyager, Yours and Mine, NoDaRyeZ'd and for Pink Pint Night, a pink Belgian ale refermented on raspberries. This all, along with NoDa Brewing's regular beers, of course.
As the new facility gets up and running (read: lots of brewing to do), NoDa won't be offering tours for the first week. But if you're eager to see the giant facility in all its glory; you're in luck. NoDa's head brewer Chad Henderson will be giving an extensive tour online via a Google+ Hangout Thursday at 2 p.m. You'll get to see everything, including the new 60-barrel brewhouse, taproom and all of the other ins and outs that make up the brewery.
The new facility has been written about extensively, and NoDa has also done a great job keeping everyone up to date on the building progress via its YouTube videos. Beyond that, here are a few highlights of the new brewery as NoDa moves forward:
Can you dig it?: NoDa will now can its own beers at the facility and beginning in the new year, the brewery will be doing a specialty can each month (think Hoppy Holidays, which came out last year).
"We'll be making Ramble on Red, Woody & Wilcox and NoDaRyeZ'd year-round cans (there have also been talks about canning one of NoDa's newest beers, Par 4 session ale)," Suzie says. "Really, all of our popular year-rounds will be cans and then we'll have our seasonals. We're really looking forward to rolling in some fun new cans."
Craft cinema: Here's something else that's cool: Eventually, NoDa will utilize a tower outside on the property as a projected screen to show movies, a la a drive-in theater (look for that to come in spring 2016, with likely one or two movies a month).
What's old is new: Original purists need not fret; NoDa's original brewery will remain open. Offices and storage space at the current facility are going to be turned into a bottle-conditioning and barrel-aging area, as NoDa will begin a sour program and barrel-aged beer program beginning next year (here's a shot of the early going that NoDa recently posted).
The NoDa Run Club will also remain at the current facility, and there will be at least one or two beers you'll only be able to get at the original brewery ("We really want to give people a reason to still come here," Suzie says.)
As NoDa has steadily worked to get its new brewery up and running, there have been some challenges – the biggest, Suzie says, being "Todd and Suzie Ford."
"What I mean by that is that we don't have 10, 15, 20 investors," she says, and it should be noted the Fords recently officially made Henderson a co-owner, something Suzie says is "well deserved." "We don't want to get tons of loans, so we have to be thrifty and creative and do a lot of the work ourselves. Todd has been over there a ton on Saturdays and Sundays doing work.
"But at the same time it's been rewarding. If you would have asked me the day we opened our first facility (if NoDa would open a second brewery), I would have said no way, and bet against ourselves – only because we couldn't imagine leaving our location. But that's the great thing – we're not leaving; we're just growing the family. We're adding another child in a way."
As NoDa begins brewing and people come to the new facility, expect growth to follow in the area. The Lynx Blue Line extension, scheduled to begin running in 2017, will have stops at 25th Street and 36th Street – which is right in between the new building. And Suzie notes that the city is seemingly buying into the area as well, already giving it a name.
"The city is now calling this area North End, and there's a sign out there and one that says 'Uptown – two miles,'" she adds. "And there's so much already that's been bought around us with lots of talks of developments popping up."
NoDa's second facility comes not too far behind Olde Mecklenburg opening its new location, along with what seems like a local brewery popping up every few months in Charlotte. The continued growth isn't lost on Suzie, and it's something she says NoDa Brewing Company is proud and privileged to be a part of.
"This community has been so supportive, and it shows how much people love local," she says. "Whether it's beer, food, music, art – everyone really wants to support local. We were fortunate to be one of the first breweries to open (as part of Charlotte's craft beer boom).
"From Day One, this community has shown how much they were open to something new – and we did have to convert a lot of people, because for the longest time Charlotte was a Bud/Miller/Coors town. Now it's cool to drink craft beer, and that's a great thing."