NoDa Brewing will release 5 cans over one week to celebrate 5 years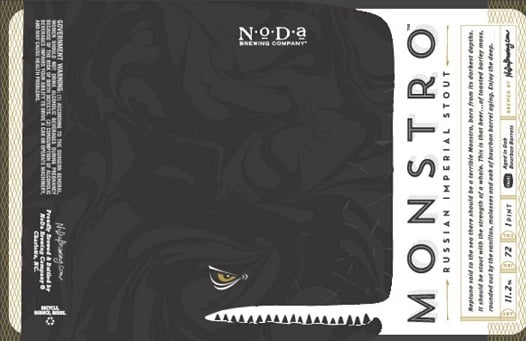 The traditional gift for a five-year anniversary is wood. But NoDa Brewing Co. is set to offer something much more favorable in aluminum – and do it five times over.
As part of the brewery's celebration of turning five, NoDa will roll out five canned beer releases from October 23-29, the latter date being the brewery's actual anniversary.
And the beers NoDa chose to can are sure to please its customers, beginning with the much talked-about Monstro, a Russian Imperial Stout aged in Heaven Hill bourbon barrels. That will be released October 23, followed by the popular seasonal NoDaRyez'd, a double rye IPA (Oct. 24); Captain Peanut Butter's Chocolate Revenge (Oct. 25); Stop, Collaborate and Glisten, a golden ale fermented in wine barrels with grape must and yeast strains that NoDa collaborated to brew with Massachusetts' Night Shift Brewing (Oct. 27); and finally Good Will Hopping, NoDa's New England IPA that was first released on draft this past summer.
******UPDATED**********
NoDa has announced the can limits today along with the tap schedule. Here it is in daily format:
Sunday (10/23) – Monstro (2 four-packs per person); 2016 and 2014 Monstro on tap
Monday (10/24) – NoDaRyez'd (2 four-packs per person); NoDaRyez'd on tap
Tuesday (10/25) – Captain Peanut Butter's Chocolate Revenge (2 four-packs per person); Captain Peanut Butter's Chocolate Revenge on tap
Wednesday (10/26) – Boba Brett on tap (this is NoDa's first foray into its sour program; Boba Brett is a golden sour ale that has been aging at the original NoDa facility for several months)
Thursday (10/27) – Stop, Collaborate and Glisten (2 four-packs per person); Stop, Collaborate and Glisten on tap
Friday (10/28) – 2013 rum barrel-aged Imperial Coco Loco, 2015 bourbon barrel-aged Olde Voyager and 2016 bourbon barrel-aged Between the Berries and Me on tap
Saturday (10/29) – Good Will Hopping (2 four-packs per person); Good Will Hopping and Toast to the New Year on tap
Putting out five beers to the masses in seven days is a big undertaking for sure, but NoDa co-owner Suzie Ford says the brewery wanted to do something special to thank the many customers who have been frequenting the establishment since 2011.
"We wanted to release something that celebrated each of our last five years," she adds. "NoDaRyez'd was a no-brainer, we already had brewed Stop Collaborate and Glisten a little over a year ago with Night Shift, so that was ready, and the same goes for Monstro.
"Everyone and their brother has been asking about Good Will Hopping and we're excited about canning that one. And then we looked at what year we were missing, and Captain Peanut Butter's Chocolate Revenge was one that everyone had always asked about us bottling, and this was even before we were canning."
What will also help this onslaught of canned releases is the fact NoDa now has an in-line labeler to go along with its in-house canning line.
"That certainly makes it easier," Ford says. "With the labeler we'll be able to do a lot more runs of fun, one-off beers – NoDables that are popular, things like that. It makes it a whole new game for us and really gives us a lot of possibilities to roll out limited cans."
Four of the releases will be sold as 16-ounce four-packs, while NoDa's staff is still deciding on Monstro, which could come in either two-packs or four packs. Demand is sure to be high for this beer as it was two years ago, when people showed up at NoDa as early as 2 a.m. to line up for bottles. Ford says she's excited about putting the imperial stout in cans this year, and they've brewed almost quadruple the amount more this time around to allow more opportunity for purchasing.
"It's better for the beer, better for the environment and it truly ages better in cans," she adds. "And Monstro is an aging beer, so what we're hoping is someone will drink one soon and then save (another) and age it and have it down the road."
Each canned beer being sold will also be on tap that specific day at the brewery. Also, all five will be on tap for the anniversary party Saturday, October 29, along with the return of Toast for the New Year, NoDa's golden ale fermented with champagne yeast.
The last five years have certainly been prosperous for NoDa Brewing, from winning a World Beer Cup gold medal for Hop, Drop 'N Roll to opening a second, much larger building (the original NoDa is now being used as a barrel-aging and sour production facility as well as brewing specialty batches) to most recently last week, when head brewer and co-owner Chad Henderson brought home a gold medal from Denver's Great American Beer Festival for NoDajito. Ford reflected on when the brewery first opened with just six employees, as her and her husband Todd cashed in their 401k and took a leap of faith that Charlotte was ready to grow in the craft beer scene. It's a bet that paid off handsomely, as NoDa beers continue to be in high demand throughout the city and state and now boasts 44 employees.
"It seems like we just opened yesterday and in another retrospect, it seems like we've been open forever," Ford says with a laugh. "I don't even know if I can put it into words. We have such an amazing crew from the bartenders to the canners to the brewers to the sales and delivery people – everyone. It's wonderful and nice to see the culmination of all of our hard work, every day, for the last five years. Many of our customers are like family and have become dear friends that we care about. We've become involved in their lives, and it's a great feeling.
"I think what our drive is … we don't have the choice to not be successful. Failure is not an option. We are going to retool until we can figure it out and make it right. Partly for ourselves, because we invested every cent we had in here but moreso for our employees who totally believed in us – maybe before they even should have. So going from six people to 44 makes me excited about what this place is and can be for our employees and community. Because the more successful we are, the more we can give back to the community and be involved and give people a place for a voice."