NoDa Brewing's fourth anniversary party: What you need to know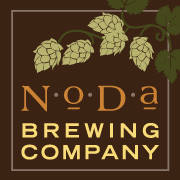 What's the best way to celebrate four years of bringing incredible craft beer to Charlotte? How about a blowout party each day for every year, complete with rare releases and live music?
That's exactly what NoDa Brewing Co. is doing. From this Thursday to Sunday (October 29-November 1), the brewery will be hosting an anniversary throwdown like none other. Fresh off opening up its new facility, NoDa has been preparing for this event for some time now, which is why the brewery didn't have an official grand opening as many would have thought.
Instead, NoDa held back a lot of its beers to celebrate the last four years. You may recall the brewery held a similar string of parties last year, which culminated with the bottle release of Monstro, NoDa's Russian imperial stout aged in oak bourbon barrels. That beer is coming back (on tap only, though, as NoDa won't be bottling Monstro this year due to everything else going on with opening a new facility), along with a number of other crowd favorites, plus some new and exciting beers.
Here's a rundown of what to expect over the next four days:
Thursday, October 29
This is officially NoDa Brewing's anniversary date, and to kick things off, each brewer at NoDa has brewed a special NoDable beer for everyone to enjoy. The beers haven't formally been announced and likely won't until they get released, but I twisted some arms for a sneak peek at a few styles, which include an imperial rye stout, Belgian pale ale, Belgian table beer, strong ale, and saison. In all, there will be seven NoDables being tapped on every half-hour beginning at 5 p.m.
Also, the first 100 people who come on Thursday will get to pick a raffle ticket out of an onsite jack-o-lantern with special prizes being awarded. Tiger Yakatori is the food truck for this day, and the NoDa employees will have a special curated playlist courtesy of Neophonic Friday.
Friday, October 30
NoDa is labeling this day as "Flashback Friday," with some old favorites being tapped, led by last year's Hot Pistol, a stout brewed with chocolate, raspberries and habanero peppers. Hot Pistol, if you remember, was the winning beer from the NC Beer Guys at NoDa's Top of the Hop Pro-Am homebrewing competition a couple years ago, and has seen its popularity soar to where it was bottled last year.
The brewery will also be tapping 2014 TriUmphant, its Tripel (and NoDa's first-ever bottle release); Stop, Collaborate & Glisten, a collaboration with Night Shift Brewery in Massachusetts that's a golden ale fermented in wine barrels with grape must; and 2013 Olde Voyager, the brewery's signature barleywine. Gyro Twins Truck will have food for sale, with live music from New Hires.
Saturday, October 31
NoDa's Spooky Saturday looks to be serving up only taproom treats with 2014 Monstro and arguably the brewery's sleeper hit of last year, Captain Peanut Butter's Chocolate Revenge, which was also released during the Monstro event. Captain Peanut Butter quickly drew raves around the taproom that morning, and has been in enough demand that you just might see it again down the road in a larger capacity at NoDa (hint, hint). This year's version of Hot Pistol will also be on tap Saturday, along with Between the Berries and Me, a stout brewed with dark chocolate and raspberries (and homage to Raleigh prog-metal band Between the Buried and Me).
It being Halloween, NoDa will also host an impromptu costume party. TIN Kitchen will be the onsite food truck, and The Fat Face Band will provide live music.
Sunday, November 1
The festivities close out in a big way with some big beers being released, including bourbon barrel-aged Monstro from last year, 2015 bourbon barrel-aged Olde Voyager, 2014 Imperial Coco Loco and a new beer that looks to be a spin off last year, Captain Peanut Butter's Chocolate Rendezvous.
NoDa will open at noon on Sunday for a special birthday brunch with a curated menu from Imperial Sandwich. You can also get coffee from Pure Intentions, as well as cupcakes from FuManChu, while live music will be from John Dungan.