NoDa celebrating one year at new site with release of Hot Pistol, other fan favorites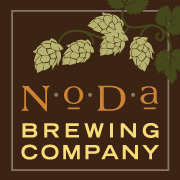 It's been just under a year since NoDa Brewing Co. debuted its sleek, 32,000 square-foot facility, but that time has been more like a flash to co-owner Suzie Ford.
"We've blinked, and one year is gone," she says. "I don't know where it went, which is crazy."
A lot has happened for NoDa in the year since converting what at one point was the home to a vinegar factory to a brewery and taproom almost triple the size of NoDa's old location, and the brewery is celebrating its first year in North End with a party Saturday that includes the release of one of its most popular seasonal drafts, Hot Pistol, along with bringing a few fan favorites out of the cellar.
"It's been a little better than expected," says Ford of the new NoDa location's first year. "You know, we're a destination. You just don't stumble down North Tryon Street and look and say 'Oh, there's a brewery.' So we've been encouraged and excited by the number of people who choose to come to us every day."
Hot Pistol is a stout brewed with chocolate, habanero peppers and raspberries that first made its mark when it won Best of Show at NoDa's Top of the Hop Pro-Am homebrewing competition three years ago. Since then, the beer originally brewed by Glenn Cutler and David Tollefson (better known as the N.C. Beer Guys) has been brought back each year to the delight of NoDa's patrons.
Ford adds there will be a few other surprises on draft Saturday to celebrate and while not divulging the entire list, she did confirm Imperial Coco Loco, Olde Voyager Barleywine and Between the Berries and Me, if that gives you an idea of the special taplist to expect.
"We really just want to pour some fun stuff to celebrate with everyone," she says.
Since opening, NoDa has increased its outdoor space to add an expanded patio with added shade, a bocce ball court and disc golf baskets. They are continuing to grow grass at the location so by next spring, people will be able to grab a beer, sit down and have a picnic. Future plans include a projector for local and independent movies that will be shown on a tower at the property (think drive-in movie).
"We're also very encouraged that the light rail is on schedule and on track for next summer (the Lynx Blue Line extension will have a stop near the brewery) and that 36th Street will be back open early next year, so it's only going to get bigger and better here," Ford says. "So I feel like we're getting our ducks in a row, making our outdoor space perfect and everything else ready for the next big wave."
NoDa will kick off the celebration when the taproom opens Saturday at noon. And that's not the only party planned for the brewery in the next month. Look for more information on bigger festivities in this space soon. Hint: It's going to be one whale of a time.