NoDa debuting new Jam Session can as part of U.S. National Whitewater Center's "River Jam"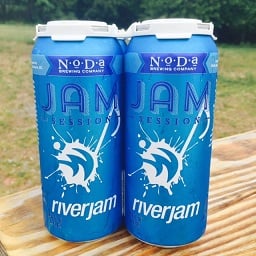 The U.S. National Whitewater Center has long been not only a great destination for a number of fun activities, but one where you can also enjoy local craft beer. From overlooking the facility at River's Edge while enjoying your favorite beer to going over to the Pumphouse Biergarten and choosing from more than 40 beers on tap, there's no shortage of selection.
And to help kick off USNWC's River Jam, NoDa Brewing Company is rolling out a special Jam Session can. You'll be able to grab one of these limited edition cans featuring NoDa's pale ale beginning this Thursday as part of the first River Jam of the year (Flatland Tourists are the musical guests).
The new can steps away from the usual yellow design (NoDa dubs this one "Lady Jam") for a sleek blue finish (with the river theme in mind). It also bears the U.S. National Whitewater Center's logo inside a musical note, with the words "river jam" to commemorate the special edition can.
NoDa will be selling the special Jam Session cans throughout the USWNC River Jam concert series, which runs every Thursday and Saturday through the end of September. Check out the full schedule here. And don't forget about the U.S. National Whitewater Center's Beer Stash Bash, which will take place June 18. Look for more information to come in this space next month.