NoDa, Devils Backbone collaborate on new "Adventure"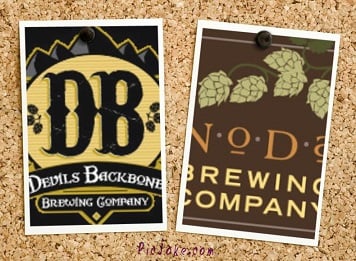 In the past couple years, NoDa Brewing has been no stranger to collaborating with other breweries, teaming up with Front Street in Wilmington, New Belgium and Night Shift in Massachusetts.
NoDa's latest collaborative venture is part of a group effort, and the result is a strong combination sure to please every craft beer lover. It's all part of Devils Backbone's Adventure Pack Collaboration Series, a 12-pack featuring five different breweries, including Devil Backbone and NoDa's Session IPL.
The breweries all traveled to Devils Backbone's home in Virginia a few months ago to brew their respective beers, which present a wide array of styles.
"Our COO, Hayes (Humphreys) had met Todd (Ford, c-owner at NoDa Brewing) at a conference and put it out there, that we'd love to collaborate together, and it wasn't even necessarily for the collaboration pack," says Devils Backbone brewmaster Jason Oliver. "NoDa's an up-and-coming brewery with a great reputation … it was kind of a no-brainer in a way."
Oliver and NoDa head brewer Chad Henderson were on hand Tuesday at NoDa to debut the beer, the style of which was Henderson's idea.
"We had just released the production batch of our Par 4 Session IPA, and within three days with basically no advertising at all, it became our No. 1 selling beer in the taproom," Henderson says. "So I was telling Jason at that time, we don't see a lot of Session IPLs. (Devils Backbone) has done so well with the lagers they've done, especially the Vienna lager, which we're all big fans of, and then we had our session IPA which was doing so well, so we kind of took an idea from both."
Added Oliver, "It was bringing strengths together, really."
The Session IPL was a bold choice given it's not a style seen very often, and NoDa and Devils Backbone did a terrific job with this beer. It's refreshing to see a sessionable beer that still provides a little kick, and that comes from its trio of Azacca, Northern Brewer and Simcoe hops. At 3.8 percent ABV, this India-style pale lager has a strong definition of being a balanced and drinkable beer.
The Adventure Pack contains four other collaborations with Devils Backbone (along with the brewery's Vienna Lager): Another State of Kind (Sun King Brewing in Indianapolis), a double cream ale/IPA; Risen (Surly Brewing in Minnesota), a double brown ale brewed with coffee; Double Pacific Ale (Thunder Road Brewing in Australia), an Australian-style ale; and Seven Summits (Asheville's Wicked Weed), an imperial stout that was brewed with ingredients inspired by the world's seven prominent summits, including cocoa (Mount Kilimanjaro) and pink Himalayan sea salt (Mount Everest).
Both Henderson and Oliver said they thoroughly enjoyed working with each other throughout the whole process, noting that when breweries collaborate, everyone comes out for the better.
"To me, the collaborations are important on two aspects," Oliver says. "One is to strengthen our relationships and learn and share ideas, and the other is the awareness aspect. You're spreading the word. For example, we're sharing up in D.C., Maryland and Virginia a beer we worked with from NoDa, and that's (a brewery) they can't get. So it's kind of cool to work with breweries from outside the area, because that gives people a taste of something they've not had yet.
Adds Henderson, "The most simplistic thing that's awesome about collaborations is the fact that we're in an industry that can celebrate commonality and camaraderie in making a business proposal and action that really is ultimately a celebration of what we do. Getting our name out wider certainly helps, but when you look at the time, effort and the design of it, it's mostly because you want to do something with someone that you respect and know is doing an awesome job, and someone you want to learn from and maybe give a contribution to.
"Ultimately, it's about having a fun time. You can tell when a collaboration really works because the brewers all have a good time doing it. They have fun creating the beer, they have fun getting out there and brewing it … you're going to learn something about beer and how others go about and think about the process. I was super psyched to go up there and brew … just to be in someone else's back yard and play with their toys a little bit. You really come out of it being a more fulfilled brewer."
The Session IPL and Vienna Lager are currently on tap at NoDa's NorthEnd location, and there are release parties Wednesday at Good Bottle Co. and Salud Beer Shop. Both bottle shops will have Devils Backbone representatives to discuss the beer, along with Adventure Packs for sale and all six of the beers on tap. Each event begins at 6 p.m.