NoDa's Monstro back to make another splash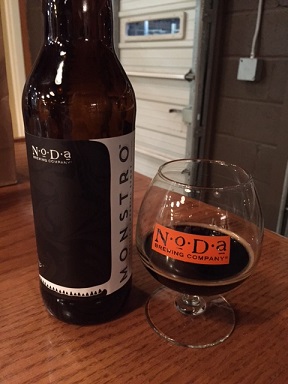 It's the return of NoDa Brewing's whale of a beer.
Monstro, named after the villainous creature in Pinocchio, has associated much fanfare with each release from NoDa. When it first came out three years ago, people lined up as early as 2 a.m. to get the Russian Imperial Stout aged in Van Winkle barrels.
Last year's release saw a change in both packaging (cans) and barrels (Heaven Hill) as well as an increase in production, with it released as part of NoDa's fifth anniversary celebration. Now, after a bit of retooling once again, NoDa has decided to return Monstro to bottles and at a much lower volume.
This year's version of Monstro will be released beginning Friday at 2 p.m. at NoDa's taproom. Only 500 bottles will be available, with no limit on how much you can buy. Each bottle is $18 each, and that includes tax.
Talking with NoDa head brewer Chad Henderson, he explained that the brewery decided to go back to bottles and do a smaller run after taking stock of how previous releases have gone.
"We wanted to do a more limited run this year," he said. "When we did the first release we never anticipated the turnout and had issues of putting a limit on it and then running out too early and then last year in the cans with a much larger volume, it worked in the opposite way.
"And also, I think the environment still hasn't adapted to unique high quality beers being at a high price in a can; there's sort of a stigma or sticker shock of a can vs. a bottle. While most of the response has been positive, someone may not want to pay $10 a can even though it's less price per ounce than when we had it in a bottle. So we wanted to take a step back and go back to the original formula – have it limited and in a bottle."
NoDa once again used Heaven Hill barrels for this year's version (aged roughly for 14 months), and I had an opportunity to preview 2017 Monstro to compare it with last year. While both versions were great, I preferred the 2016 due to my affinity for vanilla in stouts. The aging on this beer allowed splendid vanilla notes to come out in a fantastic way, and it is drinking extremely smooth right now.
That's not to discount this year's Monstro, however. Upon first taste, you really get the bourbon shining through, along with an oak character and chocolate notes on it as well. I'll be interested to see what a year aging does on this beer as well.
Henderson says it's been about a 50-50 split on those who have been able to taste both versions, and enjoys the feedback on how the beer has evolved.
"With barrel-aging, there's so many factors that affect each barrel individually. So we do taste each barrel before doing the blend. It allows us to choose our preference, so there is a part where you know this year's will be something unique and special.
"We've set no standard where Monstro can only be in this type of barrel for this amount of time. We like the idea of it being an organically flowing and changing beer altogether. So this '17 is not the same aging timeframe than '16, and obviously there were different barrels for the original version. And next year will probably be a bit different too, but that's what we think is fun with it too. – so you can do those side-by-side comparisons."
If you'd like to do your own comparison, NoDa will also have cans of 2016 Monstro available for purchase Friday as well.