Nom-nom at Nan's
The summer menu at the South End eatery offers elegant classics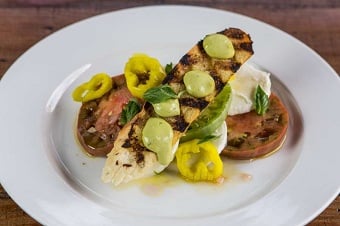 A recent re-tasting (if you will) of Nan & Byron's left me more than impressed with the restaurant in South End which seems to re-do its menu and tweak its feel every season. This is not in any way a BAD thing; as a restaurant/food writer I find that the more a restaurant adapts while keeping true to its roots, the better it does. The summer version of Nan & Byron's food is lighter, but still delivers the comforting and absolutely-worth-ignoring-your-diet-feel as it has during each season since it opened in Fall 2013.
First, the drinks: A pretty eclectic mix of house concoctions keep things interesting. The Nightshade Martini is sweet and lip-puckering all at once, but, ultimately, a smooth way to start the summer, with hints of cucumber and mint. The Farmhouse Lemonade is the sweetest option of the cocktails, but has stayed top dog on the list of favorites. The Cadillac Jalapeño Margarita isn't your typical Mexican favorite — this one comes topped with an orange liquor foam and slivers of spicy peppers.
The appetizers are all perfectly suited to summer heat. If you order the Caprese salad, don't expect the typical layered basil, tomato, and mozzarella dish. Nan's offers a plate of beautiful Heirloom tomatoes, thickly sliced with banana peppers as a garnish, thick cut cheese, and a basil aioli topped piece of crostini. Additionally, the Peppadew Poppers — another popular item — are Nan & Byron's take on the jalapeno popper. The rounded deep-fried balls feature a pepper and molten cheddar inside.
You can't seem to go wrong with main attractions, either. Although a bit on the salty side for my taste, the Pork Chop entree was superb and balanced with a pineapple salad and bourbon-mustard glaze. The Meatloaf was also especially good — staying nice and moist with a still slightly crisp outside. It has been on the menu since Day 1, and for good reason.
Overall, if you had previously been to Nan & Bryon's and were a little put off by plating (sides stacked under main features which sometimes didn't quite go together as they should) or dishes as a whole, it is worth the revisit. The kitchen seems to have a great handle on the whole Americana meets eclectic feel.