Nonstop From CLT: A Trip to Samaná, Dominican Republic
Observations from one of Charlotte's newest nonstop destinations and one of its family-friendly resorts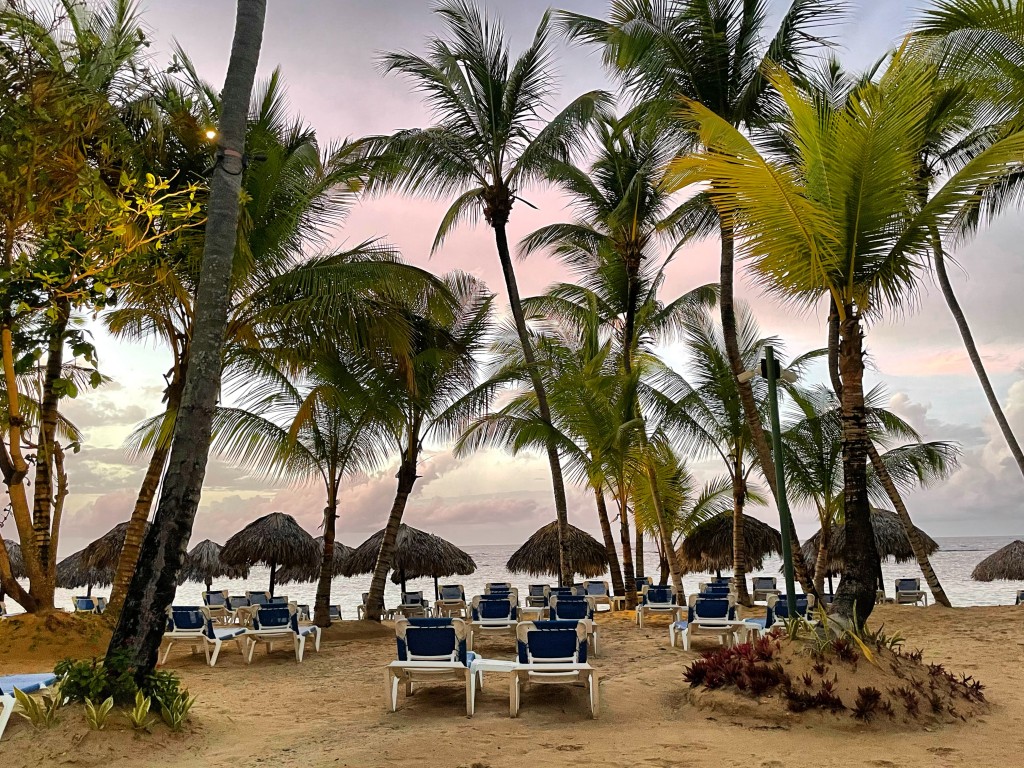 EN ROUTE from Samaná El Catey International Airport, a surprise appears along the winding, mountainous road. A full Hollywood production rises out of the rainforest, surrounded by towering lights and equipment trucks.
It takes 20 minutes to arrive at my destination, the all-inclusive resort Bahia Principe Grand El Portillo, where I ask an attendant for the scoop. She says Brad Pitt and Sandra Bullock are on the Dominican peninsula for their latest feature, the jungle-set adventure film The Lost City of D. The film crew is taking up a few hundred rooms at the resort, along with a temporary production office.
"Are the stars staying here, too?" I ask.
"Oh, no," she says with a laugh. "No one knows where they're staying."
I briefly feel inclined to solve that mystery during my three-night stay at Bahia Principe Grand El Portillo. Then I remember I'm not here as a paparazzo. I'm an honest-to-God journalist here to discover what Charlotte's latest nonstop destination, Samaná, Dominican Republic, offers my fellow citizens. Plus, there's an honest-to-God cabana bar that serves honest-to-God piña coladas just feet from my room.
Santo Domingo and Punta Cana are established nonstops from CLT, but Samaná is in its maiden season—just through Aug. 14 on this first run before it returns this winter. To quell any confusion in your Googles: Samaná is the name of a peninsula, a province inside of that peninsula, and a town inside of that province. For clarity's sake, I'll refer to the entire peninsula. And Samaná is, to put it simply, gorgeous. Of the DR's well-traversed locales, Samaná is known for its undeveloped jungle terrain. In winter and spring, thousands flock to the shoreline and look for humpback whales during their prime breeding season.
When you stay at a resort, though, you typically get to know your bartender far better than the country you're in. Still, one of Bahia Principe Grand El Portillo's greatest attributes is how it evokes the natural world that surrounds it. Each villa and walkway is engulfed in the lush greenery of the region's palm trees, West Indian cedars, and flamboyant blooms. The beach at the rear of the property is lined with miniature huts, spaced for privacy. If you stand at the center of the resort and look in any direction, you'll find a cinematic, Instagram-worthy attraction. (Which I guess is why Pitt and Bullock are in town.)
Bahia Principe Grand El Portillo reopened this year after an eight-figure upgrade during a COVID shutdown. Its "renovation concept" is called "Mirror of the Sea," and the complex is modeled after coastal towns scattered throughout the region. Bahia Principe has properties more suited for romantic getaways; this one is about pampering visitors of all ages and interests with six restaurants, two pools, a water park, spas, a sports bar, and separate, staff-monitored hangouts for younger kids and teens. The breakfast and lunch buffet, El Limon, reflects that blend of familiarity for U.S. visitors and localized options for the adventurous tourist, with mashed plantains alongside American-style waffles.

Still, you can take opportunities to see the Samaná outside of a resort. The mix between comfort and adventure is up to you.

Stay
The rooms at Bahia Principe Grand El Portillo are low-key and spacious, in keeping with its family-friendliness. (The hillside Bahia Principe Luxury Samana, with its seaside balconies, bathrobes and slippers, and butler's menu, is the more romantic, adults-only experience.) Activities like beach yoga, dance classes, and an arcade maintain the familial vibe throughout the day; the lively bars, live shows, and dancing give the night a more mature appeal. (But don't worry: The bars are open all day.)
Eat + Drink
We've touched on the buffets, but the Bahia Principe Grand El Portillo also has diverse á la carte restaurant options. The menus at The Greek and The Fish Market offer different tastes of the ocean. Boavista, a Brazilian-style rodizio, serves grilled meat tableside. A personal favorite: Portofino (not to be confused with Charlotte's Italian restaurants), which makes a particularly addictive Bolognese pasta.
Do
Atop the mountainous Rancho Español region in Samaná, Las Ballenas Cigars' factory produces hundreds of handcrafted cigars each day. Owner Roel Vosters, a native of Belgium, came to the Dominican Republic as an exchange student more than a decade ago before he decided to stay and enter the industry. He says the DR produces three times as many cigars as Cuba, and several are among the highest-rated in the world.
Las Ballenas is one of several stops on a tour by Runners Adventures, which takes visitors to a Dominican farm that produces native fruits, coffee, and chocolate; a rubber plantation; and into nearby towns. Other Runners Adventures tours: "Monkeyland," a five-acre attraction with monkeys and other native fauna; a zip-line outing; a waterfall survey; and a horseback riding tour.