North Carolina Brothers Band Together for susong
How music brought brothers back together in memory of their dad.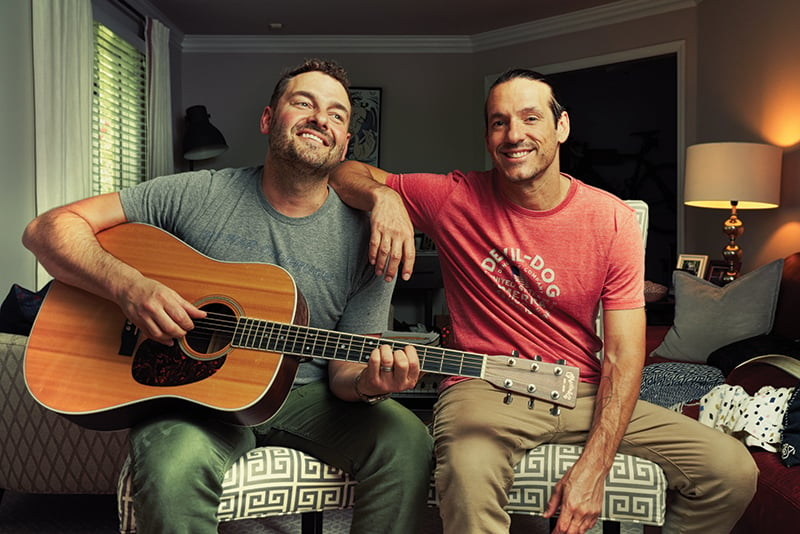 James Susong was a furniture upholsterer in High Point. One day in 1967, he traded work tickets—proof of his hours worked, to be turned in for money—to a co-worker in exchange for an acoustic guitar and lessons. When he got home that night, he gently tossed it on the couch in front of his 12-year-old, Doug. "You want to know how to play that?" James asked Doug, gesturing to the instrument.
"There was no musical history or lineage in the family," Doug's son Matt, 42, tells me over coffee in June. "It started right there."
Doug was hooked, and he eventually paid his way through N.C. State with money he made from gigs with his band. As an adult, he worked in health care and sales to support his wife and sons but always played gigs on the side, usually with his band, Legacy.
His sons, Matt and Michael, grew up in a home filled with music. Matt began singing when he was 4, and Doug put him in the kids' choir at Wesley Memorial Church in High Point. Doug brought home all kinds of instruments for the boys over the years, and, in the late '90s, home recording equipment. "I wore that thing out," Michael, now 40, says. Years passed, and time and circumstances did what they often do, and Matt and Michael drifted apart. It would take more time, and the loss of their dad, to bring them back to each other and the seeds Doug had sown with them.
In 2016, Doug was diagnosed with duodenal cancer, and he died less than a year later. By then, Matt was living in Charlotte with his wife and young daughter and working as a technology manager for a financial services company. Michael, who had returned to his home state from California three years earlier, lived in Winston-Salem and worked as a freelance journalist. (He now works remotely for a Raleigh-based marketing agency.) For the first time, the brothers began to think about how they could collaborate musically. "We wanted to keep Dad alive," Matt says, "through music between us."
He and Michael had developed disparate musical talents and styles since their childhoods. Matt played—he still does—in a folk-pop-rock band called To Better Waters. While out west, Michael had taken an interest in electronic music. They had busy lives, and 70 miles separated them. The brothers had a hard time figuring out how to work together.
But in early 2021, Matt started the RPM Challenge, which encourages musicians to write and record original songs during the month of February. He'd done it before, but this time, he asked Michael to join him. "I had a couple of song ideas, but they were very abstract," Matt says with a laugh. "The first recording I sent him was basically this very experimental—almost a spoken-word poem. And I just said, 'See if you can do something with this.'" When Matt got it back, it blew him away. Michael had taken the song in "a completely different direction than I would've," Matt says. So he sent him another.
They made more songs together that year, and still more in 2022. Each time, Matt kicks off the process. "I write every morning before anyone's awake," he says. "I sit down with a sheet of blank paper and start writing, stream of consciousness—just keep the pencil to the page. I never know what's going to come out, but I sometimes find phrases that I can use to build out lyrics."
He usually spends several weeks tinkering with the lyrics, then writes guitar chords. From his tiny closet-turned-soundproof studio in his south Charlotte home, he records himself singing and playing guitar. He sends the unedited audio files to Michael, who completes the tracks with samples and audio from digital libraries.
"My talent really kind of lies in, I think, my ear and kind of understanding song structure, what needs to get added, what needs to get stripped away," Michael says. "I'll sit here for hours and hours and hours, and I will turn every knob and every plug-in, and eventually something will sound right to me."
In May, Matt and Michael felt like they'd finally found their rhythm, and they released their music to the public. Their five-song EP, we are in this together, is available on Spotify. Matt describes the style as "indie folk-pop with ambient electronic elements." They're excited for people to hear their songs and thankful for the way music has brought them back together—as brothers and as Doug's sons.
"You tend to lose a bit of your relationship because of proximity," Matt says. "When you talk, you spend more time catching up and saying, like, 'So, how's work?' You lose some of the in-jokes from being really good friends. But now, we've come back into a relationship of in-jokes and closeness. We have a reason to call each other and talk about things."
When we speak over Zoom in June, Michael's in his home office and studio. Six guitars, including three of Doug's, hang on a white wall behind him.
"(Dad) was just this next-level musician, and we're trying to carry on that legacy a little bit," Michael says. "But at the same time, there's been this reconnection between Matt and I since losing our dad. We have all these conversations about music now, but at some point, you're gonna talk about your lives, too."
TESS ALLEN is the associate editor.