Not Last Week's Carolina Panthers
Kuechly retirement, Brady hire signal sharp turn for Charlotte's NFL franchise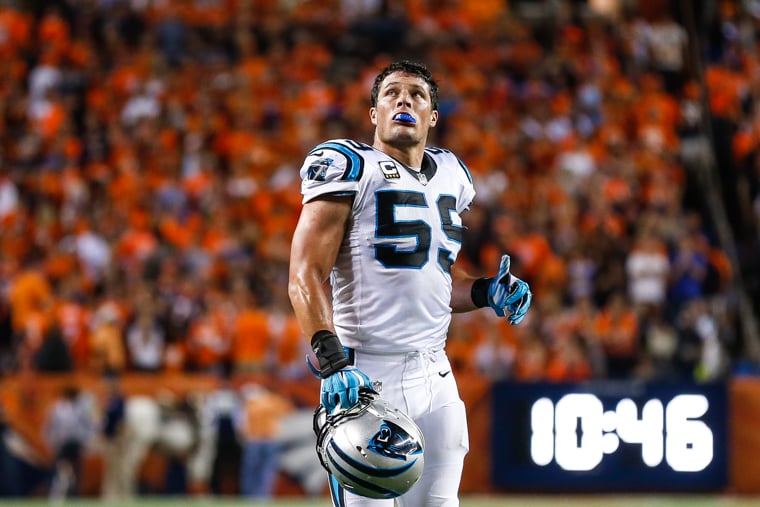 In their 25 seasons, the Carolina Panthers have always been, fundamentally, a defense-oriented team—nothing flashy or revolutionary, just a succession of large people trained to hit other large people to keep them from scoring.
Every head coach in the team's history has been an ex-defensive coordinator. The Panthers' first team in 1995 ranked among the NFL's best in fewest points and yards allowed, an extraordinary feat for an expansion team, and the 2003 and 2015 teams that made the Super Bowl ranked in the top 10 in defense, too. The team's battle cry is "Keep Pounding," coined by the late linebacker and coach Sam Mills, whose statue stands outside Bank of America Stadium; the expression doesn't really evoke fast-paced, point-a-minute offense, does it? 
That orientation appears to be changing, along with everything else about Charlotte's professional football team and, for that matter, everything else about Charlotte. If you're inclined to stick pins in pivotal dates—identify certain days when Things Changed—it's easy to imagine, a decade from now, looking back at January 14, 2020, as the day when the Panthers organization and team took one of the hardest left turns in its history: It hired Joe Brady as its offensive coordinator, and Luke Kuechly announced his retirement.
In the video statement the Panthers released Tuesday evening, the 28-year-old Kuechly—the core of the team's defense over his eight seasons and probably the best defensive player in team history—didn't specify why he decided to retire, saying only, "In my heart I know it's the right thing to do … There's only one way to play this game since I was a little kid—play fast, play physical and play strong. And at this point I don't know if I am able to do that anymore." The seven-time Pro Bowl middle linebacker has suffered through a series of injuries, including three concussions—landing him on a growing list of high-paid NFL stars who have chosen to leave the game in the prime of their careers and on their own terms. "I think now is the right chance for me to move on," Kuechly said, and you can reasonably supply the subtext: Before I lose something in my mind and body that I'll never be able to get back.
At 30, Brady is only 17 months Kuechly's senior and an assistant coach only since 2013, the year after his senior year at William & Mary. But he quickly developed a reputation as an offensive wunderkind and set it in stone during the college football season that ended Monday night, when LSU defeated Clemson, 42-25, to conclude a 15-0 season with a national championship. Brady is credited with transforming quarterback Joe Burrow from a merely good player to a transcendent one. Burrow passed for 2,894 yards and 16 touchdowns in 2018. In 2019, he passed for 5,671 yards and 60—six, zero—TDs and won the Heisman Trophy.
Brady developed his coaching style and philosophy in the two seasons he spent as an offensive assistant for the New Orleans Saints, where he got to observe and work with Drew Brees, more than a decade his senior, one of the best quarterbacks of all time, and Burrow's hero. Brees has bedeviled the Panthers enough times over the years to induce the Panthers, their rivals in the NFC South, to buy a few cases of whatever he's been drinking. (As a New Orleans native and Saints fan, the idea that the Saints may have helped orchestrate their own undoing is to me both painful and, in its own way, entirely appropriate for my tough-luck home city.)
The Panthers' new head coach, Matt Rhule, is another young coach with a specialty in offense and, like Brady, a thin résumé; his only prior NFL experience came in 2012, when he was the New York Giants' assistant offensive line coach. They're both hot but unproven commodities, and past performance is not indicative of future results—especially given the clear-as-mud status of Cam Newton, another Panthers mainstay whose tenure with the team may have ended with the 2010s.
So, for good or ill, change has come to the Carolina Panthers, seemingly all at once. You had to figure it would happen soon enough under owner David Tepper, who's demonstrated his penchant for the sudden, decisive move in recent months. It's a tidy representation of the team's home city, too, as it occupies itself with its own continuous makeover. Tepper has made noise about the prospect of a new stadium, which would set up an ideal parlay for modern-day Charlotte: fans filing through neighborhoods they no longer recognize into an unfamiliar stadium to watch a team that looks and plays like nothing they're used to.