Not Your Average Thanksgiving, Nan & Byron's Turns Two, and More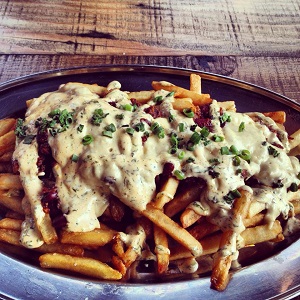 From a birthday celebration to a classy wine dinner, there's lots to do around Charlotte when it comes to food this week and weekend.
Nan & Byron's: Tomorrow, Thursday, November 5, Nan & Byron's will celebrate two years in Charlotte. To mark the occasion, the restaurant will offer a $2 food and drink menu all evening; favorites like the meatloaf sliders, trainwreck fries, and peppadew poppers will all be featured. Along with wine and beer, craft cocktails such as the Corn on the Collins and Dancing Cranberries will be offered at the discounted rate. Call 980-224-7492 to reserve a spot, or simply show up for the party.
__________
Zebra Restaurant: This Friday, November 6, Zebra in SouthPark will host an event featuring Hannibal – a veteran street performer who will provide some very unique (and inspirational) theater! Event starts at 7 p.m. and is $150 per person which includes the entertainment, food, wine, tip, and gratuity. Make your reservation by calling Zebra at 704-442-9525.
Blue Restaurant & Bar: On Saturday, November 7, from 11 a.m. to 1 p.m., Chef Gene Briggs of Blue in uptown will host a cooking class focusing on autumnal wild game. Cost is $44.95 for four courses with wine pairings. Reservations are required; call 704-927-2583. Courses include duck, bison, and boar.
__________
Foxcroft Wine Co.: Join Foxcroft Wine Co. for their Ayala Champagne dinner on Wednesday, November 11 at 7 p.m. For $75 per person, guests will not only taste one of the longest established champagne houses' specialties, but will also be able to take part in a four course meal. Dishes include a grilled lamb chop with purple potato puree, black olives, and rosemary; a walnut-glazed roasted quail with fennel and tomatoes; and more. Call 704-365-6550 to reserve your spot.
__________
Passion8: Next Saturday, November 14, at 11 a.m., head to Passion8 for a three course cooking class built around a "twisted" Thanksgiving. Traditional dishes like turkey and potatoes will get Chef Luca's special treatment. Cost is $45 per person; reservations are required. Call 704-910-3161.