Novant Health Estate Sale
This Saturday's event is a win-win. Purchase antiques and collectibles to support Presbyterian Medical Center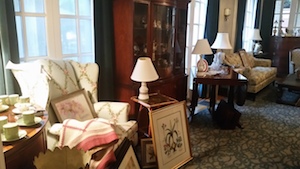 As you make your yard sale and flea market rounds this Saturday morning, add Presbyterian Medical Center to your list. Although it's not the typical venue for buys and bargains, the hospital plays host to an estate sale this weekend.
The Novant Health Foundation at Presbyterian Medical Center organized the sale with the help of Hamilton-Stuart Fine Consignments, Antiques & Estate Sales. Local collectors, friends of the hospital, and community members donated items. Sale proceeds go to cancer, heart, and hospice services at Presbyterian. Novant recently announced plans for Presbyterian's new heart and cancer facility.
"If you stop and think, I bet you know someone who has been touched by cancer, has heart disease, or have had a loved one in hospice. … It touches everybody," says Kathy Brown, development manager for Novant Health Foundation at Presbyterian Medical Center. "We really felt like this would be a fun way to engage the community."
The sale begins with an invitation-only preview party tonight and then opens to the public on Saturday morning. Shoppers should expect a variety of items, all good quality and many high-end. Asian-inspired decor is plentiful. Traditional, solid-wood furniture, such as drop-leaf tables and buffets, shares space with more contemporary pieces. Local up-and-coming artist Josh Brown has his work there. And the Christmas corner has Santas by Norma DeCamp.
All of the merchandise is displayed in the historic William Henry Belk House on the Presbyterian campus. The house dates to the 1920s and currently houses offices for Novant.
The estate sale runs from 9 a.m. until 3 p.m. on Saturday. For more information about the sale and the organization it supports, click here. If all goes well, Brown hopes to expand the sale and make it an annual event.