Now in its seventh year, Brawley's Black & Blue better than ever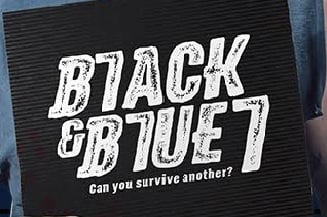 If you're a regular reader of this space, then you know the annual love given out here to Michael Brawley's famed Black & Blue festival. And it's not just blowing smoke – those who have had a "golden ticket" in the past know all about the rare beers offered amongst a small crowd.
The mystique of B&B has grown with every year – to the point where this year it sold out in just seven minutes, without any beers having been announced. The lucky ones will descend upon Visulite Theatre this Saturday for unlimited sampling from 30 breweries.
While craft has now become the norm instead of a "nice to have" in Charlotte and there seemingly is a "craft beer" festival every weekend in the spring and summer, it's Black & Blue that set the bar – and has since then raised it each year.
So in honor of Black & Blue's seventh year, here are seven reasons why this festival is at the top in Charlotte and one of the best in the Southeast.
1. The Beer
You have to start here, of course. Brawley and Shane Icenhour take careful consideration in curating the breweries that come to this event, and in turn the breweries know what's expected of them. That's why you'll see many beers not likely to be found anywhere else, with some festival-only brewed.
"There are some great beers being brought to the table this year," Icenhour says. "From barrel-aged beers to vintage beers and one-offs that some breweries took the time to make just for the event, it's been really exciting to see."
Most of the breweries have announced what they are bringing and you can see a complete list here.
2. The History
There have been some outstanding showings at Black & Blue over the years, and in recent years it's also been a terrific platform for certain beers and breweries to launch. A few years ago saw the debut of NoDa's barrel-aged imperial stout, Monstro, which the brewery released to mass fanfare several months later. Unknown and Sycamore had some of its first pours as Charlotte breweries at B&B and last year it was Wooden Robot that blew everyone away with its sour IPA, Hop Rocks (which is back on the list again for this year).
As Charlotte craft beer has grown, so has this festival. The first Black & Blue had more emphasis on beers the likes of Cold Mountain, Sexual Chocolate and Hopslam. But with the brewery explosion in Charlotte over the last five years, it's allowed for the event to feature more local breweries, most of which welcome the chance to show off and get creative with their beers for a festival like this – much to the delight of festivalgoers.
3. The Intimacy
The first Black and Blue probably had no more than 75 people. But as word got out over the years, popularity grew. However, Brawley made a decision to keep this festival intimate, capping ticket sales at a comfortable number where it's not too crowded and everyone can walk around freely. Because of that, it's also created quick sellouts in the last few years, including the record-breaking one this past Christmas Eve.
"I don't think any of us expected that," says Icenhour of this year's rapid ticket sales. "Going into it last year where we sold out in like an hour and 45 minutes, my guess this year was that it was going to be 40 or 45 minutes since we promoted it a little bit heavier and made sure all of our regular customers knew about it. But seven minutes completely surprised us.
"The intent with Michael from the get-go is having a festival with good beer, great breweries and it being an intimate affair. You're always going to have time to talk one-on-one with a brewer or brewery owner about the beer you're drinking. You're never waiting in line more than a couple minutes for any beer. So that intimacy is what makes Black & Blue a little different from other events."
4. The Music
Here's where the Blue part comes in. Each year, Black & Blue has featured a different bluegrass artist or group on stage. And it's not just background music – the band from two years ago, Love Canon, is now making the major festival rounds, having played Christmas Jam in Asheville this past December and Mountain Jam and FloydFest on the docket for 2016.
This year's musical guest is Strung Like a Horse out of Chattanooga. The band's Web site describes them as a gypsy-punk-garage-bluegrass band. Intrigued yet? Give them a listen.
5. The Venue
Since its inception, Black and Blue has taken place at the Visulite Theatre. There have been talks about moving it, but I can think of no better place for this festival. The separate levels provide a perfect setup for walking around (and don't forget about the beers at the bar!), all amongst the backdrop of the bluegrass being played on the stage.
6. The Surprises
Every year there seems to be a beer or two that isn't announced, or a brewery calls an audible at the last second and brings either different or bonus kegs. There are also new breweries (this year it's The Answer out of Richmond along with the chance to try beers from Salud Beer Shop's nanobrewery) that show up ready to knock your socks off. Always expect a few unexpected treats at B&B.
7. The Fun
It's pretty simple: You're not going to have a bad time at Black & Blue. Whether you're trying new beers, checking off your favorites on the program or making new beer and brewery friends at the venue, it'll be over before you know it and you'll quickly be anticipating a year from now when the next B&B rolls around.
And if you don't happen to have a ticket, or are ready to start the festivities early, Brawley's Beverage is once again throwing a pre-Black & Blue party at the shop on Friday beginning around 6 p.m. Many of the brewers from Saturday's event will be in attendance, while Brawley's will have a full tap lineup.