Now Open: Akahana Asian Bistro, Bar & Sushi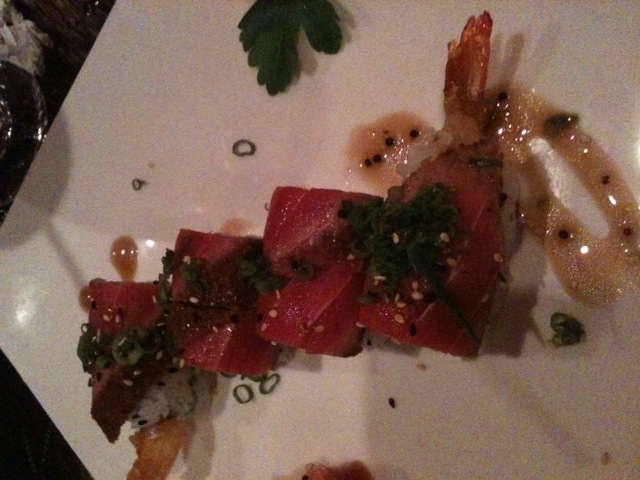 It's in the old Cuban Pete's location, which means it's crammed in the corner of the same strip center as a Subway and used book store in Plaza Midwood. But Akahana is trying for something a little more upscale than how that introduction makes it sound.
Red walls, obligatory sushi restaurant nightclub music, and a back lit bar give the restaurant an uptown nightlife-worthy atmosphere. However, it's also open at lunch and features specials with lunch time prices—and a wall of windows brightening the otherwise dimly lit interior. They also offer a take out menu, if you'd rather avoid the rave music and sexy sushi vibe.
The menu is a fusion of everyone's favorite Asian dishes including pad Thai ($12), hibachi chicken ($12), sesame chicken ($12), Mongolian beef ($12), and even a selection of curries ($12-13). Plus, there's a large selection of sushi including more than thirty signature rolls, cone-style rolls, and sushi platters going up to $89.95. There's also a sushi bar where you can sit to watch your rolls be made if you're interested.
The service is fast and helpful and the food is surprisingly good for a place trying to cover so many bases at once. And Plaza Midwood needed this. With the exception of sushi at Soul Gastrolounge and plenty of authentic Asian options further out Central Avenue, this is the first upscale Asian dining choice in the neighborhood.
Have you been yet? I'd love to see your thoughts on it in the comments.
Akahana, 1308 The Plaza, 704.817.9365