Now Open: Kickstand Burgers -n- Bar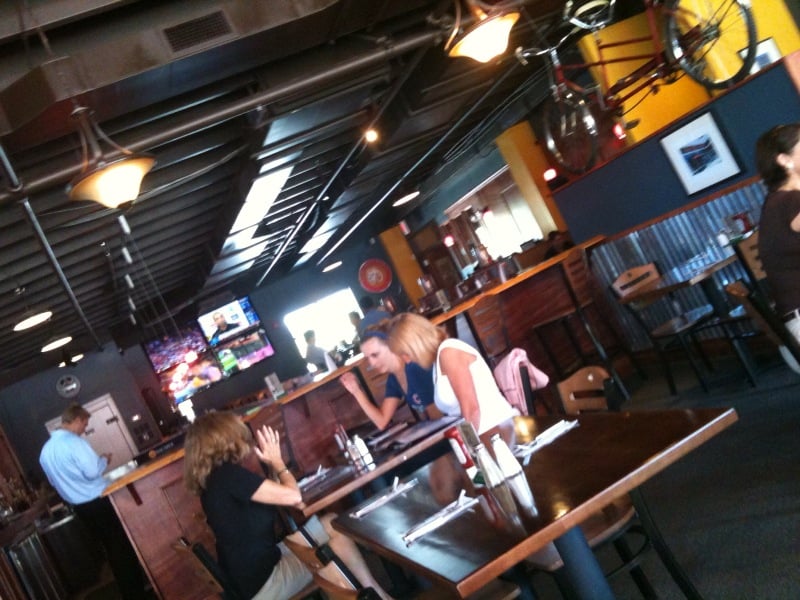 Burger lovers rejoice! The same guys who brought Charlotte Loco Lime and Hawthorne Pizza have opened Kickstand Burgers -n- Bar in the old Common House location on Central Avenue in Plaza Midwood. Inside you'll find a similar interior to that of Common House with a patio, long bar, booths, and tables facing large front windows onto Central. However, some new touches including old bikes, metal accents on the walls and windows, and framed photography of local bicycle shops gives the spot the character it had been missing.
The menu includes appetizers, burgers, sandwiches, hot dogs, salads, and even a vegetarian section (which, kind of randomly, includes Loco Lime's veggie burrito, $9.95). Plus, as any good burger bar should, there are milkshakes ($3.95), floats ($3.95), and old-fashioned bottled sodas ($2.50) like root beer and Shirley Temples.
Among the appetizers you'll find typical bar food like fried mozzarella ($6), nachos ($7.50), sliders ($7.50), and, of course, Charlotte's favorite—fried pickles ($5.50). (As it's mandatory as a dining writer in Charlotte to try the fried pickles, I did. All in the name of work, you know? Anyway, they're served in spears with a thick, crisp fry and a side of ranch dressing, and they're quite good.) There are also what Kickstand calls its "signature" appetizers as well, which are a little less typical. Things like flatbreads ($7.50), satays ($6.50-$8.50), and crabcake ($6.50) show up on this list.
Now, to the star of this show: The Burgers.
The owners got creative with the names—and the toppings—on this list. The Morning Ride ($8.95) features fried egg, bacon, American cheese, and Hollandaise sauce served on an English muffin. The Hung Over Cyclist ($7.50) is a burger and tomato sandwiched between two grilled cheese sandwiches. There's also a Burger Pocket Press ($8.95), which is a burger stuffed with bacon, Swiss cheese, and mushrooms, and then topped with horseradish mayo. It's made with a Burger Pocket Press, an brilliant creation that stuffs burgers. If you're seriously hungry, go for the Tricycle ($13.95), which includes three patties wrapped in bacon and topped with pepper jack, cheddar, and a spicy sauce. If you finish that one and a Tall Boy PBR on Tuesdays (the combo is $12), you get your photo on the Wall of Fame.
All burgers (and sandwiches, and hot dogs) come with your choice of side. The sweet potato fries are good, as are the regular fries. But if you don't order the combo tater tots with a combination of regular tots and sweet potato tots, you're making a mistake.
The owners have indicated they anticipate being a nightlife destination after dark. As today is its first day open, that's yet to be seen, but with the large bar, relaxed atmosphere, and casual/inexpensive food, it looks likely this will be a popular spot.
Kickstand is located at 1101 Central Avenue.