Now Open: Paco's Tacos & Tequila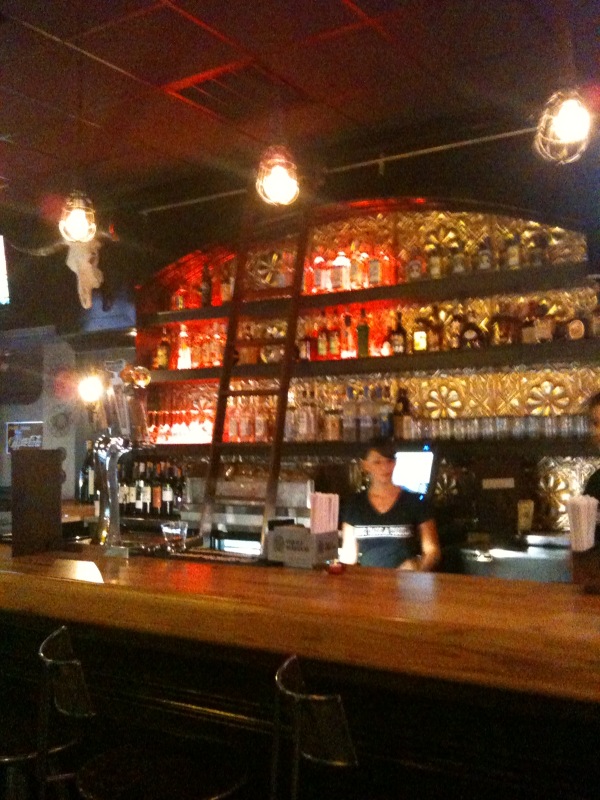 A few weeks ago Frank Scibelli (as in the guy behind Charlotte favorites Mama Ricotta's, Big Daddy's, and Cantina 1511) opened his newest restaurant, Paco's Tacos & Tequila. The new spot, which is in the old Manzetti's location in South Park's Specialty Shops on the Park, offers classic Tex- Mex dishes and a whole bunch of tequila.
The interior has some similarities to Manzetti's—there's the long wall of windows, the center bar when you enter, and the large room to the side where you can see into the kitchen. However, changes have been made to give the place a more rustic Texan feel: Bright metal behind the bar brimming with tequila (more on that later), light fixtures that look like primitive hanging bulbs, vintage advertisements, and colorful Mexican-themed accents. A new outside patio seats twenty people, while the inside can seat 200.
Now, back to that tequila. There are more than sixty different kinds served. They're listed on the menu under "Blanco," "Reposado," and "Anejo." Some of those are better for simply sipping (specifically the Anejo tequilas), but some are perfect for mixing in tequila's favorite drink, the margarita. Conveniently, Paco's offers seven specialty margaritas made with fresh juices just for that. Looking for an upgrade from your typical marg? Try the Arctic Cadillac. The ice cold drink features Herradura Blanco Tequila, fresh OJ, fresh lime, Curacao, and Cointreau ($11). If you're not a tequila lover, don't despair. The menu also offers various other specialty cocktails as well as wine and plenty of ice-cold cervesa.
And now the food: Come to Paco's hungry. Then order the Unholy Guacomole ($9) and the Gringo Nachos($7-$10). The guacamole is made table-side (of course) and is packed with fresh avocados. The Nachos are prepared with lettuce, pico de gallo, sour cream, jalepenos, guacamole, and your choice of additional toppings. Order the bean, cheese, and beef brisket topping ($10). Apparently all of the beef used here is grass-fed. I have no idea if that's what makes the difference, but the beef brisket is a tender and rich meat that should be ordered multiple times during a meal at Paco's.
The menu offers soups, salads, enchiladas, quesadillas, fajitas, seafood entrees, and even a Chili Cheeseburger ($10). But I'm going to focus on the tacos. Mostly because I ate a lot of those. And because they're really good. There are six different kinds of tacos: Paco's Taco (a taco with more of that delicious beef brisket), wood grilled chicken, wood grilled skirt steak, BBQ shrimp, Red River fish , Gringo beef, and veggie. You can mix and match them and pay $7 for one, $10 for two, and $12 for three (each comes in your choice of a flour, crispy, or corn shell and is served with red rice, slaw, and your choice of charro or refried beans). You can't pick a bad one from the list, but the two stand outs, in my opinion, include Paco's Taco (naturally) and the veggie taco. Paco's features the brisket with caramelized onions, chipotle BBQ sauce, and white cheese. The veggie taco is white cheese, cilantro, cabbage, roasted poblano peppers, pickled onions, and chipotle ranch. It's not your average veggie taco (the pickled onions take care of that risk), but it's incredibly good.
Craving a margarita yet? Paco's serves lunch and dinner daily.