Now Open: Pure Taqueria in Matthews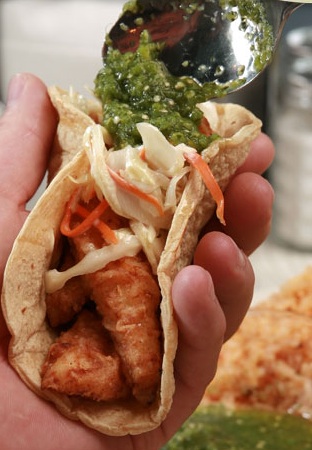 Pure Taqueria restaurant opened quietly a few weeks ago in Matthews, but don't mistake its small size, less-than-central location, or quiet opening as any indication of how much it deserves a visit.
This is the fourth location of Pure. The first three are in the Atlanta area. Before I moved to Charlotte I lived in Atlanta and was a devoted diner at their other locations. So personally, the opening was not quiet at all, but rather spurred me to make the drive to Matthews—something that typically occurs only on an approximately biannual basis.
It was worth it. Actually, I would have driven much further. It's that good.
This small, family-friendly restaurant feels like the beach should be just outside its door. The night I visited it was unseasonably warm and their large doors were raised leaving only screens for walls. Fresh salsa and chips are complimentary at each table and ordering a drink in a place this beachy feels mandatory. Specifically, ordering the prickly pear margarita. Pink, cold, sweet, and full of fresh lime flavors, it's delicious—and potent. Of course, the drink list also features other margaritas (there's an extensive tequila selection), mojitos, sangria, wine, and beer.
The menu is filled with traditional Mexican-restaurant dishes like guacamole, tacos, burritos, and quesadillas. However, there's an emphasis on seafood here that should be given attention. First, there's the Pure's ceviche, featuring fresh fish cooked in lime and orange, with tomatoes, red onion, celery, and cilantro. Then there are the lump crab fritters, served with an avocado mayo and sweet and sour chili sauce. There's also a crabcake-tomatillo salad with an avocado-red onion vinaigrette, as well as a sauteed seasonal fish. All of these are good. But, what are absolutely fantastic are Pure's fish tacos (pictured).
Served three to a plate, they're battered and fried tender white fish topped with a fresh poblano slaw, creamy chipotle aioli, and tomatillo sauce. A diet-friendly dish, these are not. But, they are good. So good, in fact, that you too should make the drive to Matthews. And brave the new-restaurant lines. And enjoy.

Pure Taqueria is located at 110 Matthews Station Street in Matthews. For more info, check out their Web site.