Obama's Visiting UNC Chapel Hill with Jimmy Fallon Tuesday; Wasserman Schultz's Leading Meeting in Uptown Saturday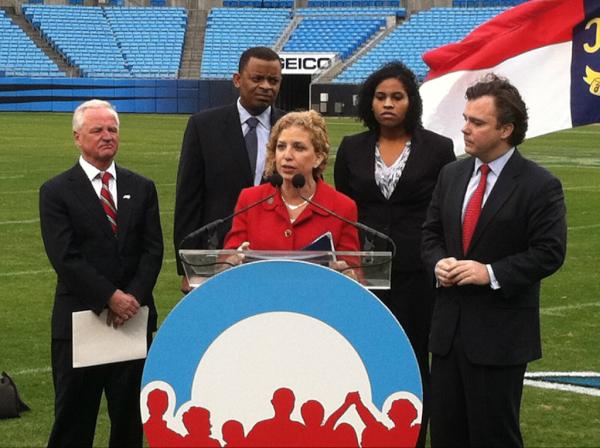 President Barack Obama is visiting the University of North Carolina at Chapel Hill on Tuesday, as part of a college tour of sorts in which he's speaking at three schools in two days. He'll talk to large audiences of students about his proposal to Congress to stop student loan interest rates from rising. Hundreds of Tar Heels camped out Sunday to get the free tickets to see Obama speak.
While visiting UNC, Obama will be met by Jimmy Fallon to tape an episode of Late Night with Jimmy Fallon that will air later that night on NBC (at 12:35 a.m., so technically Wednesday). After leaving Chapel Hill, Air Force One will take the president to the University of Colorado, and then to the University of Iowa on Wednesday. Political observers have pointed out that all three of the universities are in 2012 election swing states. And according to the North Carolina FreeEnterprise Foundation, Obama has visited this state seven times since June 2011 (three times to Raleigh, twice to the Triad area, once to Asheville, and once to Charlotte, which was last month).
As for the Queen City, The Charlotte Observer is reporting that the Democratic National Committee's executive board, including Chairwoman Debbie Wasserman Schultz, will hold a meeting Saturday at The Westin to discuss, among other things, the Democratic National Convention.