Occupy Charlotte: Us Versus I
For Michael Zytkow, Occupy Charlotte is the latest installment of a family tradition of activism. And whether the movement wilts or blossoms as the Democratic National Convention nears, people like him will prove to be its legacy.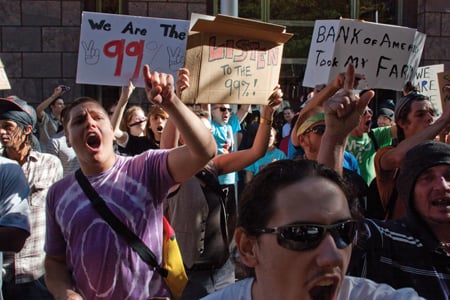 October 1, 2011, was a mild, sunny day. It was a good day to be in a park. If you didn't know better, the crowd that began to gather at Marshall Park in uptown just before three in the afternoon didn't look out of place, even though some of the people were carrying homemade signs.
Michael Zytkow, a young, tall man with broad shoulders and short dark hair, approached the group quietly, his head bowed and his hands in his jean pockets, his light gray cardigan unbuttoned over a white T-shirt. He didn't have a sign and he didn't seem to know anyone. He sat near the would-be protesters but not with them, resting his elbows on his knees and his chin in his hands. He seemed to be listening, occasionally looking up but not engaging with anyone, at least not until a journalist buzzed over and began peppering him with questions.
He lit up, but instead of discussing politics, he talked about his business. He's starting a T-shirt company that will produce sustainable clothing emblazoned with politically charged messages. At twenty-five, he'd already grown tired of teaching at Garinger High School, disillusioned with Charlotte-Mecklenburg Schools' bureaucracy, saddened by the struggles his students face at home, and disturbed by what he perceives as the nonchalant attitudes of some of his coworkers.
That sunny October day when Charlotte became Occupied, something sparked for him. He marched with a group of about fifty to Old City Hall and then to Bank of America's headquarters on Tryon Street. While most of the marchers chanted, "Whose streets? Our streets!" he wondered aloud about what change the movement would effect. He seemed hopeful that it could raise awareness and encourage people to engage in social and economic justice issues.
The next Saturday he showed up at Old City Hall again for Occupy Charlotte's largest march to date, left for a family birthday party, and returned later, long after dark, with boxes of leftovers. Zytkow placed the food on the rudimentary information desk—a folding table with a worn, handmade poster duct-taped to it, shying away from any thanks and blending into the background. For the first three nights of the occupation he slept on the lawn with two to three dozen others.
Most of the protesters mingled throughout the night, eventually sitting in a circle near a small tree on the left side of the lawn, sharing their thoughts on the state of the world and describing why they decided to forego modern conveniences to shout their stance, to subject themselves to a life of public and police scrutiny.
Zytkow said little that night. He was listening. It would be more than two months before he would begin to emerge as one of the group's de facto leaders. Occupy offers hope for the frustrated—people like Zytkow—luring them from their homes and into the streets, where they can be frustrated together, even if they aren't frustrated about the same things. If nothing else, it's helping many find their places in the world and feel heard. Over time, it became easy and common to poke fun at the scraggly marches and often-empty tents. But the real legacy of at least the Charlotte version of the Occupy movement may just be giving voice to the Michael Zytkows of the city, voices that will linger long after the tents and marches have been forgotten.
In the autumn of 1944, during the final days of the Nazi occupation of Warsaw, Poland, Zytkow's father, Jan M. Zytkow, was born as the city was bombed to rubble. Jan's father, part of a Polish army unit commanded by the Russians, was on the front lines. What was left of his family—most of them already murdered—supported the Warsaw Uprising. While the Germans dropped bombs, the Allies secretly negotiated away a third of the country to appease Stalin. Russia was supposed to be aligned with the Allies, but its army just watched from across a river as the Nazis bombed the city.
The Warsaw Uprising isn't a huge part of many history books, but it is an important part of the Zytkow family history. During those sixty-three days, ordinary citizens—enlisting their children to plant bombs beneath tanks—rose to face the powers aiming to suppress them in their quest to save the city. Ultimately they failed, and Poland, along with many other Eastern European countries, sank into communism.
Zytkow faces the media in the Charlotte-Mecklenburg Government Center. For a time, he became Occupy Charlotte's de facto spokesman.
Thirty years later, Jan (pronounced Yawn), excelled as a scholar. "In Poland you can go beyond Ph.D., and he went all the way to the highest degree possible," says Michael, his youngest child. Jan became an internationally renowned expert in artificial intelligence and data mining. By 1982, he and his wife, Malgorzata, had three children—two girls and a boy. They supported the Polish Solidarity movement, an uprising of citizens historically credited with triggering the fall of communism in Europe. As with the Warsaw Uprising, the government responded with brute force. Many died. It was time for the Zytkows to move.
Jan took a position at Carnegie Mellon University and moved the family to Pittsburgh. Malgorzata, who has a master's degree in education, focused on raising their family while Jan poured himself into his work, publishing numerous papers and books, and, as his career shot forward, moving the family again and again, first to the Washington, D.C. area for a job at George Mason University, then to Kansas and Wichita State University, and then to Charlotte.
Michael, now twenty-five, was born in Kansas. He's the baby, the golden child, the entrepreneur, a deep thinker, and, most recently, a political activist. The family moved to Charlotte in 1997 when Jan accepted a position teaching computer science at UNC Charlotte. Michael says his dad didn't have much interest in money or material things and that he took a pay cut in exchange for more freedom. The Zytkows purchased a modest ten-year-old two-story home near the campus with a big, wooded backyard in an area where other Polish immigrants also settled.
It's where Michael still lives, the home's contents and decor barely touched since his father's death in 2001—he died in Poland while abroad for work, one week after being diagnosed with liver cancer, says Malgorzata. It was a crushing time for her and Michael, the only one of her four children still at home. She'd never worked in the States, and Jan, though a loving father and brilliant scholar, hadn't exactly left his family financially set for life.
Michael withdrew after his father's death. He became devoutly religious, shunning anything—food, sex, fun—that might alter his mind. Everything above the bare minimum necessary to live caused him great guilt since he was unable to shake thoughts of those less fortunate.
To cope, he focused on his studies. At Wake Forest University, he earned degrees in political science and religion, graduating in 2008, also earning enough credits for a degree in philosophy and a minor in Middle Eastern studies. He had no plans to marry or have children and wanted nothing more than to concentrate on his studies and altruistic work. That work included volunteering during summer breaks for Mother Teresa's organizations in Calcutta, India, helping to rebuild homes in New Orleans after Hurricane Katrina, investigating sweatshops in Nicaragua, and teaching at Garinger via Teach for America after graduation.
"Uptight used to be his middle name," says Desiree Shackleford, a licensed practical nurse at the veteran's hospital in Salisbury. She met Zytkow at Independence High School when they were both fourteen. He annoyed her at first, she says, since he would prolong discussions in their Theory of Knowledge class, much to the chagrin of their classmates. Eventually, though, the two became inseparable. She stood by him through his struggles, their friendship maturing into love. Today she's his fiancée and the mother of their three-year-old son, Jan. They plan to marry this fall, and while giving into Zytkow's desire for a vegan menu, Shackleford is determined to have a glass of wine after the ceremony. It's something Zytkow opposes, but—as with the decision to wed—he's willing to concede to please her. "He doesn't feel like we need a document that says that we're married," she says. "He doesn't think government should be involved in those things whatsoever."
Shackleford is not surprised by Zytkow's involvement with Occupy Charlotte, and she's pleased it seems to have given him the purpose he's been seeking. Nor was she surprised when he began pondering a run for Charlotte City Council, something that seems out of character to many occupiers who think they know him well.
Vic Suter is in Washington, D.C., awaiting a court date for "disobeying a lawful order—being told to move," she says. She camped with Occupy Charlotte for the first several weeks of its existence, once leading the group's thrice-daily marches. She calls Zytkow "a voice of reason." "At first people underestimate him because he's quiet and observing," she says, "then he opens his mouth and people shut up and listen. He is one of the few people who can go to somebody and say, 'This isn't working, maybe we should try a different way,' and they're not offended." Suter says if anyone can enter the political arena and remain true to what he or she believes in, it's him.
Zytkow says he didn't consider a political career until he was arrested and charged with "disorderly conduct" after speaking twenty seconds past his allotted three minutes at a City Council meeting. (He opposed the council's new ordinances, which, among other things, ban camping on public property.) Zytkow wasn't the most rambunctious speaker or audience member that night, nor did he resist as two police officers led him from the podium after he blew a kiss to Mayor Anthony Foxx. He says once the doors to the chamber closed he was shoved against a wall and handcuffed. When asked about his arrest, the police refused to comment. Zytkow faces sixty days in jail if he's found guilty at his April 4 hearing and says he'll serve the time instead of paying a fine to get out of jail early.
Occupy Charlotte's tent-dwellers were officially evicted from the City Hall lawn on January 30. They can still gather and protest there, but they cannot spend the night.
The incident got him thinking about different ways to challenge the system. "My primary concern is the mathematics of the two-party system," he says, adding that it's nearly impossible for unaffiliated candidates to run, much less win, and even more difficult to create a third political party in North Carolina.
But that's exactly the sort of challenge he wants to take on.
Zytkow describes Occupy as "an intellectual revolution that is essentially trying to start a society from scratch, not wipe everything out." He calls it an "us versus I" movement bent on making massive changes in the way society houses, feeds, and secures its people, focused on creating "a government for the people, by the people, and ending the government for the rich and by the rich."
"I think it's empowering a lot of individuals," he says of the Occupy movement. He's drawn to the way the group governs itself through direct democracy, but also says that when consensus is required for every decision, things become constrictive and too complex. "Sometimes, if you're proposing a project," he says, "it feels like everyone wants to be involved," often dooming it to failure.
He admits it's been difficult for Occupy Charlotte to mature in the spotlight, even though the group begged for the glare. "There's no denying that this has been a learning experience for us," he says.
As the group's numbers dwindle and their presence on Old City Hall's lawn fades, Zytkow is quick to point out that he feels Occupy altered the conversation in Charlotte and across the country. He believes the movement should receive credit for several things, locally and nationally. The group protested Duke Energy's proposed rate hikes, which have since been reduced. When Occupy Charlotte offered support to immigrants who were tenants of Stonewall Jackson Apartments, the property owner didn't evict them as threatened. After a lot of shouting about Bank of America's planned $5 debit card fee, thousands of people moved their money into community banks and the banking giant reversed its decision.
Zytkow also believes Occupy has numerous supporters who, for one reason or another, can't be loud about their support, people who are engaged intellectually who will step up as needed. And, he says, "If even one advocate ten years from now came from Occupy, I think it shows that we made a difference."
In Occupy Charlotte's infancy, Zytkow said little. But as time wore on, he became more active, even getting arrested at a City Council meeting.
Thanks in part to his family's long history with citizen uprisings, Zytkow believes Occupy is just the latest name for, as he says, "a theme as old as humanity itself … a common fight that people will have to fight from generation to generation in some form."
His lawyer, George Daly, a well-known civil rights attorney, agrees, having introduced himself to an Occupy Charlotte general assembly the night before Thanksgiving by saying, "I joined the movement in 1967. It was a movement that pre-dated you, but it's the same movement."
Luis Rodriguez III, once considered a rising leader within Occupy Charlotte, also agrees, though he thinks Occupy has breathed a new, creative breath into the movement: "The opposition always wants to taint the next evolutionary step as too far," he says, the "opposition" being those in power. "Every time we figure out a new way to protest, they figure out a new way to squash us. Every time we put forward a leader, they kill them. So we have to put forward a leaderless movement—or a leader-filled movement."
Perhaps that's why when it's suggested that he's an Occupy leader, Zytkow deflects, waving his hand as if to erase the word, quick to say that he can only speak for himself, not the group.
One thing everyone in the group can agree on is that company is coming. The Democratic National Convention will draw tens of thousands of protesters to Charlotte in September, which has been an energizing factor for Occupy Charlotte. At a February press conference, dressed in a doctor's jacket with a stethoscope around his neck, Zytgow warned of "DNC Fever"—the want to polish Charlotte's image and bow to political pressure in the scurry to prepare for the big event.
Zytgow says he seeks an honest dialogue with city leaders, but they rarely return his calls or emails, though the tone of the conversations has softened of late. A few weeks after his arrest, Zytkow spoke at another City Council meeting, and Mayor Anthony Foxx joked with him about giving him enough time to speak. That's the same meeting where the council voted to eliminate one of two monthly public forums and limit the number of speakers to fifteen, though an unlimited number of speakers will still be allowed to speak on specific agenda items.
Occupiers demonstrate uptown near the intersection of Trade and Tryon during a Human Rights Awareness march on December 10
Still, he's aware of the scrutiny involved with branding himself as a protester. In the February issue of Police Magazine, the Charlotte-Mecklenburg Police Department bragged about the new toys it's procuring with its allotted $50 million in federal security funds: "TASERs, capsicum-based weaponry, long-range acoustic devices, water cannons, armored fighting vehicles, police dogs, and mounted police on horses." Zytkow says police cars seem to show up everywhere he goes these days—during a recent non-Occupy walking tour, six police cars showed up with blue lights flashing as the group walked down a sidewalk.
"Yes, we monitor demonstrators and protesters," says Charlotte-Mecklenburg Police Chief Rodney Monroe, "but it is not our intent—ever—to profile individuals." He says he's aware of Zytkow. "I respect him and what he stands for," he says, adding, "I would consider Michael the same as any other individual who seeks to exercise his First Amendment rights; as long as we both respect each other's rights, we're good. We'll lead their parades and we'll clear the streets for them, so long as they abide by the rules."
The police department researched and drafted the ordinances that led to the tent eviction in late January, though the occupiers are still permitted to be on the lawn and public sidewalks around the clock. Occupy Charlotte challenged the city and the police department in court. They lost. As of early March, the group was trying to decide if they would appeal the verdict, asserting that North Carolina's constitution provides for additional safeguards for free speech and assembly beyond those of the U.S. Constitution's First Amendment. "Occupy will be here," Zytkow says, "one way or another."
So will Zytgow. He says his family is rooted here, saying they are "Charlotte enthusiasts." He adds, "I have a strong faith that we can make Charlotte a better place. … My life is about effecting social change. If we have to make sacrifices as a family for the greater good, I'm willing to do that."
Now, Zytkow says he's seeking balance, trying to figure out the right mix of family life, political activism, and work. It's his hope that three-year-old Jan—who knows all of the protesters' chants and likes to run around the Old City Hall's lawn while his father conducts teach-ins on electoral reform—will one day goad the movement into the next generation.
How Occupy Charlotte Works:
Imagine trying to get everyone to agree on everything. That's how Occupy Charlotte governs itself, through something called direct democracy, where everyone gets a say, there is no leader, and everyone's opinion is important.
The group holds several general assemblies each week, formerly on the lawn of Old City Hall and now in coffee shops. The meetings tend to run long, sometimes several hours, and people wander in and out. They're led by a facilitator, and notes are later posted at occupyclt.net. Before the business meeting begins, a group member gives a pep talk, citing accomplishments, urging attendees to remain engaged and excited about their work.
There's usually a loose agenda, and people who want to speak are added to the "stack"—in other words, whoever raises his or her hand first gets to speak first. The "stacker" keeps track of whose turn it is to talk. The Charlotte occupiers, like their national brethren, communicate with each other during the meeting with hand signals—jazz hands up indicate agreement, jazz hands down indicate disagreement. If someone makes a triangle above their head with their fingers, that means he or she has a "point of process," or that some part of the meeting isn't following the rules of engagement. Arms crossed over a person's chest means that the person in question disagrees with the topic being discussed so adamantly that he or she is willing to walk away from the group if the measure
is passed.
Several working groups formed to tackle different organizational needs: media, outreach, website, security, and kitchen, among others. Representatives from the working groups report to the general assembly, if one shows at all, but anyone can speak at the meetings on any topic.
Consensus, or majority, rules. The occupiers vote on anything and everything you can imagine—from where to place the cigarette-butt can to what they'll protest next or a code of ethics. The problem with direct democracy and rule by consensus is easy for onlookers to spot: very little actually gets accomplished. Issues are often tabled, sometimes indefinitely, if an agreement can't be struck. If things get heated, the circle tends to tighten, and the facilitator will make a call for everyone to move back. They do. While it's not uncommon for the members of Occupy Charlotte to disagree with each other, they don't fight. They all know they're able to walk away at any time, and many have.
Attendance at general assemblies has ebbed and flowed since the start. A large meeting could include fifty or more occupiers; a small one, fewer than twenty. And that is about how many people show up to the meetings these days, though, it seems, many more supporters are active online via Facebook. There's even been a statewide general assembly that was well represented by Charlotte-based protesters.
They can still be spotted marching around uptown on Saturday afternoons, often grouped with other protest groups like Greenpeace or the Rainforest Action Network. And it's expected that they'll make their presence known at the Bank of America and Duke Energy shareholder meetings this spring, which will be held here, and at the Democratic National Convention in September. —R.B.