October's First Round of Food Events
Oktoberfest cooking, new chocolate classes, and more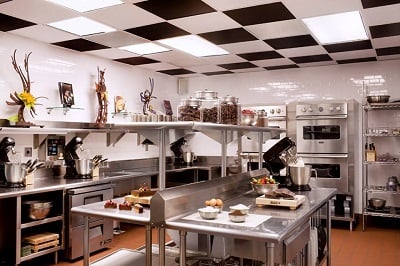 It's time to embrace the seasonal shift, and that includes what's on your plate:
Upstream: The seafood restaurant in SouthPark will host its 7th Annual Oyster Bash tomorrow, Friday October 2, beginning at 6:30 p.m. For passionate half-shell connoisseurs, it's the opportunity to slurp some of the best cold water oysters in the country and toast them with exceptional wines and sparklers. Cost is $125 per person, inclusive. Reservations are required, so visit the website or call 704-556-7730.
Blue Restaurant & Bar: On Sunday, October 4 from 6:30 to 9:30 p.m., you can help Education Equals Hope, a proceeds benefit feeding program at St. Esprit School in Haiti. Tickets are $35 and guests can enjoy food and drinks from Blue, music from Cameron Moore, plus an art and jewelry silent auction. You can purchase tickets here. Can't make it? Head to Blue on Saturday, October 3 from 11 a.m. to 1 p.m. for cooking with Chef Gene Briggs. Students will explore Oktoberfest German cuisine and cooking with beer. Featured dishes include saurbraten with OMB Copper accompanied by braised red cabbage and speatzle; kartoffelpuffer (potato pancakes) with sour cream, applesauce, and onions; plus a German style beer and cheese soup. Cost is $44.95 per person excluding tax and gratuity; advance reservations are required. Call 704-927-2583.
______________________________________
Cocoa Lab: On Sunday, October 4, from 11:30 a.m. to 3 p.m., six lucky students will be able to work alongside Ritz-Carlton's chefs to learn cooking techniques and prepare macarons. Guests will receive complimentary hotel parking, a recipe collection, and a keepsake apron as part of the $100 per person class fee. What kind of macarons, you ask? Guests will learn to make citrus rosemary, vanilla mascarpone, rum roasted pineapple, and mint chocolate. Plans this weekend? Sign up for the class on Saturday, October 31 from 8:30 a.m. to noon for $100 per person. Guests will learn to make Halloween candy including salted caramels and candy bar brownies …
______________________________________
Float Pool Bar: Not ready to let go of summer? Head to Float Pool Bar any Monday night now through December 28 for football viewing parties, $4 Samuel Adams Oktoberfest drafts and buckets of six for $20 plus discounted small plates all day. Multiple LCD flat screen televisions, as well as a projector, will broadcast the football games; kick-off is at 8:30 p.m. Float pool bar is located inside the newly renovated Sheraton Charlotte hotel at 555 South McDowell Street in Uptown Charlotte. Event information may be found here.
______________________________________
The Asbury: On Monday, October 19, The Asbury will collaborate with local farmers to celebrate the North Carolina sweet potato. The team and farmers from Barbee Farms and Wild Turkey Farms will be on hand to discuss food sustainability, the crop, and pork. Guests can enjoy four courses for $50 per person; beverage pairings for an additional $15. Reservations are required and can be made here or by calling 704-342-1193.