Of Course the White House Christmas Tree is From North Carolina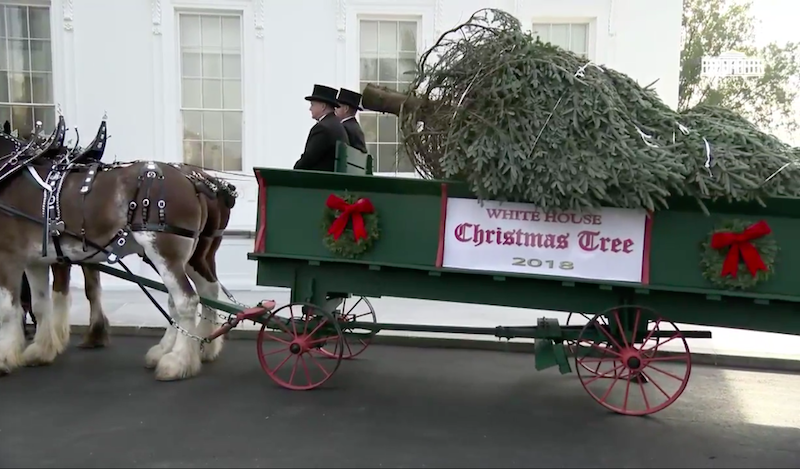 MOMENTS AGO, President Trump and the First Lady greeted their new green guest in front of the White House—it arrived in a horse-drawn carriage, as precious cargo sometimes does. From Newland, North Carolina, the 19.5-foot-tall guest drew viewers from all over the U.S. as the White House live-streamed the event on Twitter to thousands of viewers.
Who's the special guest?
She's a lovely Fraser Fir from Larry Smith's Mountain Top Fraser Fir Farm in Newland, North Carolina. The tree farm is just a little over an hour away from Charlotte. The fir will serve as the Trumps' Christmas tree in our nation's capital, confirming yet again to Charlotteans that we have access to some of the best Christmas trees in the country. Our state leads all others in terms of presidential trees since 1961—N.C. has supplied 13 so far and Pennsylvania is in second with 10.
It's no surprise, though. North Carolina boasts about 1,300 growers that produce Fraser Fir Christmas trees across an estimated 40,000 acres. Fraser Firs account for almost all Christmas tree species grown in the Tar Heel state, but there are other options you can choose from if you wish.
Learn more about which type of N.C. tree you should buy. There are plenty of choose-and-cut farms and pre-cut tree lots near Charlotte to explore to find your perfect Carolina-grown Christmas tree.