Olde Mecklenburg Brewery set to open new location next spring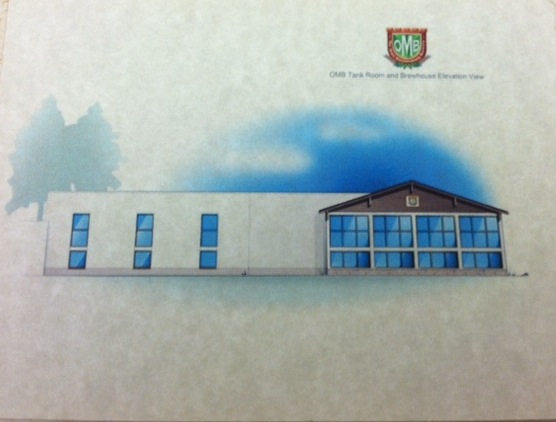 "Support local."
It's a phrase you'll hear a lot in the Charlotte craft beer community (including this blog). But those two words have more meaning than just drinking beer produced in Charlotte.
John Marrino describes it as a "virtuous cycle," a process the founder of Olde Mecklenburg Brewery gets excited for when talking about OMB's new site, which is tentatively scheduled to open next spring.
Marrino and other OMB staff broke ground on the Yancey Road site last Friday, and took invited guests on a tour of the 8.5 acres that will serve as Olde Mecklenburg's headquarters for many years to come.
Many of Marrino's beer influences came from his time spent in Germany, particularly the city of Düsseldorf.
"Go to Düsseldorf, and there are six breweries right there downtown," he says. "The people drink local beer, and the money stays there. They reinvest and it creates that wonderful atmosphere in the city and it's a source of pride. And I think Charlotte, or any city really, could use that.
"Beer is so integral to human culture. You have discussions with your friends over beer. You have discussions with your enemies over beer. There are business decisions being made over beer. So I just want to create something special, and lasting, here. And whatever it takes, we're going to do it."
Olde Mecklenburg Brewery first opened its doors in 2009, and the local response was overwhelmingly positive. You could argue that OMB was the pioneer in Charlotte's latest craft craze, as it's hard to go into any local establishment and not find an OMB tap handle.
This year alone, OMB is slated for 10,000 barrels of beer. With all of the demand for Olde Mecklenburg though, recently has arisen an issue, says Marrino.
"First of all, I never want to compromise the quality of the beer," he says. "And we're continuing to grow and I realized that we were going to run into a little bit of a wall production-wise very soon in terms of either being faced with stopping our growth or having people work 24/7 brewing beer. And to me, having a ton of brewers working through the night brewing is not 100 percent aligned with making sure the product is perfect every time."
The other solution, he adds, was to increase the brewery's capacity physically. Originally, Marrino approached the owners of the current property (which OMB is leasing) to make an offer. The property was big enough to where they could have built another brewery in the other half of the building while still running the current one.
The owners did not want to sell, however, so Marrino went out to investigate potential new locations. What he didn't realize was that he didn't have to go very far. Located only about 200 yards from the current location, OMB's new site will sit in what formerly housed American Crankshaft Company.
Walking through the building and listening to Marrino talk, you can easily see his vision. Or, as he says, "When I saw this place, I just knew. There are things here you can't replicate."
The brewery itself will make up 3.5 acres of the property, or 25,000 square feet. People who come and sit in the biergarten will now be able to see the brewhouse via glass windows. With the increased production, Marrino says OMB will have more flexibility to produce additional permanent beers. Right now, Olde Mecklenburg offers two year-round beers (Copper and Captain Jack), but expects to double that number once the new brewery gets up and running (while still producing its seasonals, of course).
The other appeal of the new location is its "green" space. The area is overseen by a host of huge oak trees, and there are also plans for a playground for kids.
"We want to keep things as natural as we can here," Marrino says. "We want to have the parking lot meander through the trees so people can park under this canopy."
As for OMB's current site, talks have begun with interested parties for what will amount to be a turnkey brewery. Marrino says he couldn't disclose the potential new owners, but hoped to have a deal done by the end of the year.
When it's all said and done, nearly $6 million will be invested in the new Olde Mecklenburg Brewery. In Marrino's eyes, that money will be well worth it and contribute to the aforementioned "virtuous cycle."
"This is a huge property," he says. "We'll never have to move again—ever. So what I'm hoping is that we can stay here forever and the city will grow around us and this will be a little oasis in the city."