Olde Mecklenburg, NoDa joining forces for late summer release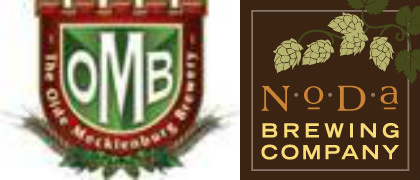 While Charlotte has experienced a huge boom in craft beer over the last few years, one thing we have yet to see is any of the local breweries join forces to brew a beer.
Until now.
Today, Olde Mecklenburg Brewery and NoDa Brewing announced they would collaborate on a beer to be released in late summer. Portions of sales from this beer will benefit Second Harvest Food Bank.
Via their press release, the two breweries will meet in the spring as part of a "brewer's summit," with no style guidelines and an encouragement to do something new. Whatever is decided upon will be brewed at Olde Mecklenburg's new site, which is scheduled to open this spring.
The best part about this? It will involve local beer fans. At some point leading up to the collaboration, a contest will be held where two people will win the opportunity to participate in the brewer's summit, give their ideas and input on the recipe and style and be actively involved during the brewing process.
"Just five years ago, there were no breweries in Charlotte," said Ryan Self, Director of Sales with Olde Mecklenburg, via the press release. "Now we have a thriving scene of high quality, fresh beer from a handful of local breweries. This collaboration celebrates the sense of civic pride and community spirit throughout the Charlotte beer scene."
Adds NoDa co-owner Todd Ford, "Olde Mecklenburg has been the trailblazing brewery that introduced traditionally-made craft beer to Charlotte nearly five years ago. Their consistency and attention to detail explains their success and rapid growth over the last few years.
"They have become the benchmark for quality and consistency for ourselves and fellow local brewers. Although NoDa Brewing's production beer styles differ significantly from OMB's, we are intrigued with the opportunity to put our heads together and collaborate on a beer that will excite fans of both breweries."
This collaboration is great news, and my hope is that it opens the floodgates for further ones from other Charlotte breweries down the road. With so many to choose from (both breweries and styles), the possibilities are endless.
Look for more details on this OMB/NoDa beer as they become available.