Olde Mecklenburg partnering with Greg Olsen's foundation "The HEARTest Yard" for yoga event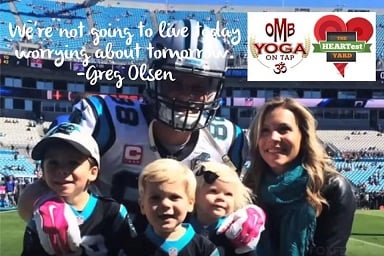 Olde Mecklenburg was the first Charlotte brewery to incorporate a yoga night into its weekly events. OMB Yoga On Tap quickly grew in popularity, and it now draws hundreds of people each week. And this Tuesday's event will take on a special meaning and also have a special guest in attendance.
OMB Yoga on Tap is teaming up with The HEARTest Yard, which is the foundation (in conjunction with Levine Children's Hospital at Carolinas Medical Center) of Panthers tight end Greg Olsen (you may remember him from something spectacular this past Sunday. Note: He's pretty good). The event starts outside at the brewery at 6:30 p.m.
If you don't know the background, Olsen and his wife, Kara, have a son, T.J., who was born with a severe congenital heart defect. This rare condition is called hypoplastic left heart syndrome, which includes an underdeveloped left ventricle and aorta. The Olsen family has spent many nights in Levine Children's Hospital for T.J.'s multiple surgeries and recovery time, and that's one of the reasons The HEARTest Yard was founded.
The HEARTest Yard is a family service program that provides families in similar situations as the Olsens with a number of healthcare services. These families who have children with congenital heart disease are able to receive things such as in-home care, physical and speech therapy, all at no cost to the families.
Tuesday's event at Olde Mecklenburg is $5, which includes a free OMB beer after the yoga session. The Olsens will be in attendance, and will have Halve a Heart merchandise for sale. There will also be a raffle featuring autographed footballs, shirts, yoga mats and more with proceeds benefitting The HEARTest Yard.
To learn more about The HEARTest Yard or donate, visit the program's website.