Olde Mecklenburg takes gold for Mecktoberfest at European Beer Star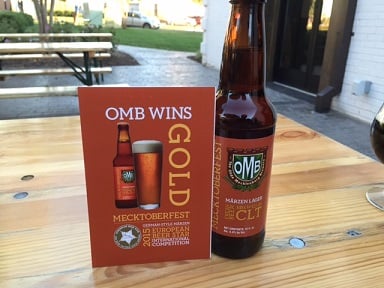 Olde Mecklenburg was the brewery that started the roaring renaissance of craft beer that is currently being enjoyed in Charlotte.
So it's fitting that such a trailblazing brewery make international waves as well.
It was announced on Wednesday that OMB's Mecktoberfest won the gold medal at the 2015 European Beer Star competition in Germany. This was the first time Olde Mecklenburg has entered this competition, and the brewery was just one of two from North Carolina to medal and – even more impressively – became the first American brewery to win any medal in the German-style Marzen category since 2011.
"We had been thinking for a while that we should (enter) and honestly, right now, I think our beer is the best it's ever been," says Ryan Self, director of sales at Olde Mecklenburg. "We have a microbiologist on staff who's doing yeast wrangling and quality control for us … I think we've dialed it in and the beer is on a new level.
"Going to Germany and going up against 'The Originals,' really felt like the gauntlet for us."
Indeed, this category has been dominated in the past by German breweries such as Rettenberg, Frankenwalder and Hohenthanner – that is, until this year.
"To come in and win gold our first year … I'm sure there's a lot of people in Germany going 'Who the hell are these guys?,' Self says. "And given that only two percent of the U.S. is aware of us, that's one of the beauties of this kind of thing.
It's huge … internationally, it's a lot of folks finding out about us for the first time. It's one thing where Sierra Nevada or Sam Adams wins something like this, when it's Olde Mecklenburg … it's an immediate validation of what we're doing and proves you don't have to be a mega-brewer to make some of the best beer in the world."
Olde Mecklenburg founder John Marrino went to Nuremburg, Germany to receive the medal and is scheduled to return stateside on Friday, where OMB will have a celebration in honor of the award. There are only a handful of kegs left of Mecktoberfest, and those will be tapped at the Brauhaus beginning at noon. Everyone who visits OMB on Friday will receive a half-pint (eight ounces) of Mecktoberfest while supplies last (and if you want to take any home, you can still buy a to-go Harvest 6-pack, which includes two Copper bottles, two Mecktoberfest bottles and two bottles of Bauern Bock.
"We want everyone to come drink the best Oktoberfest in the world," Self says.
Mecktoberfest has long been a seasonal favorite in Charlotte, and seemingly gets better every year. So, what makes it great? Let Self explain:
"I think the body on this beer is so crucial, and I think that's something that's lost on so many American Oktoberfest-style beers," he says. "You have the malt profile and everything else right in theory but you're not making that perfect body on the beer, so you have a watery and thin texture that doesn't come across the palate properly and ends up tasting very 'one note.'
"I feel like ours is sweet and malty up front and when it warms up a little bit I get that honey graham cracker note on the finish where it's bready and subtle. It's not an adjunct beer; it's not a big false flavor – it's very present."
Olde Mecklenburg's gold medal in the European Beer Star adds to a growing list of accolades for Charlotte breweries. OMB has already medaled in the Great American Beer Festival, as have NoDa (which also won a medal in the World Beer Cup) and, most recently this year, Sycamore and Triple C.
"I think there's a very strong message being sent about Charlotte beer and what's going on here," Self says. "Charlotte was a beer wasteland seven or eight years ago – it wasn't long ago at all. So the idea of what Charlotte's doing now is pretty incredible. And I hope people are looking at what we're doing right now. We think Charlotte is the Beer City of the Southeast. Asheville may have won Beer City, USA but that's a crown that's a little rusty now.
"I think Charlotte can put up against any town in North Carolina or the Southeast very comfortably and say, 'Our beer is as good as anybody's in the country.'"