OMB Heralds Spring
The brewery adds Fruh Bock to its rotation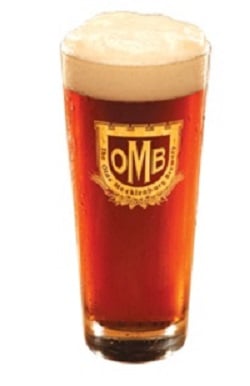 Even as the snow drifted down this morning, it seems like The Olde Mecklenburg Brewery is ready to welcome warmer temperatures with the Feb. 27 release of its seasonal favorite, Früh Bock (pronounced Froo Bock). Literally meaning "early," Früh is also short for Frühling which is the German word for Spring. Spring usually peeks its head out around March here in Charlotte (although with another bout of snow forecasted for later this week we're a little unsure), so a spring beer seems – in theory – fitting.
This deep golden Bock Lager, which is aged for more than a month in the lager tanks, is malty sweet with a touch of fruity, citrusy notes that linger after each sip. And although this Helles/Maibock-style beer has a higher alcohol content (6 percent ABV compared to the 4.8 percent of OMB Copper), it is not at all obvious to the taste.
"Früh Bock is special because its release coincides with the end of winter. Who doesn't look forward to that?" says John Marrino, OMB founder. "That means warm sunny days and cool evenings, birds chirping, flowers blooming and the dull gray of winter being replaced by the lush green carpet of spring."
Früh Bock will be available on draft at the OMB Brauhaus beginning Friday, Feb. 27. The following day it will "spring up" on draft in many local restaurants and bars as well as be available in bottles at your favorite local beer shop.
Additionally, the release marks the start of an eventful season at OMB including the St. Patrick's Day party on March 14; the 6th anniversary celebration on March 28; and the Louisiana Spring Crawfish Boil on April 18.
The brewery, located at 4150 Yancey Road in Charlotte, was named Best Brewery Tour in the country by the readers of USA Today, touted as a best new restaurant by Charlotte Magazine, and the best microbrewery in the Charlotte Observer's Reader's Choice Awards.