On the Fourth Day in Chapel Hill
A portrait of a reeling college town in its most difficult week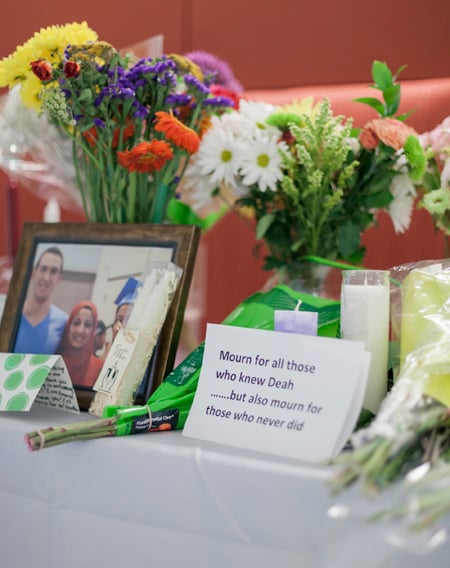 THE FOOT OF DEAN SMITH'S freshly dug grave is an unexpected place to find a measure of comfort. But that's where we are on this Wednesday in February. From this vantage point, it's slightly easier to make sense of this place at this winter moment under clear skies and the fog of dazed minds.
Tomorrow the rectangular hole will be full again, having only been a hole for a short time. But today it is empty, and next to the hole a mound of dirt waits under a black tarp to be put back inside. They dug this hole for Dean Smith, and in the morning people will deliver him here from his funeral at Binkley Baptist Church. Those he loved most will say a final goodbye. Then they will have to turn and walk away, leaving him behind to rest.
***
FROM THE HEAVENS, the building looks like a cross.
What kind of cross depends upon perspective. A fervid atheist and anti-theist lived in the building shaped like a cross. He kept many guns in the building shaped like a cross. And this week of all weeks, he took aim with a gun on Muslim neighbors, who also lived in the building shaped like a cross.
They say it was hate. They say it was parking. They say the man with the gun was cross with many of his neighbors. Either way, he pulled the trigger. And today three young, promising people are gone. Tomorrow they will have a funeral, too.
***
WE HAD A JARRING few days in Chapel Hill in the winter of 2015. We lost four people in two events that became international news. On a February Saturday evening, Dean Smith died in his home on a wooded cul-de-sac on the western outskirts of town. On Sunday morning, we all learned. On Tuesday evening, three young people were murdered at a condominium complex on the east edge of town. On Wednesday morning, we learned they were Muslim and that the white gunman had a vocal distaste for religion.
We expected one funeral on Thursday, February 12, but there would be two. One for Dean Edwards Smith, 83, in the morning. Another for Deah Shaddy Barakat, 23; Yusor Mohammad Abu-Salha, 21; and Razan Mohammad Abu-Salha, 19, in Raleigh in the afternoon.
There was already plenty for us to process here: the academic and athletic scandal that seemed to peak in autumn but had already lingered for going on five years. But on this Wednesday, scandal is trivial. In the days after Dean Smith's death, we spent our spare time reading stories of his character and deeds, reminding ourselves all over again what it's like to be proud. It helped fill back up a bit of the void we'd been sensing of late. In death, Dean Smith gave us that one last gift. And we wished we could thank him again.
He was the liberal conscience of our liberal college town. And liberal or not, it was difficult to argue with his guiding principle: that all men and women are created equal, which went for blacks and whites and walk-ons and middle school basketball coaches who wrote him letters; and, because he was a death penalty opponent, it even went for murderers, too.
Students go on from the University of North Carolina at Chapel Hill to nearly every corner of the world. As of this Wednesday, there are 302,388 living alumni left to mourn. The Charlotte area is home to 17,667, second only to Raleigh. The rest are scattered about all 50 states and in 150 of the 196 countries on Earth. A few of them have even visited outer space.
I returned to live in Chapel Hill two years ago, after nine years in New York City. Although I was done with the cold and the cost, there weren't many places I was interested in leaving New York for, especially in the South, despite having growing up in Virginia. But Chapel Hill had never left me, as it never leaves many of us. The wonderful thing about the town is that it becomes a completely different place to an adult. In many ways, this town offers the fruits of a big city without the headaches. But like anywhere, this is not a perfect place. And when tragedy happens, we tend to say, "How could that happen here?" But it can happen anywhere.
It's been a complicated time to be in Chapel Hill. Chapel Hill is a conflicted place.
Outsiders tend to think the town is easily defined. People from far outside assume it must be stuck in the past, being that it's in the American South. People from nearby outside think it's all hippies and homosexuals dancing in the streets, and that either makes it an oasis or a desert, depending on the perspective.
They're both right and they're both wrong. Interestingly, Orange County is becoming more white just as most of the country is becoming less, and some of the town's liberal policies have played a part in that.
But there are also places in town where Chapel Hill feels every bit the cosmopolitan place we like to idealize it to be. There's IP3 during the World Cup on West Franklin Street, where you can hear three or four languages spoken from booth to booth during a 90-minute match, and another block down, busy Mediterranean Deli, which has created such a demand for its hummus and souvlaki and dozens of other dishes that it has expanded five times since Dean Smith won his last national championship. And we're likely to spot a current or former basketball player in either joint. On any given day, the Med Deli diners of every shade of skin and type of clothing could just as easily be in Queens, New York, the most diverse urban area in the world.
There's also Hummus Cafe on East Franklin, three doors up from Four Corners, that is known to one segment of residents as where to find the best frozen yogurt in town, and for another, where to get shawarma that reminds them of their Arab homelands. After the vigil for the slain students, five women, Asian and Arab, in hijabs, sit at two different tables for dinner. One table orders Philly steak hoagies and fries with ketchup and ranch and hot sauce on the side.
***
IN FRONT OF THE BUILDING shaped like a cross sit two empty parking spaces between two empty cars. The two cars have Carolina Dentistry decals on their rear windshields.
The parking spaces have numbers and letters, and each curb says RESERVED in white. In space 20B is a gray Honda Accord with an outfit of hastily discarded men's clothing in the backseat, crumpled khaki pants with the belt still in the loops and a blue gingham shirt, and a Carolina Panthers football on the floorboard.
To the right, past empty spaces 20C and 20D, is a gray Volkswagen Jetta in space 20E with a pink sticker that says simply "run." A blue necklace hangs still from the rearview mirror. In the backseat is a box full of Oral-B products packaged in dozens of plastic baggies, sets of dental care gift bags waiting to be gifted.
To the right, a news cameraman films B-roll of the 18 inches of yellow police tape left dangling from a black light fixture. News vans are parked illegally all along the road, and a neighborhood woman appears. Samantha Maness wears Duke sweats and the reporters interview her on and off camera. A TV reporter wants to shoot a walk-and-talk but they stumble at the outset. "Can we start that over?" the reporter asks, and they back up to begin their conversation again.
Samantha says the killer had been a problem for more than a year. That he seemed unhinged and had yelled at her more than once—one time for pulling into the parking lot with her car stereo too loud for his liking. He would yell and get in neighbors' faces, Samantha says. He would knock on doors or just step outside his own to scream into the wind. She calls him "aggressive" and "notorious" and "very angry." She says he had "equal opportunity anger" toward residents here, and later in the afternoon the killer's wife echoes the same. Samantha says residents had a clandestine meeting last year to discuss "how he kind of made everyone feel uncomfortable and unsafe."
But he never shot anybody else in the head.
We take a trip down the wormhole of the killer's Facebook page to look for answers. He's a liberal in favor of gay rights and comprehensive health care and once posted a photo of his loaded .38 revolver in a holster with extra rounds on a digital scale that showed a weight of 1 pound plus 5.1 ounces.
We realize many people like to yell online but not in person. The killer apparently is fond of both. His page displays disdain for constraints placed on women in some Muslim societies, but also says he'd fight for Muslims' rights to practice Islam in his own. He does not blame Islam for terrorism, the killer says online.
He lives in Chapel Hill but on the Durham County side of the line. He's registered as an unaffiliated voter and last May voted in the Democratic primary. His polling place is Triangle Church of Christ, less than a mile up Barbee Chapel Road.
***
INSIDE THE DAILY TAR HEEL OFFICE, student journalists sort through the details of the murders as information trickles in. At the front desk, they're stuffing and addressing envelopes to people in Charlotte and all over who have ordered a copy of Monday's edition of the newspaper, cover-to-cover Dean Smith with a perfectly selected Smith quote on the front: "Everyone on the bench stands for the man coming out of the game."
They printed thousands of extras to keep up with demand, 23,000 in all, not to make money but because they believe everyone who wants one should get one, and that belief is a memorial to Smith in itself. A couple of thousand copies are stacked on the floor and tables waiting for envelopes or to be taken away by folks who keep dropping by to pick up one for free.
Walking on campus, it's quiet in mid-afternoon in the midst of 3 o'clock classes. We cross Franklin and pass Silent Sam, a frequent lightning rod for the divisions of this town. It's common opinion that Silent Sam is merely a memorial to the Confederate dead. But in 1913 the statue was planted here as both a memorial and a statement amid talk of civil rights. At the dedication, industrialist Julian Carr gave a speech that veered to white supremacy, and he bragged of having "horse-whipped a Negro wench" in the middle of town to put her in her place.
Hummus Cafe is just out of Silent Sam's line of sight.
We keep walking through the upper quad past the Davie Poplar, which has a couple of tall tales of its own to tell, and by the Old Well and Old East, the first public university building in the country. Our school's first student, Hinton James, arrived here exactly 220 years ago tomorrow. Legend says he walked here in winter all the way from near Wilmington, and that's the kind of thing we like to believe about this place that binds us even if common sense would make it difficult to do so. It doesn't much matter either way, because as we walk we can hear Charles Kuralt's Bell Tower-like voice reciting poetry about the well and the bell and the stone walls and the university of the people.
We cross Cameron Avenue, named for North Carolina's largest slaveholder at the time of the Civil War and, with the help of free labor, one of the richest men in our state. We walk Polk Place and pass a bald man on his cell phone headed the other direction. "People tell me the three were Muslim," he says into his phone. "And he killed them because they were openly Islamic." Across the quad is Saunders Hall, named for the one-time leader of the Klan in North Carolina, 31 years after his death. The building opened in 1922 to house the history department, of all things.
The Pit Preacher is preaching against fornication and drinking in front of Wilson Library to a group gathered around a stone wall. And as we used to sometimes do, students argue back. A red-haired young man walks by on this taxing day and cries out to the preacher in stride, "Are you serious right now?" as if to say, today of all days, give it a rest.
We keep on walking until we end up at the Smith Center. The makeshift memorial of flowers, balloons, pom-poms, trinkets, and notes that started Sunday is rain-soaked but still here and still gaining offerings. Dean Smith probably signed thousands of basketballs in his life for others, and here there's one signed for him: "Thank you for all the wonderful memories," signed "Matt Liz & Dianne." People have left souvenirs they'd kept for decades—commemorative soda cans, a now-waterlogged 1992-93 media guide—items they thought they'd hold on to until death to remind them of the good times they signified. But when Dean Smith died, they sacrificed them to thank him for making those very memories possible.
The state and university flags above fly at half-mast, and a white-haired couple approaches, the man pushing the woman in her wheelchair. If we stretch our necks we can catch tiny flashes of basketball practice through the Smith Center's glass doors. Meanwhile the woman in the wheelchair reads aloud details from the top story in Wednesday's Daily Tar Heel: "3 people dead in Chapel Hill shooting."
A middle-aged man exits the building with a security guard as an escort. He had come from an hour away to spend the afternoon wandering here, collecting his thoughts, and had been walking the corridors of the Smith Center staring at old photos until practice began and it was time to go. As the security guard shows him out, he pulls a photo from his jacket pocket of himself and his two sons with Dean Smith to show her.
The man politely tells me that he'd rather not give an interview; he simply came to pay his respects to the humble man he barely knew and he'd like to keep it at that. But he talks anyway. His beard is half-gray and he's wearing a blue Nike tracksuit that looks to have been worn on a thousand different days before. He takes that photo out of his pocket again to show us, too.
The man tells a story about the time he met sophomore Mike Jordan in that old Hardee's on Franklin Street, the one that's no longer there, the day after Jordan scored 16 in a 1983 NCAA tournament game. He told Jordan what a player he was and Jordan thanked him and gladly signed his newspaper—the top headline was about the win. The man has a photo of that autographed newspaper, too, and he takes out his cell phone to show me.
The man is a middle school basketball coach and keeps shaking his head and saying wistfully how great a man Dean Smith was. How he would write letters to Smith sometimes and that Smith would write him back. The man remains amazed that Smith "would take the time to write someone like me."
The sweet man has a daughter in school here now, and he says with pride that she's studying abroad in Morocco this semester. He keeps saying the world would be a better place if more people were like Smith and that people from countries all over came to Smith's basketball camps. He even mentions the time Smith invited the Soviet national team to town. The man is black, and that fact seems relevant on this Wednesday. Last night, several African American organizations, including the Black Student Movement and the campus chapter of the NAACP, held a vigil for Dean Smith, a white man from Kansas, here by this makeshift memorial.
***
THAT NIGHT, AT THE VIGIL at the Pit for Deah Shaddy Barakat, Yusor Mohammad Abu-Salha, and Razan Mohammad Abu-Salha, thousands of people are here, and breaking the perimeter is nearly impossible from every angle. People stand on walls and tabletops, and many are holding burning candles in the dark. The speakers are set up in front of the student union and the crowd stretches back to the entrance of the undergraduate library.
There is a reading of three short verses from the Quran that when chanted sound like beautiful music as they echo between Lenoir Hall and Student Stores. Faces are pressed against the windows on the third floor of the union trying to hear through the glass. In a shadowed corner outside of Davis Library, a young man is on his knees praying east. There's a man in a camouflaged ROTC Army uniform. Front and center are Barakat's dental school classmates in their white coats. And there are people here in khakis, too.
"Love is more divine than hatred," says Omid Safi, the director of Duke University's Islamic Studies Center. For an hour, we hear from two chancellors and several of the deceased's family and friends. We are urged to heal with memories and with words such as together, resolution, legacy, and hope. We are reminded of the big hearts that have stopped beating and that they had missions they were already fulfilling to help those in need. For an hour the crowd is still and silent; not even cell phone rings pierce the air. But every 15 minutes the Bell Tower gongs.
As the vigil concludes and the people shuffle away, white wax drippings remain behind on the red bricks at their feet.
***
IN THIS COMPLICATED TOWN we see a lot. We see hipsters and country boys and khakis and hijabs. We see John Edwards—who went from nearly becoming vice president of the United States to being hated by men and women across the country—at basketball games eating popcorn, and we can't forget our contradictions. Dean Smith and John Edwards lived near each other, and they both championed the poor, and because of that common interest Smith publicly supported Edwards before Edwards' disgrace.
We walk uphill from the Smith Center, and we pass Woollen and Carmichael gyms, where Dean Smith used to coach, too. We've decided to stroll through the Old Chapel Hill Cemetery to look for Charles Kuralt's grave. Kuralt was known for his folksy television reports of Americana and died on Independence Day in 1997. He's buried here somewhere next to his wife, who died two years after he did. Which reminds us of another thing about this complicated place: that Kuralt had a secret, second family that was revealed upon his sudden death.
It rained yesterday and the ground is soft beneath our sneakers. We're walking head-down reading the names on the headstones, names we recognize from buildings around campus and places around town. One marker says: I was a Tar Heel born and a Tar Heel bred and here I lie a Tar Heel dead.
We look up and there's a blue funeral canopy ahead.
The Old Chapel Hill Cemetery began accepting the dead in 1798 and takes very few any more. Eight were buried here last year, and Dean Smith—in Section 1, Lot OO26—will be the first of 2015. A short rock wall still separates the old African American sections from the rest.
The rectangular hole is five feet deep, not six, and we think to ourselves that we can use every inch. Broken roots protrude from the dirt walls, and the bottom of the rectangular hole is nearly covered in milky water, partly reddened by the Piedmont's clay.
Tomorrow the hole will be whole. But this evening just before dusk, as we wait for the vigil to start, it is a hole.
This cemetery on the campus of the nation's first public university is quiet and empty except for us. Cars pass by on South Road. The low sun winks at us from the west through bare tree branches before it goes away to let us know it'll be back again tomorrow.
The dirt will go back in the hole, although sifted and out of sorts. And the sod will be placed back on top like puzzle pieces. The dirt will settle. The grass will grow and connect until the seams are no more.
Mike Ogle, a 2002 graduate of the University of North Carolina at Chapel Hill, lives in Chapel Hill. He's written for The New York Times, ESPN, and Sports Illustrated.