On the Line: Becca Rankin of The Goodyear House
The pastry chef never feels guilty eating dessert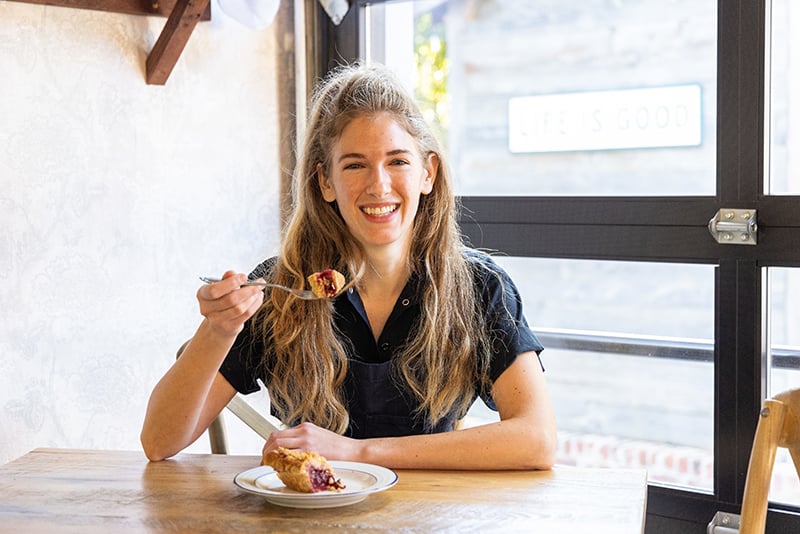 Age: 30
You might know her from: She's the pastry chef at The Goodyear House. She's also a former line cook and pastry chef at Kindred and Hello, Sailor.
Relationship status: Single
Hometown: Pineville-Matthews area
Currently lives: Plaza Shamrock
Favorite sports team:  The Tar Heels
Currently watching: The Queen's Gambit on Netflix
Where does your love of baking come from? My mom was always big on family dinner. I'm the youngest of four, so in high school, it was just me and my parents. My mom said, "I'm done cooking," so I took over cooking dinner until I left for college. I still love to cook, but I love the precision and artistry of baking.
What do you love about dessert? I think dessert is often overlooked, or people see it as a guilty pleasure or something you don't deserve to have every day. But dessert can bring so much joy. I want people to lose the guilt surrounding dessert. If it gives you pleasure, why feel guilty?
Dessert for breakfast: hard no or hell, yes? Hell, yes!
What's one ingredient you always have on hand? Maldon sea salt.
What do you think is an underappreciated flavor? Miso.
What's the most creative dessert you've made? A blood orange olive oil cake I'm putting on the menu at The Goodyear House.
Is there one recipe you'd still like to master? I'd like to get better with laminated doughs and perfect a great croissant recipe.
What shoes do you wear in the kitchen? Klogs.
What's your favorite thing to bake? Pie. I love all pies, but strawberry rhubarb's my favorite.
What's your favorite adult beverage? A really great glass of dry rosé in the summer.
What's the most surprising thing about you? I adore rodents. Squirrels, raccoons, mice … I had a family of rats growing up. It's my dream to rescue a raccoon someday.
What's your favorite restaurant in Charlotte, other than your own? Futo Buta.
What do you like to do outside the kitchen? I adore spending time with my dog. I take her on a 4- or 5-mile walk every day. I walk almost everywhere I can. I love reading, watching movies, and spending time in the kitchen even when I'm not at work.
Any rules to live by in the kitchen? Always use more salt than you think you need. Properly seasoned food is important, and my approach to dessert is the same as my approach to cooking. I season as I go. So many times with dessert, all I taste is sugar. I season my desserts well and utilize spices and herbs in a way that elevates the flavor and makes it taste unique, so it's not like you're chomping down on a sugar cube.
THE TOUGH STUFF
Chocolate or vanilla? Vanilla. I'm not a huge chocolate fan
Coffee or tea? Coffee
Beer or wine? Wine
Cake or pie? Pie
Doughnut or muffin? Doughnut
Bagel or biscuit? Biscuit
Crunchy topping or sweet drizzle? Crunchy topping
Ice cream or hot chocolate? Ice cream
Sugar Rush or The Great British Baking Show? The Great British Baking Show
Street eats or sit-down? Street eats
Facebook or Instagram? Instagram