On the Line: Chef Jonathan Shuler
The former ROCKSALT chef moved to Dilworth Tasting Room to lead the kitchen, master Croatian cuisine, and study rare wines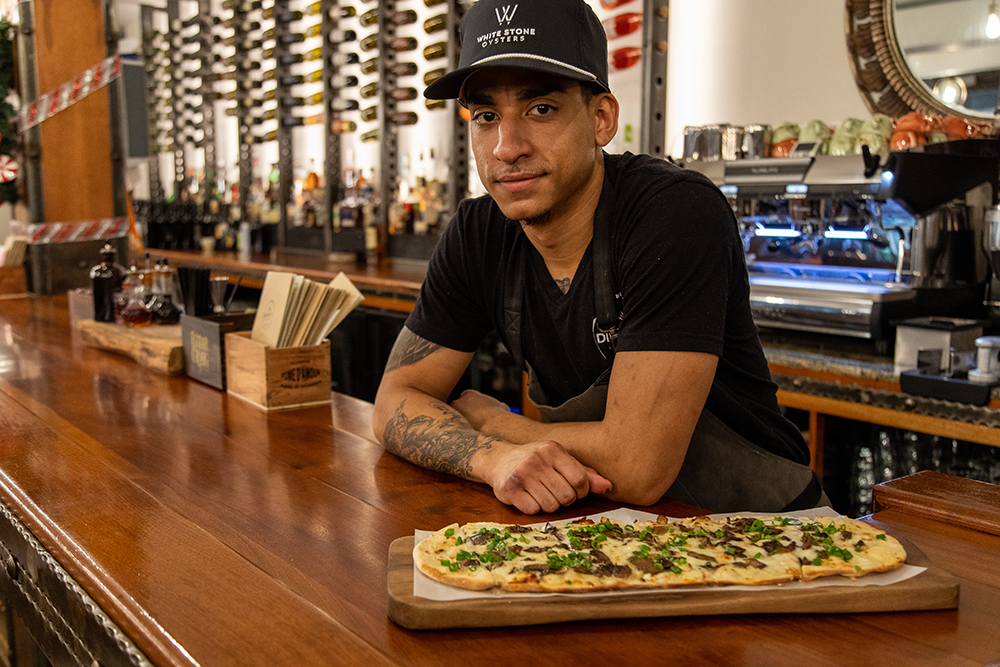 Age: 26
Relationship status: Single
Hometown: Originally from New York City but moved to Raleigh in middle school
Lives in: South End
Currently reading: You Need a Budget by Jesse Mecham
How did you learn to be a chef? I went to culinary school at The Chef's Academy outside Raleigh, but the best training I had was staging in different restaurants.
What did that involve? Staging is when you work under a chef for two or three days and learn their techniques. I went staging around New York and went to the Michelin realm to see what it's about.
Any chefs you looked up to as a kid? My Puerto Rican grandmother cooked really well. I still make her Spanish rice at home—it's my comfort food.
What single ingredient do you always have on hand? Thyme.
What's the most unexpected ingredient in your arsenal? Rabbit. It comes to me whole from a collective of farmers. It's in the freezer now. I'm making pâté out of it.
Is there one recipe that you nail every single time? I'm getting pretty good at our Croatian pašticada (a stewed beef dish).
Any superstitious rituals for you in the kitchen? I have to listen to music all day. And I wear black Crocs, always.
What do you like to do outside the kitchen? I compete in amateur boxing, so I box at least five days a week, and I do some skateboarding.
What's your favorite restaurant in Charlotte other than your own?  The Cellar at Duckworth's and Stoke.
What appealed to you about Dilworth Tasting Room? This is the kind of place I want to own someday, so I'm working toward my ultimate goal. This fits the bill.
Was there a steep learning curve to Croatian cuisine? Yes and no. The techniques stay the same, but the flavors change. Jaffer Kovic (owner of DTR) and his wife Zoe are Croatian, and she's my taste tester. She's pretty honest, too. (laughs)
What about the wine? I'm studying to be a sommelier. Jaffer is a level 3 sommelier, and he does tastings with the staff all the time.
What's your all-time favorite meal? My grandmother's roasted pork shoulder with rice and beans.
What's one of your guilty pleasures? Um, wine? (laughs) I'll go home and 'study' a bottle.
What is the ideal dining experience for you? Tapas-style dining isn't just a type of food; it's an experience. I don't like to eat with my head down. I like it to be interactive.
---
THE TOUGH  STUFF
Chocolate or cheese? Cheese
Beer or wine? Wine
Coffee or tea? Coffee
Comedy or drama? Comedy
Reality or fiction? Fiction
Dog or cat? Dog
More money or more free time? More time
Facebook or Instagram? Instagram