On the Line: Chef Justin Loo of Fahrenheit
After two decades in luxury hotels and Michelin-starred restaurants, the Hawaiian-born chef takes the helm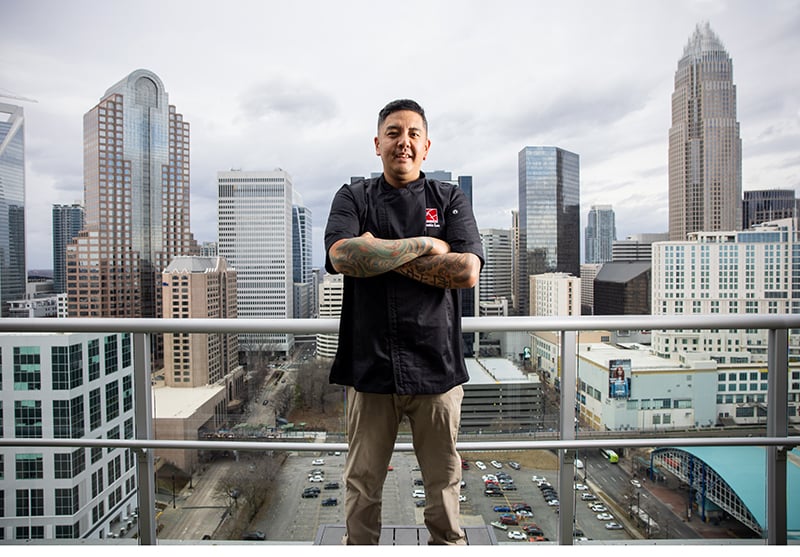 Age: 40
Family status: Married with three boys, ages 8, 7, and 5
Hometown: Honolulu
Currently lives: Waxhaw
Currently reading: Hell's Angels by Hunter S. Thompson
Currently watching: This Is Us
Favorite sports team: "I'm a huge NASCAR fan."
Where does your love of cooking come from? It started with my Auntie Norma. She was always in the kitchen when I was growing up, and I paid attention. It was usually very Asian; anything Chinese, Korean, or Japanese. 
How did you get started in this business? I knew I wanted to be a chef at a young age, like on MasterChef Junior—that was me in the '90s. I went to culinary school, but I think you learn more working in kitchens. I worked my way up at Diamond Head Grill at the W Hotel in Honolulu, then at Nobu in Las Vegas.
How did you land at Fahrenheit? My wife and I knew we wanted to come to Charlotte and raise our kids in a family-oriented place. We took a vacation here and loved it, and I was looking for a new opportunity. I got really lucky with (Fahrenheit owner) Rocco (Whalen) and (director of operations) Dave (Feimster). I grasped the energy they had. I started in December 2021.
How have you put your stamp on the menu? With Fahrenheit, it already had the Asian flavors I'd done at Nobu. I just added some more Hawaiian cuisine.  
How much taste-testing does your job require? It's endless. That's just culinary etiquette; you taste your food first and work the kinks out. 
What's one ingredient you always have on hand? Salt. Salt equals flavor.
What's your favorite meal to cook? It's the Japanese food I grew up eating. My auntie and I always went out for sushi and bento boxes, but really my favorite is a dish called oyakodon. It's basically a rice bowl with chicken and soy sauce. 
Is there one recipe you'd still love to master? Macarons—they're the death of me. I took a class at Sur La Table one time to figure them out, and they came out phenomenal during the class, and of course, when I went to do it myself, they came out wrong. To this day, I haven't made them the same. 
What's your favorite adult beverage? Whiskey.
What do you think is an underappreciated flavor? Cilantro. It's polarizing; you either really hate it or really love it. For me, it has so much flavor, even in the stems. 
Any foods you won't touch? Ketchup. 
What's one restaurant chain you're not ashamed to admit you love? The Cheesecake Factory. 
What do you like to do outside of work? I love to spend time with my wife and kids. I just got my boys into golf; I love the game and how challenging it is. I also love watching NASCAR. 
What's the most surprising thing about you? I'm a huge fan of anything Disney. We're Disney Vacation Club owners.
What's your guiltiest pleasure? Does rice count? I eat everything with rice—double carbs. I can't stay away from it. 
Any rules to live by in the kitchen? Cook with your heart, and try everything twice.
THE TOUGH STUFF
Chocolate or cheese? Chocolate
Coffee or tea? Coffee all day
Hot dog or taco? Tacos
Steamed buns or chicken skewers? Steamed buns
Poke bowl or poke nachos? Poke nachos
Chicken wings or chicken biscuit? Wings
Lobster roll or egg roll? Egg roll
Street eats or sit-down? Street eats
Comedy or drama? Comedy
More money or more free time? Free time
Facebook or Instagram? Instagram