On the Line: Chef Nicholas Tarnate of Bar Marcel
The former Aix en Provence chef takes his delectable cassoulet to the SouthPark spot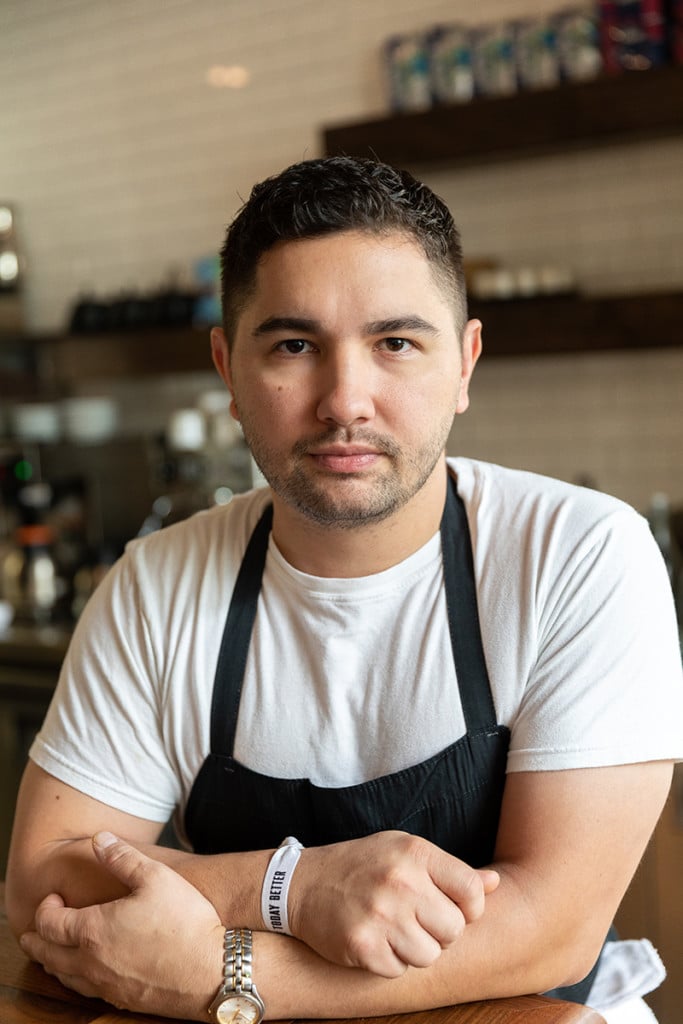 You may know him from: Bar Marcel. He was executive chef at Aix en Provence, which closed in July
Age: 35
Relationship status: Single
Hometown: Mount Pleasant, North Carolina
Currently lives: Plaza Midwood
Currently reading: The World as Will and Representation by Arthur Schopenhauer
What is the most surprising thing about you? I used to teach martial arts. I did a program for UNC Charlotte and taught CMPD officers gun retention and self defense.
What single ingredient do you always have on hand? Saffron. It's versatile, it colors things, and it's fragrant.
What do you like to do outside the kitchen? I like woodworking. I build chairs and tables.
What's one recipe you nail every time? Chicken Keleguin, a dish from Guam. It's roasted chicken mixed with lemon juice, grated coconut, Thai chilies, and scallions. I learned it from my dad, who's from Guam.
Any superstitious rituals you have in the kitchen? I listen to "Eminence Front" by The Who every night before dinner service. It gets me fired up.
What's your biggest culinary mishap?
I dropped my phone in a big pot of chicken stock once. It still worked, which was cool since I'd only had it for two days.
What do you think is an under-appreciated flavor? Gochujang. It's Korean, a fermented red chili paste. It's the thing that makes everything red. That's why Korean food tastes so good; you can't quite put your finger on it.
Any culinary trends you're watching? Bistronomy. It's a movement that's been going on in Paris for a while. Michelin star chefs are getting out of their famous restaurants to provide really high-end food in a more casual, bistro setting.
What's your favorite restaurant in Charlotte, other than your own? PePeRo. It's not fine dining at all—it's a Korean grocery with a restaurant inside. They have really good bulgogi and short rib soup with noodles.
What would be your last meal? Spam and rice on soy sauce. I grew up eating it. It's the first thing I learned how to cook.
How did this opportunity at Bar Marcel come to you? I was free. (laughs) Kevin (Jennings, owner of Urban Food Group) called and offered me the position. The food is in the same wheelhouse that I was doing at Aix en Provence. I'm super-infatuated with pasta, and I want to develop a good pasta program here.
Tell me how you'll put your stamp on the menu. The menu will be really seafood- and pasta-heavy. I'll bring the cassoulet (a slow-cooked meat casserole) I did at Aix en Provence because people loved that. We'll have some sweetbreads, foie gras, and a brunch menu with Spanish tortilla (a potato and onion omelet). Our pastry chef, Krista Margies, is rolling out new desserts, too.
Any new or original dishes we can expect from you at Bar Marcel? A dish called 'spaghetti nero,' served with squid ink, tossed with calamari, lobster, and mint. I use a spaghetti chitarra (which means 'guitar'), a rectangular pasta-cutting tool with strings that you roll the pasta dough through to make the noodles.
What makes a great dining experience for you? Good company to share it with.
Now, the hard-hitting questions:
Chocolate or cheese? Cheese
Coffee or tea? Coffee
Beer or wine? Wine
Ketchup or mustard? Mustard
Cake or pie? Lemon meringue pie
Dog or cat? Dog
Comedy or drama? Comedy
Reality or fiction? Reality
Facebook or Instagram? Instagram