On the Line: Christa Smith of Eight + Sand Kitchen
The spot's general manager and pastry chef believes in dessert for breakfast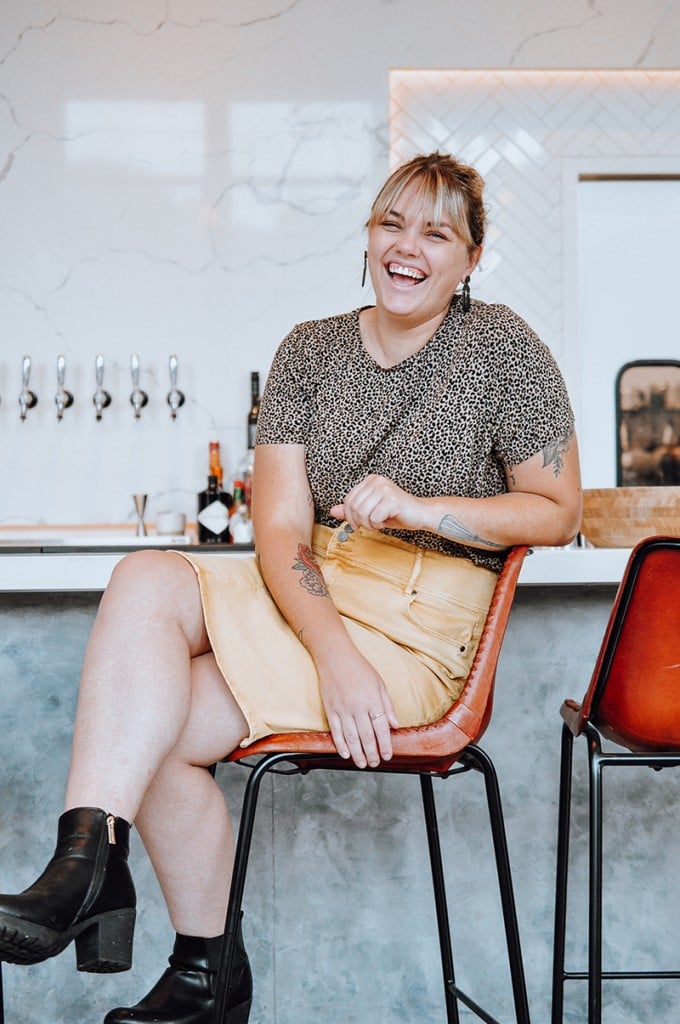 Age: 28
Relationship status: Mom to one fur baby, Peanut
Hometown: "I'm a nomad, but I've spent the last 11 years in Charlotte."
Currently lives in: Kannapolis
Favorite sports team: New England Patriots
Currently reading: The Nightingale
Currently watching: Ozark
Where does your love of baking come from? For all of the women in my family, it's our love language to feed people. My grandmother let me shadow her in the kitchen all the time and always let me pick what to make for dessert.
Dessert for breakfast: hard no or hell, yes? Hell, yes! My mom always said leftover pie is like a Pop-Tart with fruit filling. And what's a donut? It's cake! We always pick out dessert first at restaurants and plan our meal around that.
What made Eight + Sand a good fit for you? It was the owners of Inizio Pizza and Not Just Coffee behind it. They wanted to have an in-house bakery, mill our own flour, and bake our own bread, so that enticed me. I have such a passion for bread and pastry, and I think that was missing in Charlotte. I started out as pastry chef; now I'm general manager.
What's harder, baking or managing? Managing, for sure. I love the science of baking—everything is so particular and there's no question of how you're supposed to do it. With customer service, you never know what will happen that day.
What's one ingredient you always have on hand? High-quality chocolate and cocoa powder. If you're making something that has one prime ingredient, like a chocolate chip cookie, you need it to stand out.
What do you think is an under-appreciated flavor? Rose. A lot of people are hesitant with our raspberry rose lemonade, but I say, "Let me change your mind." It's like lavender—people think it shouldn't be in food, but it's delicious.
What's the most creative cruffin (a croissant-muffin hybrid) you've made? My favorite was a turtle cruffin with chocolate mousse, caramel drizzle, and candy pecans. 
Is there one recipe you'd still like to master? I love a good crème brûlée, but I always feel like I can do better than the one I end
up making.
What's been your biggest kitchen mishap? In August, I sliced off the top of my right index finger with a meat slicer. It came clean off during Sunday brunch service. The doctor applied this surgical foam that tricks your body into thinking it's already healing. So I wrapped it up and went right back to work (laughs). It pretty much has grown back, though, like I'm a starfish.
What's your favorite thing to bake? I love a good fudgy brownie with ice cream on top. If I have the means to make my own ice cream, I will gladly do that. I like simple desserts. Everyone wants a pastry chef to do crazy, complicated things, but if I'm at home, I just want a good brownie.
What's your favorite adult beverage? I love a good
Kentucky Mule.
What's the most surprising thing about you? I'm very introverted. Everyone thinks I'm a huge extrovert, but I really like my quiet time. It's probably from having a job where I always need to be on.
What's your favorite restaurant in Charlotte, other than your own? I recently went to Oh My Soul. I'm not vegan or plant-based, but it was so good.
What's your guiltiest pleasure? I love cheesy teen rom-coms. I watch To All The Boys I've Loved Before all the time.
Any rules to live by in the kitchen? Always leave anything that's bothering you outside the kitchen and focus on what you're doing in that moment. If you pour your love into what you're making, people will love it, too.
---
THE TOUGH STUFF
Chocolate or vanilla?
Vanilla
Coffee or tea?
Coffee
Beer or wine?
Wine
Cake or pie?
Pie
Doughnut or cruffin?
Cruffin
Bagel or biscuit?
Biscuit
Avocado toast or ricotta jam toast?
Avocado toast, all the time
Crunchy topping or sweet drizzle?
Crunchy topping
Ice cream or hot chocolate? I would eat ice cream in the middle of a blizzard
Baked or fried?
Baked
Street eats or sit-down?
Street eats
Facebook or Instagram? Instagram